The Victorian Curriculum and Assessment Authority presents
Top Screen: Screening + How Do I Do It?
When
15 Mar – 4 May 2022
See below for additional related events
Join the State Reviewer for Media as they discuss how to produce a high standard VCE Media film.
Topics such as safety, planning, and copyright will be covered. Attendees will have the opportunity to ask questions at the end of the session.
The How Do I Do It? presentation will take place in the cinema immediately after the screening.
Sessions
1pm Tuesday 15 March
9am Thursday 24 March
1pm Wednesday 4 May
Good-Guy
Mackenzie Bliss | Comedy | 5 min
In an attempt to escape his own weakness and break free from average teenage life, Henry takes on the hero persona of the Blue Guardian. As his vigilante attempt unfolds with increasing hilarity, it becomes clear that Henry may not live up to the superhero archetype.
VCE Media 2021, Sandringham College
Space
Alice Huxtable | Animation, Drama | 5 min
A child's passion to become an astronaut leads to play and bonding with his mum. As he grows up, the child loses his passion and curiosity, and drifts apart from the parent. He gets caught up in the stress and fast pace of adult life, ending up isolated in a dull office job.
VCE Media 2021, Fitzroy High School
Laneways
Kyle Patocs | Documentary | 6 min
A group of volunteers in Carnegie, Melbourne transform dark, gloomy laneways into vibrant outdoor art walkways. One of the founding members, Kirsten, details the journey from just wanting to clean up an alleyway to becoming a widespread community-based phenomenon.
VCE Media 2021, Kilvington Grammar School
Hereafter
Koko Crozier | Horror | 6 min
A young girl awakes to find that her family is missing. As she navigates her secluded farmhouse in their pursuit, she is confronted by a series of supernatural events. The manifestations escalate in disturbing fashion as a macabre reality unfolds.
VCE Media 2021, Methodist Ladies' College
Been Here Before
Bailey Zervaas | Animation, Thriller | 4 min
A man's life is threatened as the clock approaches midnight and an unknown figure is out for his blood. When meeting his grim fate, the man is given a second chance to relive the day and attempt to survive with the foresight he is given.
VCE Media 2021, Berwick College
Candle
Beatrice Lane-Smailes | Music Video, Action | 6 min
After a night out, a woman leaves her friend and walks home alone. She is stalked by a man lurking in the dark, who does not know the woman is actually a witch. With her powers, she is able to stay one step ahead.
VCE Media 2021, Wesley College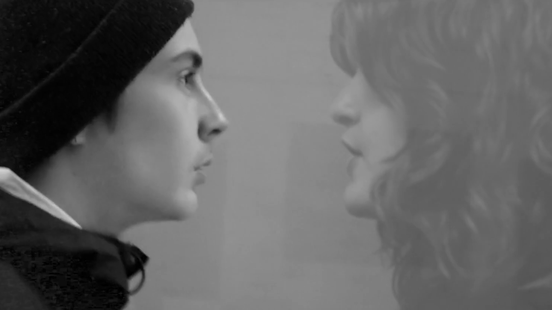 Strings
Alissa Mohamed | Fantasy, Thriller | 6 min
One night, a random puppet-show ticket is thrown into a young girl's room. After going to sleep, the girl is awoken by her imaginary friend and guided to the puppet show. Her friend then performs a dance routine and 'welcomes' the young girl onto the stage.
VCE Media 2021, Narre Warren South P–12 College
Awakening
Ariel Reyes | Drama | 10 min
Awakening is a journey of self-discovery and acceptance through the eyes of Beau, an 18-year-old male struggling to overcome his romantic desires for his ex-girlfriend Eli. Only Marco, a childhood best friend, is able to comfort and lead Beau in the right direction.
VCE Media 2021, Swinburne Senior Secondary College
The Abandoned Tour
Eva de Carvalho Koch | Animation | 2 min
This cautionary film follows a perishing cable car along its melancholy route. It explores a crumbling city ravaged by the devastating effects of human overpopulation, consumption and greed. There is a vast wasteland that resides beyond the fenced perimeter.
VCE Media 2021, Bialik College
These Walls
Elizabeth Ives | Music Video | 7 min
These Walls is an indie music video that juxtaposes flashbacks to the warmth, hope and joy of youth with depictions of the unfulfilled and loss-tainted present of the young protagonist. It highlights the demoralising fears of individuals on the precipice of adulthood.
VCE Media 2021, Loreto Mandeville Hall
The Flower in Me
Erin Kim | Animation | 3 min
Insecure about the flower buds on her antlers not having bloomed like her other peers, Bom struggles with self-acceptance. Her self-doubt transforms into the physical form of a shadow creature that consumes Bom, until her friend Pangie rescues her.
VCE Media 2021, Templestowe College
Pet Problems
Lazar Feldman | Coming-of-age | 5 min
Mira is a five-year-old prep student faced with the impossible challenge of having to bring a non-existent pet to school for upcoming 'Bring your Pet to School Day'. After discussing with her siblings why she does not have a pet, she investigates how to find one.
VCE Media 2021, Wesley College
Leaving Meaning
Amelia Wilkinson | Documentary | 4 min
This personal documentary centres around my father, Nathan Wilkinson. It explores his day-to-day life, showing a holistic take, including his art, work and family.
VCE Media 2021, Northcote High School
Don & Donna
Bailey Parrôt | Animation, Coming-of-age | 5 min
Don & Donna explores the concepts of unexpected friendship, cartoon nostalgia and basic human connection. It follows Donna, a young adult, and Don, an old man – two roommates who learn to share their wisdom and experiences with each other.
VCE Media 2021, Narre Warren South P–12 College
Grow Up
Sam Huybers | Action, Comedy | 7 min
Grow Up aims to tackle the pressures of adulthood on teenagers through the symbolism of video games. The film uses animation to bring these video games to life and represent the typical teenager attempting to grow up and leave behind the things they once enjoyed.
VCE Media 2021, Scotch College Melbourne
Puppet Show
Finn Woodlock | Thriller | 6 min
Bored and locked in her house, GIRL is tired of her life, tired of being dismissed and tired of not being understood. Most importantly, she is tired of being treated like a child. On a day like every other day, IT shows up. Who is IT? Why is IT here? What does IT want?
VCE Media 2021, Billanook College
Read our COVIDSafe visitor guidelines, information on accessibility, amenities, transport, dining options and more.