Membership
Share in the wonder of the moving image.
Whether you're a gamer, a film lover or just want to immerse yourself in a universe of moving image stories, an ACMI membership is the best way to explore everything your museum of screen culture has to offer throughout the year. Membership benefits include discounted exhibition entry, invitations to exclusive previews and discounts in our shop.
Are you a current member? Update your preferences and hear about what you are interested in first.
Blak Membership
Open to Australian Aboriginal and Torres Strait Islander (First Nations people), our Blak Membership unlocks exclusive access to the museum, including FREE tickets to ACMI exhibitions and select events, a 10% discount at the ACMI Shop, special food and beverage offers, and exclusive member-only preview screenings.
It's great to be part of a community that loves screen culture whether that's film, TV, games or visual arts.
Membership options
$28 per year
Get discounted exhibition entry, program and special event discounts, 10% off at the shop, no booking fees, pre-sales, member-only film previews, what's on listings and partner offers.
$350 per year
Includes all the benefits in our standard membership, plus invitations to opening nights, curated exhibition talks, and a private tour of the museum.
$50 per year
For family, friends and loved ones, a membership to our museum is the perfect gift. A gift pack and personalised card is included and posted free of charge to the recipient.
ACMI Membership is free to concession card holders. Sign up online or visit the Ticket desk at ACMI to become a member today.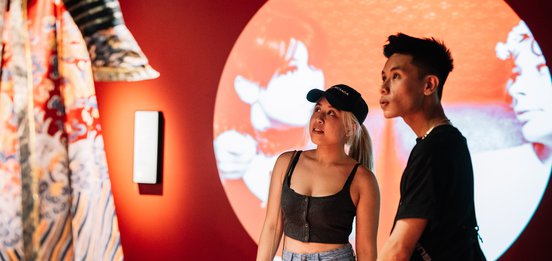 Being an ACMI member gives my partner and I access to films, TV, exhibitions and talks that you can't see anywhere else – not even on the internet.
As a member you get 10% discount on all ACMI Shop products. Look out for special offers, member-exclusive products, and our annual member shopping weekend, including tastings!
---
Frequently Asked Questions
How long is my membership active for?
Membership is valid for 12 months from the date of purchase.
How do I collect my membership card?
You can collect your membership card at our museum at Fed Square. Once you have chosen your membership option you will receive a confirmation email with your membership number for the time being.
How do I access discounted prices for exhibitions, films, talks, and the rest of our programming?
Simply select the member price type when booking tickets online. When we reopen, present your membership card at the ticket desk when arriving for your event to access your discounts.
How do I access discounted parking?
Park in Wilson's Parking Fed Square and retain your ticket. Show your membership card at the Tickets & Information Desk at ACMI to obtain your discount parking voucher. Discounted $12 parking is valid Mon – Fri after 3pm, and Sat & Sun all day.
What discount do I get as a member at the shop?
Members receive 10% off all purchases in our shop – lookout for further special offers in our members e-news (you will have the option to be subscribed to this mailing list at checkout).
How do I book for member-only screenings and events?
Be sure to read your member e-news for announcements of these events. You can also check the member events page on our website (to be announced).
What should I do if I have lost my membership card?
Come to the ticket desk the next time you're at ACMI and we will print a replacement for you.
Can I bring guests to member-only events?
Yes, you can bring up to 4 guests to all our programming unless stated on the event page.
Can I add someone to my membership?
Unfortunately not. All our memberships are single products for a single visitor.
Do you have memberships for families?
Unfortunately not. We have upgraded our membership offer to benefit everyone. We will have discounted family tickets to our upcoming ticketed exhibitions and events.
I want to make a change to my personal details, how can I do this?
Please submit a feedback form and we will update these for you.
Can I upgrade to the premium membership?
Of course. Please speak to the membership team (contact details below) to arrange this.