This article is part of our Amazing Amateurs series about home movies from the 1940s-60s, shot by the first generation of Australians with access to home film cameras.
We're currently digitising thousands of hours of home movies which have been donated by families of these pioneering filmmakers. The film reels contain all kinds of footage, from family holiday trips to the occasional only-known recording of important historical moments, and they provide an incredible snapshot of life in Australia in the middle of the 20th century.
Read more about process of digitisation, or check out other footage on YouTube.
A train buff's treasure trove
Fred took his trusty 8mm camera just about everywhere the Daleys went in the 50s, 60s and beyond, stopping the Holden by the side of the road to film classic images of family life and summer holidays. Clearly a bit of a train-spotter too, Fred bore witness to the declining days of steam on some well-known Victorian lines.
The films chart a middle-class progress through the 60s, providing fragments of a lost world made whole by the magic of Kodachrome and nostalgia: family road trips across the Victorian Alps and down the Great Ocean Road, a visit to Foy's Rooftop Christmas Carnival, an excursion to Emerald on Puffing Billy, the 1963 VFL Grand Final (Geelong 15.19.109 def. Hawthorn 8.12.60), and a stroll with Mum, Nan and Auntie up the Paris End of Collins Street, followed by an icy cold ale in the beer garden of the Chevron on St Kilda Road.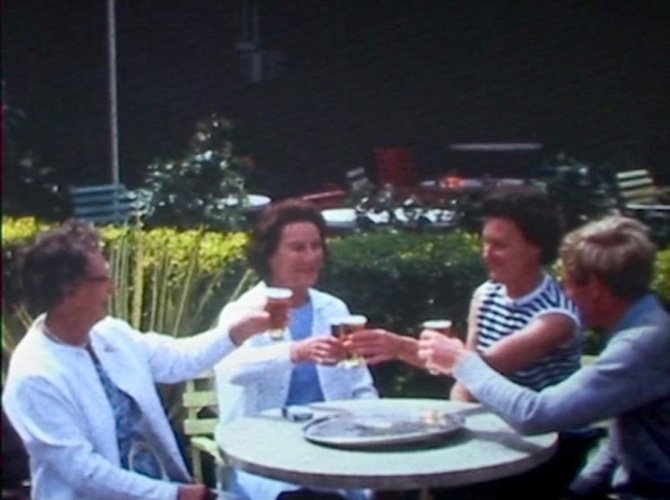 There are priceless moments of revelation of the days when half-time entertainment at the VFL grand final meant the Navy brass band from HMAS Cerberus, or when steam engines and 'Red Rattlers' shared the platforms at Flinders Street Station, when the Melbourne city skyline was low-rise along the Yarra, the 12 Apostles were still 12 and Santa arrived at the work Christmas picnic on the back of a truck with a present for every child.
For true rail buffs there are glimpses of K-Class goods trains and Walker Rail Cars on the Warburton line, Victorian Governor Sir Rohan Delacombe opening Puffing Billy's Menzies Creek-to-Emerald extension in 1965, and a rare Australian Standard Garrett at work at the Fyansford Cement Works.
Fred's films proudly bear the stylistic hallmarks of 8mm: over-exposed strips and flashes of light between shots, plastic-letter titles supered over opening shots, stage-managed family members playing up to the camera, the occasional wonky pan as a train or car moves out of the frame,  and – let it be said – the odd slightly, fuzzy focus. All these things add to the authenticity and charm of this modest cultural trove.
Donate to the ACMI Collection to preserve our shared past.