Our redevelopment calls on the expertise and innovation of a range of key project partners. BKK architects, responsible for the redesign of the public spaces; Second Story, an experience and exhibition design firm tasked with the designing our new permanent galleries; Root Partnerships as project managers; and Built, our newly appointed builder.
The first major building upgrade since 2002, our redesign poses a range of exciting challenges and the opportunity for all project partners to collaborate and integrate their design thinking.
Root Partnerships believe collaboration is at the root of every great partnership. As the end-to-end project managers of ACMI's redevelopment, they provide stewardship through this significant milestone in the museum's history.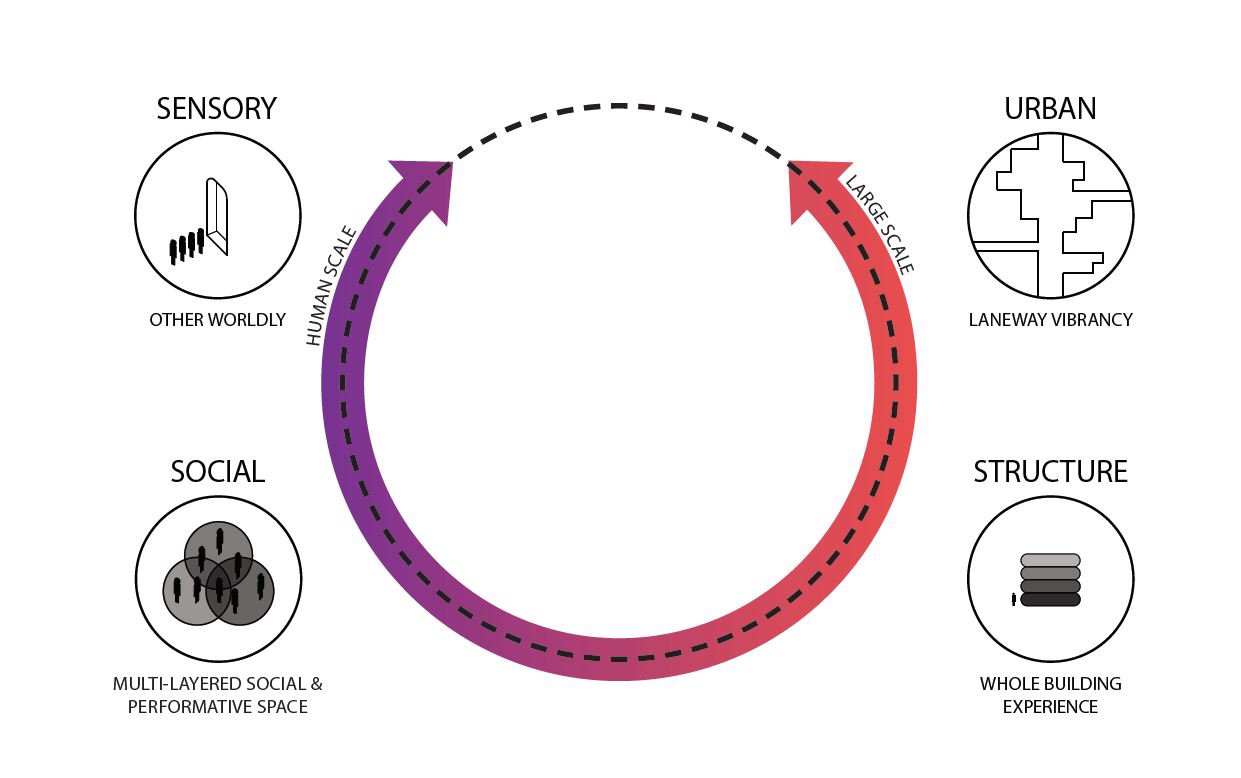 BKK architects were established in 2000 and led by Simon Knott, Tim Black and George Huon. Tim Black, Director, says BKK's vision for the redevelopment is to focus in on the ancient Greek agora, or public gathering space, and pay homage to Lab Architecture Studio's original laneway intention for Fed Square to connect the city to the river.  
Tim Black
"There's a big urban design idea at the heart of this project and that is, that ACMI wants to really grasp the opportunity to be a presence in the city. By embracing this laneway opportunity ACMI really becomes embedded in the city," Black said.
Second Story are an exhibit and experience design firm that build immersive worlds with a story-driven focus. Their cross-disciplinary teams have worked closely with our exhibition designers and curators to reimagine the ACMI experience and connect people to the power of the moving image.
Learn more about Second Story or watch their show reel
Second Story, with studios in Portland, Atlanta, and New York, places visitors at the heart of the experiences they design.
Keri Elmsly
"As the limitless world of the moving image continues to expand in format and complexity, we need better places and tools to enable us to define our voice and place in the world. 
"Our transformation of ACMI puts watchers, players and makers at the centre of the experience and creates the environment to convene with the best of human imagination," said Second Story Chief Creative Officer Keri Elmsly. 
As a nationally recognised and award-winning specialist in complex refurbishment, Built has the expertise to deliver this project to a standard worthy of this valued cultural destination. Working collaboratively with key project stakeholders enables Built to provide considered, state-of-the-art digital and technical integration for users well into the future. Thriving in live environments, Built have the skill set to ensure uninterrupted operations of one of Melbourne's busiest heritage-listed precincts, ensuring the facilities can continue servicing the community for the duration of the works and be back to full operating capacity promptly.
Katrina Sedgwick
"We're thrilled to be working with such bold and innovative partners to reimagine our spaces and how our visitors connect with us.  
"The integration of new technologies in cleverly designed public and exhibition spaces will greatly expand our reach, impact, public value and dramatically enhance the visitor experience, firmly cementing ACMI as the world-leading institution for screen culture, education and innovation," said Katrina Sedgwick, Director & CEO of ACMI.  
Take a detailed look at what is in store when we reopen.
Make your mark on the new ACMI – donate today