A fun, interactive and sprawling look at the story of moving image history through Australia and beyond, Screen Worlds featured much-loved objects such as Mad Max's V8 interceptor, Cate Blanchett's Oscar for The Aviator, our hugely popular Games Lab and favourites like the 3D Zoetrope and Flip Book machine. Screen Worlds brought the magic of the moving image to life, across film, television, videogames, digital culture and art.
From Timeslice to the Mad Max interceptor
A nostalgic romp through film and TV history, Screen Worlds contained props like Dexter the Robot from Perfect Match, Molly Meldrum's hat and Dame Edna Everage's sunnies and scream costume. Interactivity was at the heart of the exhibition, not only giving visitors the chance to play games and watch historical content, but the chance to imitate Neo and Trinity from The Matrix in Timeslice – and take home their very own video captured by 36 cameras in slow motion.
The pace of change
But with the rapid pace of technological advancement in the screen industries, it's no surprise that an exhibition that opened the same year the iPhone 3 arrived required updating. Now we hold the capacity to consume, make, edit and share moving image content in our pockets. As new developments like virtual reality and augmented reality become more widely used, understanding the future of the moving image is more important than ever. Invest in the technologies deployed in ACMI's new exhibition.
Deinstalling a ten year exhibition
Dismantling a ten-year exhibition takes an army of experts, from AV and technical staff to builders, registrars and conservators. Planning to deinstall Screen Worlds started nine months before the first objects were removed. During that time, we worked with the studios, museums, collectors, galleries and archives who lent us their items, finding ways to get their precious objects safely back home. Help us acquire unique objects for the new ACMI exhibition – donate today.
Care and protection
Exhibition object deinstall precautions include conservation practices like the use of nitrile gloves to handle objects, specialist tools for unframing or removal from mounts and careful handling by conservators to prevent damage in deinstall and packing. Some items are sensitive to heat and light, some need to be supported in specific ways and some are extremely rare and need careful attention because of their age or materials.
Conservation and Collection
A lot of the physical and media content from Screen Worlds needs to be preserved. Our Collection team faces challenges to conserve and protect them for future generations, especially if they are formats that are becoming obsolete. For example, if a work is stuck on an outmoded operating system that needs old software to access it; or figuring out if they can upgrade a file format to preservation-quality and guarantee ongoing access
Australia's rich moving image history
We can't change our history when it comes to charting the evolution of film and TV and screen technology. But we can refresh and reinvigorate how we tell this story, which is why it is so exciting to have the opportunity to completely transform our Fed Square site.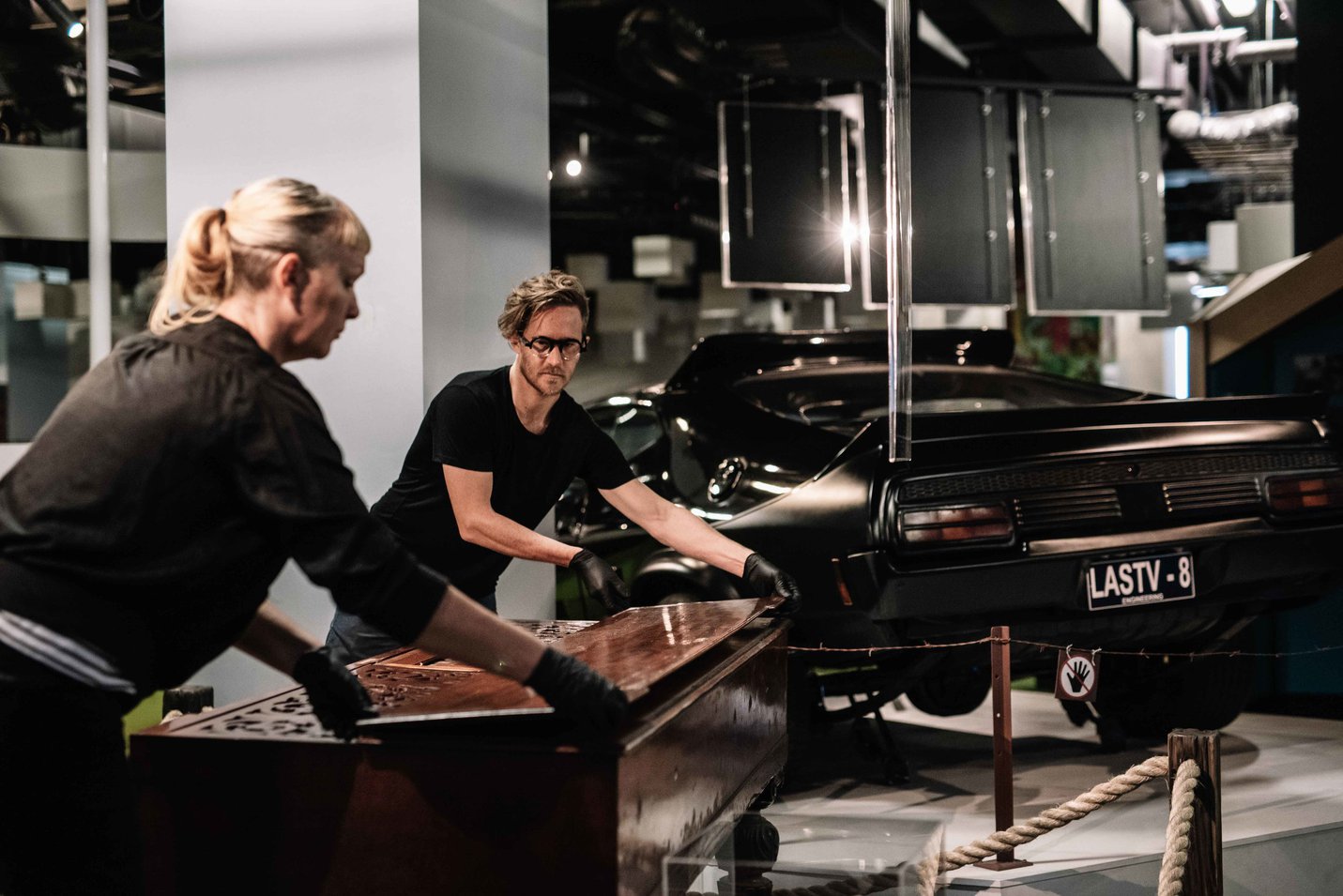 A new way of telling our story
While we still have to keep most of the new exhibition content under wraps, we can share a few of the favourites that you might recognise from Screen Worlds, in a new and improved way.  
Old favourites that will be re/imagined
Flip Book
The beloved Flip Book maker will be new and improved! Visitors will be able to create their own flip books and lenticular images, exploring early moving image making and storytelling.
Shadow Play
We're creating a new shadow play interactive allowing visitors to enter the world of shadow puppetry by becoming a fantastical character with hidden talents to surprise and delight.
Help us re/imagine our new exhibition
The technology and innovation that sits at the heart of our new exhibition will re/define visitor experience and allow new ways of understanding and interacting with the moving image.
Support us to use cutting-edge technology in our exhibition. Donate today