Cited by John Casavettes and Ingmar Bergman as an inspiration, Academy Award®-winning director, Shirley Clarke was the personification of the Beat era – breaking with her Park Avenue upbringing and exploring personal and political freedoms through dance, film and video art. A dedicated activist, organiser and pivotal figure in the New American Cinema, her films challenged ideas of reality and fiction, and traversed the American class and race divide.
Shirley Brimberg was born in 1919 into a conservative, privileged New York family. The eldest daughter of a Polish-Jewish immigrant who made his fortune in manufacturing, Shirley and her two sisters were raised by nannies and attended exclusive schools. Through her difficult teenage years Clarke was drawn to dance and she performed, choreographed and organised dance events during her twenties. At 23 she married lithographer Bert Clarke (she later said to escape her father) and by 25 they had a daughter, Wendy.
Maya Deren was a great revolutionary, a great astonishment on the scene.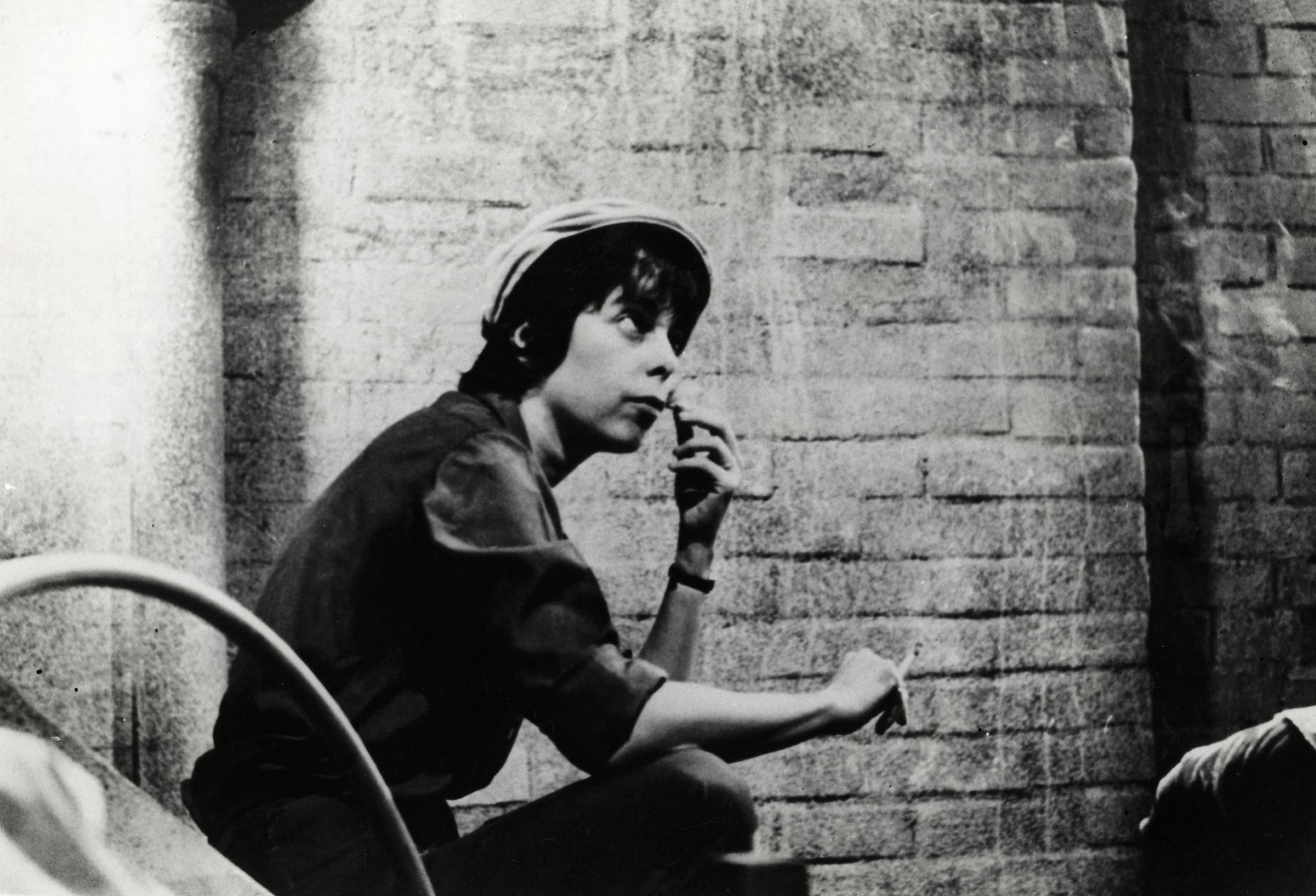 Clarke became increasingly frustrated with her dance career and decided to redirect her energies. She received a Bolex camera as a wedding gift and employed this to what she knew best, space and movement. Her 1953 short film, Dance in the Sun was a poetic adaptation of fellow dancer Daniel Nagrin's piece of the same name. Breaking with traditional staging, the film was reminiscent of fellow dancer-turned filmmaker, Maya Deren. The two women had their first meeting later that year and while they got off to a frosty start the relationship proved essential for Clarke. Each acknowledged their place within the male dominated arts, their abilities as organisers but most importantly Deren provided a tangible model of a successful female artist.
In the early 1950s Clarke enrolled in New York's only film school where she was a student of Hans Richter. She began entering her short films into international events, winning awards at the Edinburgh and Venice Film Festivals for Bullfight (1955). Buoyed by her quick success and the small tight-knit community of artist filmmakers, Clarke decided to dedicate herself entirely to filmmaking.
Throughout the late 1950s and into the next decade, Clarke blossomed as an artist. Her efforts behind the camera brought continued success at international festivals and her work as an activist and organiser made her a key figure of the New York filmmaking scene. She was one of the first - and the only woman - to sign the New American Cinema manifesto of 1961 [2]. Her activities also crossed into the burgeoning cinéma vérité movement where she helped establish Filmmakers Inc. a production cooperative with Willard Van Dyke, DA Pennebaker, Richard Leacock and Albert Maysles. The organisation became a beacon for many emerging filmmakers including John Cassavetes and Frederick Wiseman.
For years I'd felt like an outsider, so I identified with the problems of minority groups. I thought it was more important to be some kind of goddamned junkie who felt alienated rather than to say I am an alienated woman who doesn't feel part of the world and who wants in.
When Shirley Clarke made her feature debut in 1961, the associations with the cinéma vérité movement were apparent. Premiering at the Cannes Film Festival, The Connection was an adaptation of Jack Gelber's off-Broadway play about a documentary crew who film a group of junkies waiting to score in a downtown loft. Shot with a hand-held camera and fast black-and-white stock, the film looked like a documentary but scholar Lauren Rabinovitz notes that The Connection "self-reflexively portrays and betrays cinéma vérité"[4]. Furthermore, by framing the action through a fictional white male film director, the distinct gender and race politics at play in Clarke's adaptation cannot be ignored. Boasting jazz, junk and scandal, The Connection epitomised Beat culture and rightfully secured Clarke's place in the New American Cinema.
Right now, I'm revolting against the conventions of movies. Who says a film has to cost a million dollars and be safe and innocuous enough to satisfy every 12-year-old in America?
The Connection introduced Clarke to actor, Carl Lee with whom she started a relationship that would last over thirty years. Lee became a life force for Clarke and was integral to her sophomore feature. The first American independent film to appear at the Venice Film Festival,The Cool World charts the fortunes of aspiring gang leader Duke on the streets of Harlem. Based on Warren Miller's best-selling novel, the film was co-scripted by Clarke and Carl Lee (who also starred in the film). The predominantly improvisational structure again allowed Clarke to blur documentary and fiction to great effect. Clarke made it no secret that she was unable to secure funding without a male producer (Fredrick Wiseman) and was also at pains to clarify that investors would only support an African-American film if it had a white director. The resulting film serves as a document of the lives of Harlem residents in the pre-Black Power era alongside the fictional tale of Duke and his gang.
Shirley did consider [it an honor] that she won an Academy Award for this film and even went to Los Angeles to the Academy Awards. She sat just behind Danny Kaye.
In 1964 Clarke co-directed the 1963 Academy Award®-winning Documentary Feature, Robert Frost a Lover's Quarrel with the World. Filmed only months before the passing of the Pulitzer Prize-winning poet, the documentary captures him at home on his rural property in Vermont and travelling America on a university lecture tour. Often cited as an anomaly in Clarke's filmography, the work speaks to her ability as a pure documentarian. The UCLA Film Archive noted that "Clarke's visual style rises to meet the colloquial power of Frost's work with handheld intimacy and grace." [7]
The season of 1965-66 was a transitional one for Clarke, the American independent cinema, and the arts in general."
Clarke had difficulties with her collaborators on both The Cool World and Robert Frost a Lover's Quarrel with the World. This, coupled with the death of her father, had her hospitalised. When she emerged she started anew, moving into the famous Chelsea Hotel. Her penthouse apartment quickly became a hub of activity and Clarke re-established herself within the thriving downtown arts scene. In 1966 Clarke, Louis Brigant and Jonas Mekas established the Filmmakers Distribution Centre (FDC) to commercially distribute independent films. They had a roster of highly regarded filmmakers such as Lionel Rogosin and Gregory Markopoulos but it was Andy Warhol and Paul Morrissey's opus Chelsea Girls that brought them their only genuine commercial success.
I started that evening with hatred... But as the evening progressed, I went through a change of not wanting to kill him but wanting him to be wonderful, show him off.
After filming The Cool World, Clarke spent many years trying to get scripts produced through traditional channels. However, after seeing the success of Kenneth Anger's Scorpio Rising (1963) and Andy Warhol and Paul Morrissey's Chelsea Girls (1966), Clarke decided to go it alone: "[I was] convinced that I could produce myself if I kept costs way down, and I guess that's just what I did." [10]
Shirley Clarke's Portrait of Jason, about a gay, black, self-described hustler, is widely considered her masterpiece. A unique documentary hybrid, the film was shot in one continuous 12-hour sitting in Clarke's apartment at the Chelsea Hotel. After premiering at the 1967 New York Film Festival, Portrait of Jason became a staple on the museum and film festival circuit in Europe and North America. J Hoberman notes that "Portrait of Jason is without a doubt, Shirley Clarke's most radical, as well as her most personal film." Some forty years later, "it still has things to teach us about the nature of race, sex and success in America." [11]
[Much] of Shirley Clarke's work in the 1960s played a key role in its attempts to express cultural protest, expose deep-seated political unrest, and challenge the Hollywood model of cinema.
By the start of the new decade the filmmaking scene and the nation was undergoing great change. Clarke, Mekas and Brigante's FDC was in deep financial trouble and was forced to close. Jonas Mekas went on to create the Anthology Film Archives but Clarke was not involved. She turned her attention to the civil unrest dominating many university campuses, "Clarke marched in protest parades, participated in acts of civil disobedience and got arrested." [13] Her filmmaking practice also took off in another direction - she began to work on solo projects with super 8mm and new video technologies.
In 1970 Clarke received a grant sponsored by the Museum of Modern Art to explore the medium of video. She purchased a studio of new technologies - cameras, Portapacks, editing decks, monitors. Her original aim of developing a non-linear editing process for tape wasn't realised but Clarke found many unique possibilities for the new format. In her home at the Chelsea Hotel she created a screening space known as the TeePee and developed a salon, inviting artists from numerous disciplines to work in this new arena. Over the next five years, the TP Videospace Troupe developed, giving workshops and touring within the United States.
Her work is really interesting because it is quite unique stylistically - and a little on the eccentric side. Clarke did not cut film the way others did - she never seemed interested in doing things the standard way, or the way others did things.
1975 saw Clarke move to the West Coast to take a teaching position at UCLA in their film and video department. Her flair and skill for editing in particular made her an excellent guide for future filmmakers. "Somehow the time and space in film turns out to be relevant to almost every concept I have about film: how I choose the subject, as a way of looking at film, and as a way of understanding and working with it. Editing image is the essence of film." [15] Clarke also championed the idea of personal filmmaking having a legitimate place alongside commercial Hollywood narratives. UCLA professor, Nancy Richardson recalled, "she was a maverick, a pioneer, an avant-garde independent filmmaker and a true artist in so many ways." [16]
There's that Neorealist side of me but there's another part of me that loves all the playing with film and video technology. My greatest goal is to combine those two parts of me.
For her final feature film, Shirley Clarke crafted a hypnotic portrait of avant-garde musician Ornette Coleman. An amalgam of free jazz, video art and pure documentary, Ornette: Made in America explores the creative inspirations and intellectual pursuits of one of the great innovators of jazz music. Charting Coleman's artistic evolution across several decades including time spent in Morocco and Nigeria, Clarke began shooting footage for this project in 1968, but the bulk of the film centres around Coleman's triumphant Fort Worth, Texas, homecoming in 1983.
There are several reasons why I succeeded at all. One, I had enough money that I didn't have to become a secretary to survive. And secondly, I have developed this personality, this way of being. I have chosen a field where I have to be out there, to constantly connect, to be in charge of vast amounts of money, equipment and people. And that is not particularly a woman's role in our society.
Shirley Clarke continued working with video throughout the 1980s. Savage Love and Tongues were two theatre/video pieces she created through collaborations with Sam Shepard and Joseph Chaikin. She also worked extensively with a young filmmaker Donna Cameron on a filmic portrait entitled, Shirley Clarke In Our Time.
Dancer, bride, runaway wife, radical filmmaker and pioneer - Shirley Clarke is one of the great undertold stories of American independent cinema. A woman working in a predominantly male world, she ran away to bohemia, hung out with the Beats and held to her own vision in triumph and defeat."
A highly awarded filmmaker, Clarke had numerous encounters with Hollywood over the course of her career, recalling "I was asked by Roger Corman to do a movie in Hollywood. Of course the whole thing blew apart when I found out that what Roger wanted was for me to be 22 years old and wished I have never done anything in life... He said to me "I'm sorry, but I hoped I could do for you what I had done for Martin Scorsese, Peter Bogdonovitch" and he listed a whole bunch of filmmakers that are ten years younger than I am, all these men. And I realised he didn't have any idea who the fuck I was. Clearly he couldn't be talking to an established filmmaker who had gotten prizes and stuff. He didn't know who I was at all." [20]
Shirley Clarke pushed and developed her artistic practise throughout her lifetime. Seen today, her work retains an energy and frenetic urgency that seems to mirror Clarke's own personality and the era in which she lived. Her close friend and collaborator Viva said, "I'm just sorry that Shirley had to wait until she was dead before she got all this attention for her fabulous genius work. I hope she's watching from heaven. I have to believe in heaven now so that Shirley can see that her work is being appreciated." [21]
Shirley Clarke passed away in Boston, Massachusetts in 1997, shortly before her 78th birthday.
– Kristy Matheson © 2013
Endnotes
[1] DeeDee Halleck, Interview with Shirley Clarke Chelsea Hotel, 1985, The Early Video Project
[2] Milestone Films Project Shirley, p 21 
[3] Shirley Clarke, Los Angeles Times interview, 1976 
[4] Lauren Rabinovitz, Points of Resistance Women, Power & Politics in the New York Avant-garde Cinema, 1943-71, p 114, University of Illnois Press, 1991 
[5] Milestone Films Project Shirley, p 22 
[6] Milestone Films Project Shirley, p 237/Paul Malcolm, program notes, UCLA Festival of Preservation, 2013
[7] UCLA film and television archive
[8] Lauren Rabinovitz, p 131, op cit.
[9] Lauren Rabinovitz, 'Choreography of Cinema: An Interview with Shirley Clarke', in Afterimage, December 1983, p 11 
[10] Shirley Clarke, 'About the Making of Portrait of Jason' Press Release, 1967 
[11] J. Hoberman, April 18, 2013 
[12] Lauren Rabinovitz, pg 138, op cit.
[13] Lauren Rabinovitz, pg 140, op cit.
[14] Cynthia Lee, 'Archive rekindles interest in once-marginalized filmmaker', UCLA, February, 27, 2013 
[15] Lauren Rabinovitz, 'Choreography of Cinema: An Interview with Shirley Clarke', in Afterimage, December 1983, p 8 
[16] Cynthia Lee, op cit. 
[17] DeeDee Halleck, op cit. 
[18] DeeDee Halleck, op cit. 
[19] Manohla Dargis, New York Times, April 27, 2012 http://www.npr.org/
[20] DeeDee Halleck, op cit. 
[21] Pat Dowell, 'Shirley Clarke's 'Connection': Will It Click At Last', NPR June, 23, 2012