There's nothing quite like tennis, one of the world's most grueling competitive sports. During summer at the Australian Open, it's often a test and battle of wills, with matches lasting upwards of five hours on courts that often burn above 50°C – on occasions even the air is too hazardous to breathe.
For most people, the thought of competing under those conditions is enough to have us calling for the trainer. Luckily, tennis and videogames have been partners for decades, so we've all got the chance to be armchair champions.
Here are some of the aces in tennis videogame history.
Tennis for Two (Higinbotham and Dvorak, 1958)
One of the first videogames ever created, Tennis for Two had visitors to the Brookhaven National Laboratory queueing for hours to see this amazing new innovation in entertainment. The game was designed by American physicist William Higinbotham and coded on an oscilloscope with a screen only five inches high. It featured a side-on view of a tennis net with a brightly lit dot representing the ball shooting back and forth. The game was coded for two players, with each controlling the return shot from one side of the screen.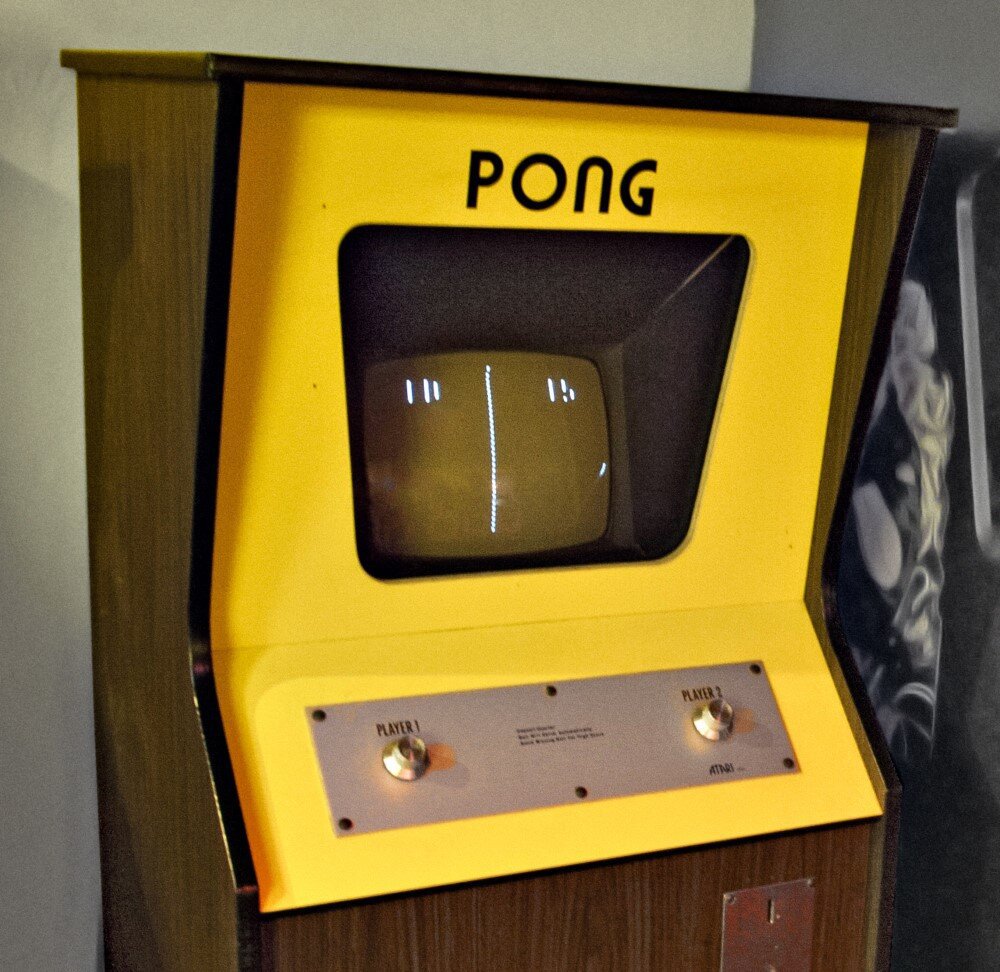 Pong (Atari, 1972)
Pong, the granddaddy of all tennis games, is a cultural icon and rightfully so. The game that helped to spark the arcade revolution also helped establish Atari as an early heavyweight in the industry. Its success lead to a plethora of imitators, as well as many variations from Atari itself. One of the most unique was a version entitled Barrel Pong, aimed at Australian audiences and created to suit the pub environment.
Tennis (Magnavox, 1972)
The Magnavox Odyssey changed gaming as we know it by bringing the videogame console into players' homes for the first time. It was only capable of creating three square dots on traditional CRT TVs, so players would stick coloured plastic overlays on their TV screens to create their own graphics for various games. Tennis was similar to Pong, with players controlling paddles on either side of the screen and a top-down view of the court.
Tennis (Nintendo, 1984)
One of the 18 launch titles for arguably the most important console of all time, the Nintendo Entertainment System (NES), Tennis had dramatically updated graphics and improved gameplay. The game was designed by the legendary Shigeru Miyamoto, better known as the creator of Donkey Kong, Mario (who also appeared to be the referee in Tennis) and the Zelda series.
Super Tennis (Nintendo, 1991)
Super Tennis for the Super Nintendo Entertainment System (SNES) was the first tennis game I became truly addicted to. The player control, ball handling and graphics had improved immensely since the NES outing, and there were more shot options available. It also utilised one of the crowning features of the SNES, known as Mode 7, which created the illusion of three-dimensional graphics on a 2D system. It worked by having a background graphics layer that could rotate and move independently of other sprites. This feature was most famously used in Super Mario Kart.
Power Smash / Virtua Tennis series (Sega, 1999-present)
Never one to be outdone by the team over at Nintendo, Sega have been bringing their (top) spin on the tennis genre since the late 1990s. A truly Sega game at heart, Power Smash – known as Virtua Tennis over here in the West – does away with any attempt at realistic shot simulation. Instead it stays true to its outlandish arcade roots, with over-the-top forehands, backhands, and volleys aplenty. However, it is notable as being one of the first tennis games to feature a realistically rendered roster of real life players.
Wii Sports (Nintendo, 2006)
Wii Sports (and its system) redefined how sports games were played in the home. For the first time, players were experiencing the wonder of motion controls by getting out of their seats and swinging away wildly in the living room. The physical and social aspect of Wii Sports brought together players of all ages, many of whom had never even considered playing a videogame before (it became a firm favourite of grandparents everywhere). And given its control mechanism, it is a surprisingly robust game – the definition of 'pick up and play.'
Top Spin 4 (2K Games, 2011)
Perhaps the greatest tennis game of the last generation, Top Spin 4 is a more realistic experience than many of the more arcade-oriented options on this list. After nearly a decade since release, it's still revered in videogame circles, and provides a great reason to crack out your older console. Top Spin 4 features accurately rendered versions of much of the current roster of players, including Roger Federer, Rafael Nadal and Serena Williams, and it handles like a dream.
Mario Tennis Aces (Nintendo, 2018)
What could be better than an arcadey tennis game featuring all your favourite characters from the Marioverse? Released for the Nintendo Switch, Mario Tennis Aces is somewhat of a spiritual successor to Wii Sports, with relatively easy-to-learn motion controls and an introductory mode for younger players called 'Swing Mode'. Where it excels over Wii Sports is greater controllability of the player character and a more complex range of shots, allowing for a far more engaging game once you get the hang of it.
AO Tennis 2 (Big Ant, 2020)
Following on from their first Australian Open themed title in 2018, Melbourne's very own Big Ant studios released what is going to be the hottest tennis game of 2020 on 9 January. Featuring an in-depth career mode, realistic player animations and likenesses, and refined game and ball mechanics, this is the title for those wishing to recreate a realistic Open experience at home.
Arieh Offman is a nerd for all things videogame and screen culture. After teaching art and game development in secondary schools for a decade, he now curates the videogames section of ACMI's new exhibition, and produces the Audience Lab program of beta-testing in the museum.