Elephant is an experiment in liveness and embodiment, playing with projection, reflection, multiplicity and disappearance.
Part installation, part dance and part film experiment, Elephant fuses and confuses live and screen presences – shrinking and expanding, emerging and dissolving, fragmenting and disappearing.
Devised and performed by Sarah Mainwaring, and created in collaboration with Ingrid Voorendt and Alana Hoggart, Elephant explores the space between life and death, and is driven by Mainwaring's interest in consciousness and her skill and receptivity as an improviser. This creative showing will give the artist valuable feedback to test and continue her journey exploring these ideas.
About Sarah Mainwaring
Sarah joined the Back to Back Theatre ensemble in 2007, played the lead role of Lesley in Back to Back Theatre's Food Court (2008) and has toured both nationally and internationally with the Democratic Set Residency and Lady Eats Apple (2016). Sarah has played a collaborative role in the creative development of Ganesh versus the Third Reich (2011), Super Discount (2013) and as creator and performer in the company's most recent major work, The Shadow Whose Prey the Hunter Becomes (2019) and its film adaptation Shadow (2020). 
Sarah has a Bachelor of Arts (Performing Arts) from Victoria University, and has a particular interest in avant-garde and physical theatre.
Bringing together game developers, filmmakers, moving image artists, tech wizards and individual creators who want your feedback on their projects. From augmented and virtual reality to videogames and video art, each month there is something exciting for you to test out and discover at ACMI.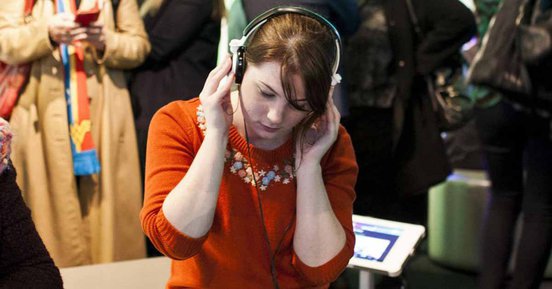 Read our COVIDSafe visitor guidelines, information on accessibility, amenities, transport, dining options and more.
Looking for dining options?
As well as great coffee and snacks, our new restaurant features a seasonally driven menu developed by acclaimed Melbourne chef, Karen Martini.