Update
Due to unforeseen circumstances affecting availability, this event has been cancelled.
We apologise for any inconvenience caused and will a process a refund for your ticket shortly. We hope to see you at ACMI again soon!

Browse our film program.
___________________
A Man Escaped (1956)
Robert Bresson's authentic prison-break thriller has inspired generations of filmmakers from Krzysztof Kieślowski to the Safdie Brothers.
En route to a Nazi-run prison, French Resistance fighter Lieutenant Fontaine (played by non-professional actor François Leterrier) makes a failed attempt to escape from his captor's vehicle. Ensnared again in an instant, he arrives at the prison with an appetite for escape, spending every moment working towards his next attempt.
Considered by many to be Robert Bresson's masterpiece, A Man Escaped is perhaps his first film to truly reflect his vision of cinematic authenticity. Based on the memoirs of real-life escapee André Devigny, the film's attention to detail and accuracy is further instilled by the director's own lived experience in a German-run prison during the Second World War. The film marks cinematographer L.H. Burel's second collaboration with the director after The Diary of a Country Priest (1951). The pair would collaborate on two more films.
A Man Escaped screened in competition at the 10th Cannes Film Festival where Bresson was awarded Best Director.
Language:
French and German with English subtitles
Stray (2018)
The paths of two enigmatic strangers intersect in the shadow of New Zealand's breath-taking Southern Alps.
Jack (Kieran Charnock), a young man on parole for grievous bodily harm, withdraws into a cabin precariously close to the scene of his crime. Locked away in a prison of his own making, he encounters Grace who is wandering from abandoned house to abandoned house seeking refuge. Played by the captivating Arta Dobroshi, star of the Dardenne brothers' Lorna's Silence (2008), Grace's own private struggles linger beneath her attraction to Jack. These enigmatic strangers drift into a relationship that promises to either mend or destroy them.
Dustin Feneley's debut feature nestles into the side of New Zealand's stunning Southern Alps. A collaboration with cinematographer Ari Wegner, Stray marks her first time capturing the beauty of the South Island landscape ­– a region she would return to for Jane Campion's The Power of the Dog (2021).
In a film of dichotomies, opposing threads are woven throughout – hot and cold, snow and fire, isolation and intimacy – each beautifully articulated by Wegner's masterful use of light and tonal palettes.
It is an iceberg of a film – what appears above the surface barely scratches at the behemoth of emotion lurking within.
---
Don't miss these related events
---
From Turner to Kusama, celebrate the groundbreaking artists who harnessed the elemental force of light over 200 years of art history.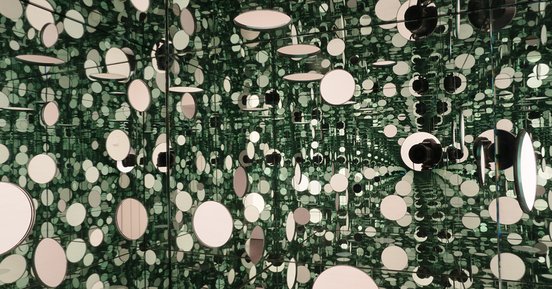 COVIDSafe visitor guidelines, information on accessibility, amenities, transport, dining options and more.
Make the most of your visit to Light: Works from Tate's Collection with a special lunch offer from our restaurant, bar and cafe in the heart of Fed Square.