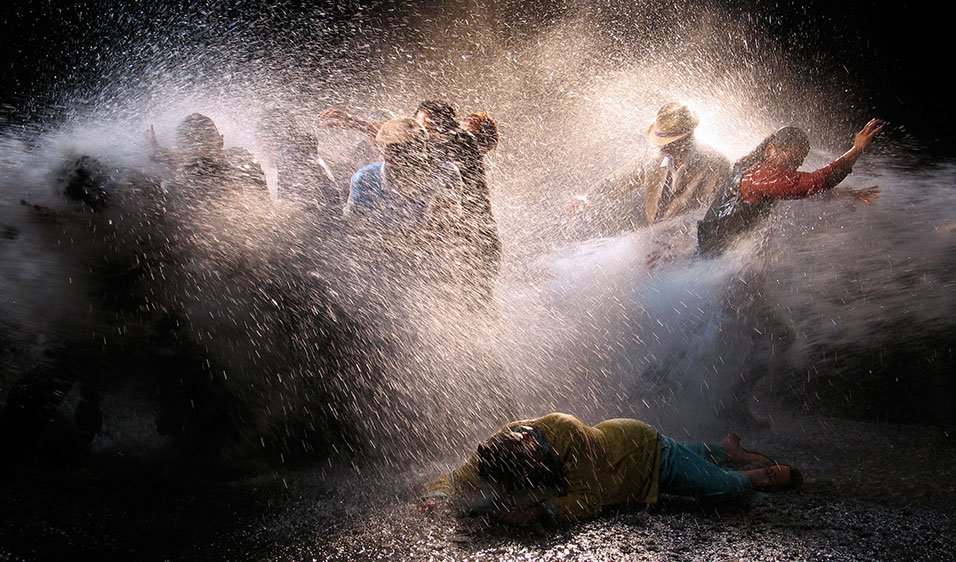 Renowned American video artist Bill Viola brings to the Australian Centre for the Moving Image (ACMI) his powerful video installation The Raft  for a celebration of this acclaimed artist's work as part of the 2010 Melbourne International Arts Festival (MIAF) and the 21st Kaldor Public Art Project.
The Raft  (May 2004) shows a group of men and women from various ethnic and economic backgrounds waiting in line. Suddenly they are struck by a massive onslaught of water that knocks over some, as others brace themselves and fight for survival. Water flies everywhere, clothing and bodies are pummelled, faces and limbs contort in stress and agony against the cold, hard force. Then, as suddenly as it arrived, the water stops, leaving behind a band of suffering, bewildered, and battered individuals.
The action in The Raft  unfolds in extreme slow motion to reveal subtle nuances of the light and colour in the explosive impact of the water and the individual expressions and gestures of the figures in the face of an overwhelming assault. Described by the artist as "an image of destruction and survival", this powerful and extremely moving work is a symbol of hope in the difficult times we find ourselves.
Curated by Alessio Cavallaro and Kate Warren. Presented by the Australian Centre for the Moving Image and Kaldor Public Art Projects in Association with Melbourne International Arts Festival.  On Loan from Bill Viola Studio.
Partners
When
7 Oct 2010 – 20 Feb 2011