ACMI and the BFI present
From Early: The Foundations of the Grime Aesthetic
Screens with short film 'Speaking for the Dead' (2019)
Various
|
United Kingdom
|
Unclassified (15+)
As a movement, grime is hard to define; to some it's overtly political, to others it's about having a good time. Like all musical subcultures it has evolved and changed, had its day and then had its day again.
This program begins at the early days of grime on video, and how the DIY aesthetic set by pioneers such as Roony Keefe (Risky Roadz) confirmed a visual style that pays homage to its cultural roots; that of London estates, pirate radio, sportswear, Blackness, Englishness, otherness, hypermasculinity, the rave, the corner. It's a movement that relies heavily on the power and presence of its performers. This program of five short films features key players from the scene including Wiley, Kano and Skepta.
Free. Bookings essential.
Short films
Wiley, Skepta, Wretch, Scorcher, Ghetts, Frisco
The Best of Risky Roadz compiles the hypest moments from the four original DVDs into one incredible film anthology, showcasing some of grime's main players spitting bars in various locations around London, plus scenes filmed inside the recording studio or on air.
Roony Keefe (Risky Roadz) | 2006 | United Kingdom | English | 11 min
Kano Adidas Bathrobe Freestyle
A young Kano appears, late night, in an Adidas bathrobe. Taken from legendary DVD series Risky Roadz was instrumental in kickstarting the careers of countless MCs in the heyday of 2000s grime.
Roony Keefe (Risky Roadz) | 2004 | United Kingdom | English | 2 min
Roll Deeper
A short film given as a bonus CD on In At The Deep End, Roll Deep's Roll Deeper documentary shows us the East London crew in their true element, from studio sessions to estate hangouts.
Lucia Helenka | 2005 | United Kingdom | English | 12 min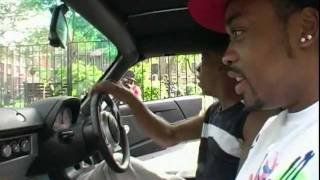 Hidden Olympic Village
It's 2012 and in East London, the long-awaited Olympic Games are underway, as the UK and the world beyond gets into the spirit of celebration. Simon Wheatley is in a living room in Maryland, a poor residential area less than a mile away from the Olympic Village, recording this historic moment in time through the eyes of Chronik, a veteran grime MC.
Simone Wheatley | 2012 | United Kingdom | English | 11 min
Trouble
A challenging short film, based on a concept by Kano, in which a promising teenager is stabbed. The London MC searches for sense and reason in this conversation with his neighbourhood.
Aneil Kapra | 2019 | United Kingdom | English | 18 min
Screens with
Speaking for the Dead
On the 14 June 2017, Grenfell Tower, a social housing block in West London, burnt down in a fire, killing 72 people. In the weeks that followed, the media and ordinary members of the public flocked to the community to ask questions, and search for answers. Peiman Zekavat's brutally honest documentary interrogates the motives of those who choose to tell the stories of others who rarely get to speak for themselves.
Peiman Zekavat | 2019 | United Kingdom | English | 14 min
Dissenters, Lovers and Ghosts: New British Cinema
There are no upcoming related events at this time.
Read our COVIDSafe visitor guidelines, information on accessibility, amenities, transport, dining options and more
Looking for dining options?
As well as great coffee and snacks, our new restaurant features a seasonally driven menu developed by acclaimed Melbourne chef, Karen Martini.