Channel your lycra-clad inner goddess through the power of 80s dance, with this hot and hilarious workshop and performance.
Melbourne's premier semi-professional 80s dance troupe, The Real Hot Bitches, live by the motto, "Whatever you lack in technique, make up for with passion!" Join the lycra-clad hotties for a dance workshop for all ages and genders, at 12.30–1.30pm. Please note there will be G-string leotards and there will be thrusting. Maybe even a bit of bootscooting. Lycra is welcomed but not compulsory.
The Real Hot Bitches will also perform two routines – at 12–12.15pm and 2.30–2.45pm – to classic hits of the 80s.
When
See below for additional related events
Tickets
Where
About Real Hot Bitches
The Real Hot Bitches are a Lycra-lovin' glitter explosion of hot bitches with a passion, a dance passion. Through all that the 80's has to offer; Lycra, lace, glitter, glory, g-string leotards and voluminous hair, the bitches channel their 'inner bitch' and perform epic moves to the classic hits of the 80's. These hotties live by the motto 'what you lack in technique, make up for with passion' and 'more is more!'
Now in their 15th year, the Real Hot Bitches are renowned in Melbourne for bringing to hotness and fierce, hilarious moves to festivals, parties, street parades and community events. Sydney Road Street Party, Reclink Community Cup, Mt Buller Retro Weekend, Melbourne International Film Festival, Comedy Festival and Melbourne Fringe to name a few. WITNESS THE FITNESS.
Stand Up Against Street Harassment
training by L'Oréal Paris with Plan International Australia
The Stand Up Against Street Harassment campaign and intervention program, an initiative by L'Oréal Paris in partnership with girls' rights charity Plan International Australia, is focused on raising awareness about street harassment, and providing training in the 5 Ds – Distract, Delegate, Document, Direct, and Delay – to support bystanders to safely stand up to street harassment when they see it.
Learn how to safely combat street harassment by taking the Stand Up training. Scan the barcode at the L'Oréal Paris machine (located on the Ground Floor at ACMI) to complete the 5 minute training and receive a L'Oréal Paris product in return.
L'Oréal Paris is a Supporting Partner of the Goddess Weekend.
Also happening on Goddess Weekend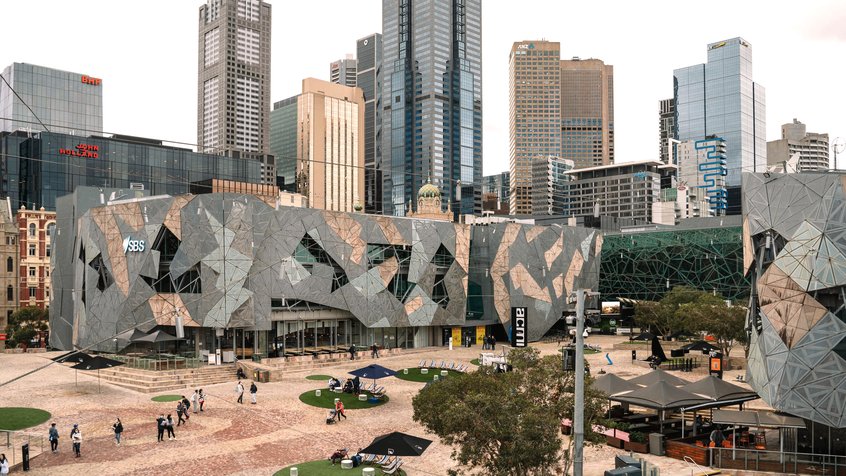 Visitor guidelines, information on accessibility, amenities, transport, dining options and more.
Our restaurant, cafe and bar in the heart of Fed Square features a seasonally driven menu developed by acclaimed Melbourne chef Karen Martini.
Experience ACMI in the very best way. Get a range of discounts and invitations to exclusive previews.