An intimate conversation about gender equality with 45 artists spanning six decades of Australian music.
… a vivid insight into the Australian Music Industry through the eyes of its women… This documentary is a fork in the road towards a brighter future. A statement of hope. An expression unity and expansion.
Her Sound, Her Story is an intimate conversation with more than 45 artists spanning six decades of Australian music, including Tina Arena, Julia Stone, Eleanor Dixon, Mojo Juju, Nai Palm and many more. Together they unveil the personal, historical and social legacies of an incredible journey.
Inspired by the rising conversation about gender inequality within the music industry, the film was conceived and conducted by Melbourne artists and storytellers Claudia Sangiorgi Dalimore and Michelle Grace Hunder. In a survey of unprecedented scope, Her Sound, Her Story documents women of diverse ages, genres, sexual orientations, ethnicity and careers across many facets of industry. Through interviews, animations, music and text, the film aims to highlight positive messaging and spark social change, to teardown stigmas and continue women's current, historic push to the forefront.
Ultimately, Her Sound, Her Story is an optimistic portrayal of the power of creativity over adversity. In looking to the future, it aims to inspire the next generation of young people to new and unprecedented aspirations
Source:
Her Sound, Her Story
Courtesy:
Claudia Sangiorgi Dalimore
---
Goddess Weekend program (Saturday 2 & 3 Sunday Sep 2023)
There are no upcoming related events at this time.
Stand Up Against Street Harassment
training by L'Oréal Paris with Plan International Australia
The Stand Up Against Street Harassment campaign and intervention program, an initiative by L'Oréal Paris in partnership with girls' rights charity Plan International Australia, is focused on raising awareness about street harassment, and providing training in the 5 Ds – Distract, Delegate, Document, Direct, and Delay – to support bystanders to safely stand up to street harassment when they see it.
Learn how to safely combat street harassment by taking the Stand Up training. Scan the barcode at the L'Oréal Paris machine (located on the Ground Floor at ACMI) to complete the 5 minute training and receive a L'Oréal Paris product in return.
L'Oréal Paris is a Supporting Partner of the Goddess Weekend.
Also happening on Goddess Weekend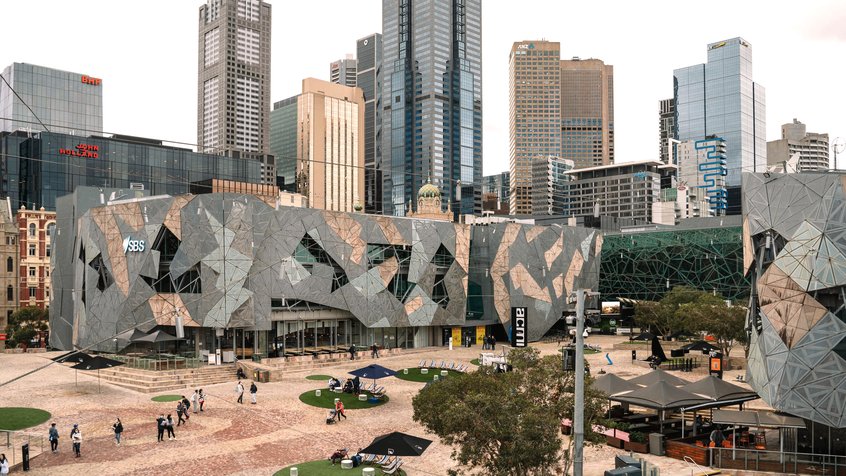 Visitor guidelines, information on accessibility, amenities, transport, dining options and more.
Our restaurant, cafe and bar in the heart of Fed Square features a seasonally driven menu developed by acclaimed Melbourne chef Karen Martini.
Experience ACMI in the very best way. Get a range of discounts and invitations to exclusive previews.