ACMI & Liquid Architecture present
Liquid Architecture x Light
Featuring a pre-recorded introduction from Lis Rhodes
An evening of experimental sound and cinema inspired by Lis Rhodes' 1975 film installation Light Music.
Light Music, presented in ACMI's Gallery 3 as part of Light: Works from Tate's Collection, is Lis Rhodes' response to what she perceived as the lack of attention paid to women composers in European music.
Rhodes' film set out to counter not only the enduring hegemony of narrative cinema, but also male domination within the avant-garde at the time. It was a call for a feminist filmmaking aesthetics embracing both the abstraction, and collective sociality, of light, shadow and smoke.
This one-off performance program is a response to Rhodes' work, celebrating the rich culture of sound and image experimentation by contemporary women artists in Australia, presented by ACMI in partnership with Liquid Architecture.
The program features new audiovisual performances by acclaimed artists Sally Golding, Bonnie Mercer, amby downs and Carmen-Sibha Keiso whose works will be presented alongside rare screenings of two early films by Rhodes, Dresden Dynamo (1971) and Light Reading (1978).
Running order
8.00pm Event starts
8.20pm Intra Protocol – Sally Golding
8.40pm Dresden Dynamo (Lis Rhodes, 1971, 16mm)
8.45pm Street Corner (Carmen-Sibha Keiso) with live performance by Bonnie Mercer
9.05pm Light Reading (Lis Rhodes, 1978, 16mm)
9.25pm I am holding my breath – amby downs
9.45pm Event concludes
When
See below for additional related events
Rating
Unclassified (All Ages)
About the performers
amby downs
amby downs is the musical pseudonym of interdisciplinary artist Tahlia Palmer, whose work explores history, identity and connection to Country through layers of distorted noise, cavernous reverberations, abstracted and found images, and field recordings.
Sally Golding
Sally Golding's audiovisual performances draw from her background in expanded cinema and avant-garde music to create powerful sensory experiences that set out to simultaneously disorient and seduce the spectator. This will be Sally Golding's first performance in Australia since 2015.
Bonnie Mercer
Bonnie Mercer is an improvising guitarist who for the past 25 years has been making earth-shattering, transcendental, and experimental noise music.
Carmen-Sibha Keiso
Carmen-Sibha Keiso is an Arab multimedia artist and curator working in performance, video, and text.
From Turner to Kusama, celebrate the groundbreaking artists who harnessed the elemental force of light over 200 years of art history.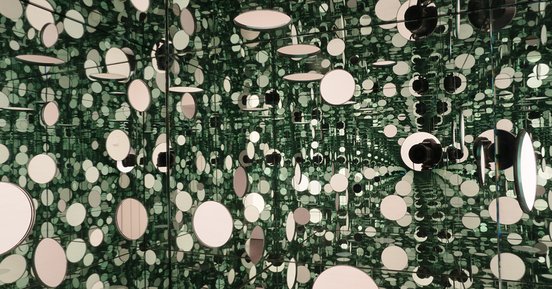 COVIDSafe visitor guidelines, information on accessibility, amenities, transport, dining options and more.
Experience ACMI in the very best way. Get a range of discounts and invitations to exclusive previews.