From the breath of trees to the cells inside our bodies and galaxies above, everything is connected.
Marshmallow Laser Feast: Works of Nature illuminates the hidden forces surrounding us, revealing the sublime through sensory journeys beyond our everyday perception. From the roots of a majestic Amazonian tree to the unseen branches of the body and the birth of galaxies, this hypnotic, immersive experience explores the rhythm that cultivates and connects all life – breath.
This world premiere exhibition features five major digital artworks on a grand, awe-inspiring scale from London-based collective Marshmallow Laser Feast. Through guided meditation, large-scale screen works and interactive experiences, visitors evolve from droplets of water to plants, cells and stars, becoming part of the cycle of life and the cosmos.
Using creative technology to deepen our understanding of, and connection to, the world around us, Marshmallow Laser Feast reminds us that we're just one species in a shared ecosystem and asks, what can we learn from nature to prepare for the future?
Marshmallow Laser Feast: Works of Nature marks their first major exhibition in Australia and includes artworks executive produced by filmmaker Terrence Malick; and collaborations featuring narration by Cate Blanchett; poetry by Daisy Lafarge; and music by Jonny Greenwood, Meredith Monk, Jon Hopkins, Jóhann Jóhannsson and Howard Skempton.
---
What to expect
Sanctuary of the Unseen Forest​
Video installation ​, 4 minutes
Be captivated by the sight of an majestic Colombian kapok tree as you enter the gallery. This 5-metre-high video installation illustrates the immensity of our natural world, putting the human body into perspective.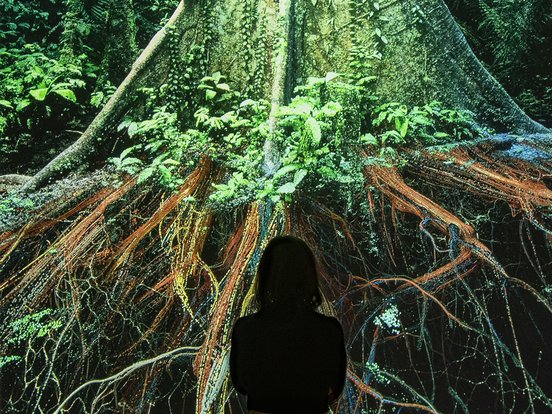 Evolver
A series of large-scale video installations with optional VR
From the exhale of a tree to the first intake of human breath, go on a voyage through the human body, following the flow of oxygen to its origin as a single living cell. Originally devised as a VR (Virtual Reality) experience, Evolver has been reimagined for ACMI.
Within Evolver:
Deep Listening Meditation (10 mins)
You are invited to take part in a collective meditation guided by the voice of Academy Award-winning actor Cate Blanchett, with a score by Jon Hopkins. 
Journey of Breath (12 mins)
Where does the human body begin and end? This room scale installation follows the path of oxygen as it travels throughout the lungs and heart.
The Breathing Cell (5 mins)
Lie back to view this ceiling-mounted projection that follows the path of oxygen processed within cells to become carbon dioxide which then travels back through the lungs and is exhaled with each breath.
Try it in VR (25 mins)
Experience Evolver in its original VR format. This transformative work invites you to immerse yourself in the journey of breath. ($10 add-on to your exhibition entry)
The Tides Within Us
Six large-scale images
See the flow of oxygen through the branching ecosystem of the human body as the boundaries between humans and the environment dissolve.
Distortions in Spacetime​
An immersive, interactive experience, 5 minutes
Journey through space to the edge of a black hole. On this interactive voyage between time, space and human experience, harness the energy of the universe and explore the link between black holes, dying stars and the human body.
We Live In An Ocean of Air
Video installation​, 11 minutes
The final work of the exhibition brings you back to Earth to continue the journey of a single breath. Revealing the invisible connection between plants and people, We Live in an Ocean of Air delves into the wondrous rhythm that underpins life on earth.
---
Marshmallow Laser Feast (MLF) are a London-based art collective comprising artists and directors Robin McNicholas, Ersin Han Ersin and Barnaby Steel who create immersive experiences that expand perception and explore our connection with the world. Fusing architectural tools, contemporary imaging techniques and performance with tactile forms the collective work at the intersection of science, art and technology. Informed as much by playfulness as research, MLF breaks the boundaries to worlds beyond our senses.
MLF's work has been exhibited in the UK and internationally, including at the Saatchi Gallery, NXT Museum, Lisbon Triennial, Istanbul Design Biennial, the Sundance Film Festival, and the V&A and Design Museum, London.
---
Artwork Credits
Sanctuary of the Unseen Forest
By Marshmallow Laser Feast
Originally commissioned by Barbican Immersive
Evolver
Narrated By: Cate Blanchett
Executive Producers: Edward R. Pressman & Terrence Malick
Executive Producers: Cate Blanchett, Coco Francini, Andrew Upton, Nicole Shanahan
Producers: Sam Pressman, Antoine Cayrol
Directed by Marshmallow Laser Feast
An Atlas V, Pressman Film and Marshmallow Laser Feast Production
In Association with Dirty Films
Supported by Nicole Shanahan & Bia-Echo Foundation
Made in Collaboration With Natan Sinigaglia
Key scientific collaborator: The Fraunhofer Institute for Digital Medicine MEVIS
The Tides Within Us
By Marshmallow Laser Feast
Co-commissioned by York Mediale with Coventry City of Culture Trust
Key scientific collaborator: The Fraunhofer Institute for Digital Medicine MEVIS
Distortions in Spacetime
By Marshmallow Laser Feast
Commissioned by Manchester Science Festival, part of the Science Museum Group in partnership with The British Science Festival and University of Hull
We Live in an Ocean of Air
By Marshmallow Laser Feast
---
Experience ACMI in the very best way. Get a range of discounts and invitations to exclusive previews.
Visitor guidelines, information on accessibility, amenities, transport, dining options and more.