In the past, the long-running TV drama series was king. Now it's all about the mini-series. Find out why they're so bingeworthy in this panel discussion with three outstanding producers and directors.
This month Meet the Creators at ACMI considers the mini-series as a format and how to make it a hit, with three leading experts:
Joanna Werner's credits include Netflix original Clickbait, The Newsreader for the ABC, Secret City for Foxtel and the upcoming Surviving Summer for Netflix.
Corrie Chen recently completed the upcoming SBS mini-series, New Gold Mountain and she has directed Five Bedrooms, Sisters, SeaChange (the remake), among many other credits.
Julie Eckersley, now SBS Head of Scripted, produced Glitch, Maximum Choppage and now runs the output of SBS, one of Australia's leading Mini Series destinations.
We'll hear the stories behind these series – how they were devised, written, produced and pitched – and talk about what's needed to make a good mini-series a satisfying experience for audiences.
Join these three incredibly successful producers and directors on a panel livestreamed on ACMI's YouTube Channel. They'll be taking questions from the audience throughout the session with MC Denise Eriksen of Media Mentors Australia.
More about the panelists
Julie Eckersley
Julie Eckersley's career in film and television spans 20 years to date. As a writer and performer she co-wrote and developed work for the stage, touring nationally and internationally, with a speciality in Shakespeare. She then joined Rebel Wilson on her early comedy series, The Wedge as a writer and performer and spent 2 years working with Shaun Micallef on Newstopia. After completing her Masters in Communications (Swinburne University) and a Graduate Diploma in Producing (AFTRS) she joined Matchbox Pictures (NBCU) in 2011, producing award-winning content that has sold around the world including Glitch Seasons 2 & 3, Maximum Choppage, Oddlands, Anatomy 3, The Turning and The Family Law Seasons 1, 2 & 3.
In 2021, after producing the musical comedy Stories from Oz for ABC and Princess Pictures, she joined the SBS team as Head of Scripted. Julie has a track record of diverse storytelling, gender equity and inclusion; her workplace mantra is to create world-class content, and to look after each other while we do it.
Corrie Chen
Corrie Chen is an award-winning writer director whose work spans comedy and drama. She is currently directing New Gold Mountain, a groundbreaking Goalpost/SBS miniseries set in the Australian gold rush from the Chinese-Australian perspective. Most recently, she directed the latest season of Wentworth for FremantleMedia/Foxtel. Her other episodic work includes: Five Bedrooms (Hoodlum/Network 10); Sisters (Banks Endemol Shine/Network 10); the ratings hit remake of beloved Australian drama SeaChange (Every Cloud/Nine), and all three series of Internatonal Emmy-nominated Mustangs FC (Matchbox Pictures/ABC). Corrie received an ADG Award nomination for Best Direction in a Children's TV Drama Mustangs FC. She directed and executive produced the SBS series Homecoming Queens, a semi-autobiographical comedy-drama, which has been nominated for multiple awards including the AACTAs and the Australian Director's Guild. In 2018, she was presented with the Film Victoria's Greg Tepper award in recognition for outstanding achievement in Directing. A graduate of the VCA school of Film & TV, she is a two-time AACTA nominee, Australian Director's Guild award winner, and a multi-awardee of Screen Australia's talent escalator grants.
Corrie is naturally drawn to stories that explore the themes of identity and belonging. Perhaps it's something to do with her intercontinental background. She's still trying to figure it out.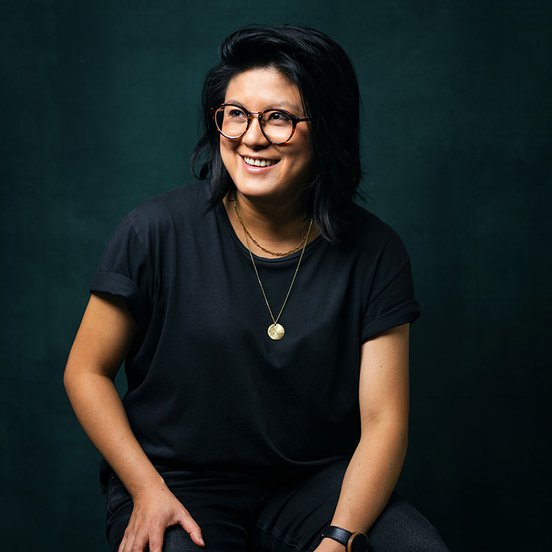 Joanna Werner
Joanna Werner is a creative Producer and Executive Producer for film and television, and is Director of Werner Film Productions. Her work has been defined by consistent acclaim, with multiple AACTA awards and Logies and three Emmy nominations.
Joanna has amassed production credits on an array of internationally acclaimed work – most recently on the Netflix Original Clickbait, Riot for the ABC, Secret City for Foxtel, as well as the two-time Emmy-nominated Dance Academy. Upcoming releases include The Newsreader for the ABC, and Surviving Summer, a teen surf series for Netflix. Joanna serves on the Board of Screen Australia and is Chair of Screen Australia's Gender Matters Task Force.
Join us for a series of free, in-person and live-streamed events for the screen and broadcast industry presented by AFTRS, ACMI, Film Victoria and Media Mentors Australia.