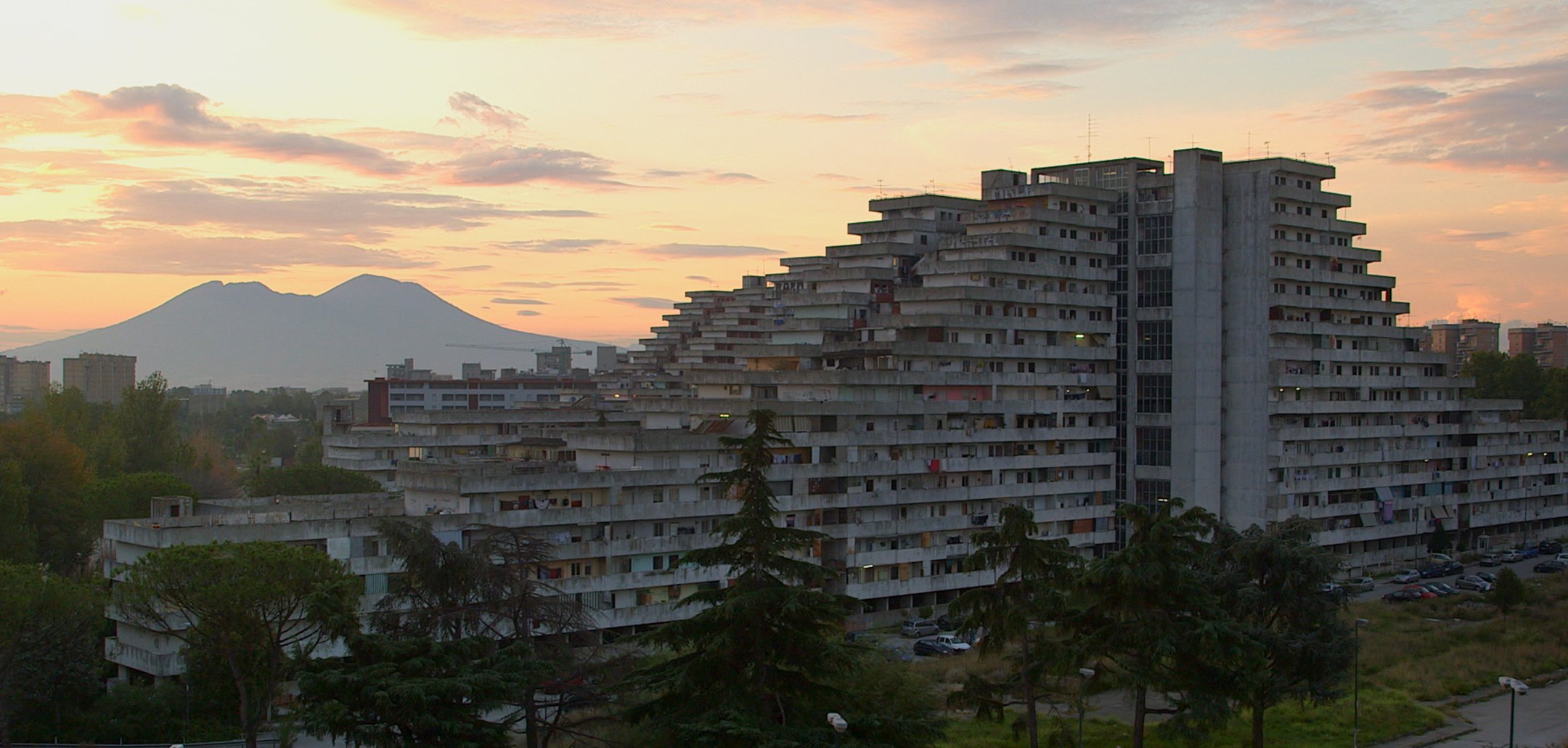 ACMI and the Italian Institute of Culture Melbourne present
The Ship
La Nave
Hans Wilschut
|
Italy
|
2020
|
Unclassified (15+)
The potential for architecture to not only shape buildings but the lives of those within them is explored in films that range from dystopian to utopian in outlook.
The residential complex known as Le Vele, in the Naples district of Scampia, is among the most notorious in the history of 20th century Italian architecture. Among the most well known projects of Franz Di Salvo (1913–77), dating back to his involvement in 1962, Le Vele's design – which originally included a series of seven 'sails' – was initially praised for the modernity of its vision; its construction, beginning in 1975, instead remains an object lesson in how far a project can fall short of its original concept and intentions.
Compromised by the use of poor quality materials and 'shortcuts' during construction despite Di Salvo's protestations, Le Vele stand as a bitter indictment of the economic and attendant forces that diluted the project's integrity and stymied its potential as an urban development which would promote and enhance social cohesion. Despite the controversial history of Le Vele – and the unwelcome focus on Scampia as the setting for Roberto Saviano's excoriating book, Gomorra, adapted for the screen in Matteo Garrone's 2008 film, Gomorrah – some of the district's long-standing inhabitants are determined to reclaim some sense of civic pride in the neighbourhood they call home.
The Ship screens with short film Heterotopia La Maddalena (2020)
Language:
Italian with English subtitles
When
See below for additional related events
Rating
Unclassified (15+)
Multipasses
Screens with
Heterotopia: La Maddalena
In September 2018, the organisers of Heterotopia La Maddalena invited eight architecture studios – Enorme Studio, False Mirror Office, Open Fabric, Orizzontale, Parasite 2.0, Something Fantastic, Traumnovelle and Urbz – researchers, a few special guests (Stefano Boeri, Luis Callejas, Pippo Ciorra) and 80 students from all over the world to participate in ten days of workshops, panel discussions, practical experimentation and cultural exchange in a sun-drenched research 'laboratory', the Maddalena archipelago, located in the Sardinian province of Sassari.
Taking their cue from French philosopher Michel Foucault, who defined 'heterotopias' as real places connected to all other spaces, the participants drew on La Maddalena's history as a unique site that at different times has been inhabited by shepherds and migrants, hermits and exiles, soldiers, NATO personnel and foreign workers, as well as the many seasonal tourists who enjoy its wealth of natural coastal beauty, to explore new connections between disciplines, theory and practice.
Ivo Pisanti | 2020 | Italy | English, Italian with English subtitles | DCP | 40 min
We're taking part in the Victorian Entertainment Program
This means you can claim back 25% of your ticket purchase (up to $125) when you spend $40 or more.  ​
Just keep your receipt and apply for your rebate at the Victorian Entertainment Program website.​
Act fast! The program will close once funds are exhausted.
COVIDSafe visitor guidelines, information on accessibility, amenities, transport, dining options and more.
Our restaurant, cafe and bar features a seasonally driven menu developed by acclaimed Melbourne chef, Karen Martini.