MWFF Presents
Kāinga – Closing Night
with short film Fire in the Water, Fire in the Sky
Angeline Loo, Asuka Sylvie, Ghazaleh Golbahksh, HASH, Julie
|
Aotearoa New Zealand
|
2022
|
Unclassified (15+)
Evocative and emotion-filled, this is a smart, sensitive, stunning collection of female-led Kiwi-Asian stories which cleverly chronicle our changing nation over the last 50 years.
Following the success of Waru (2017) and Vai (MWFF, 2020), Kāinga is the third anthology film in the trilogy produced by Kerry Warkia and Kiel McNaughton. Bringing together underrepresented Asian filmmakers to craft eight unique stories exploring the diverse, evolving, but familiar experiences of Asians trying to make a home in Aotearoa New Zealand.  
Taking place over five decades in a single house, 11 Rua Road, the walls bear witness to a visiting Chinese daughter hoping to see her father; a young Japanese mother's loneliness and isolation; a Filipino nurse trying to support both her adopted Aotearoa family and her real one in the Philippines; a young Korean girl's confusion with strangers nosing through her house; an Indian daughter trying to connect with her elderly father through technology, an Iranian wife growing restless with the lack of opportunities as an immigrant; a Tamil Eelam sister looking for old memories and a young Chinese-Kiwi mother's confrontation with her neighbour. 
Recent winner of the Network for the Promotion of Asian-Pacific Cinema (NETPAC) Award and a special mention in the Pasifika Award category for Best Feature Film at the Hawai'i International Film Festival, Kāinga explores the connections made between loss, belonging and home.
This session is followed by a filmmaker Q&A.
Screens with: Fire in the Water, Fire in the Sky
Director - Miria George
Language - English, Cook Island (Kuki Airani) Māori
2021, 13 minutes
To live is to dance.
Tia has always survived – but in turn she has forgotten how to dance.
Sisters Tia and Ina are far from home. Tia is steadfast and protective of free-spirited Ina. Tia is focused on each labouring job ahead of them. Phone calls home to their family a reminder of why they must continue. Ina is wild, carefree, her spirit only slightly dampened by the push and focus of Tia.
A story of migration, Fire in the Water, Fire in the Sky is a statement inspired by climate change.
Language:
Cantonese, English, Farsi, Japanese, Korean, Mandarin, Marathi, Māori, Tagalog with English subtitles
When
See below for additional related events
Rating
Unclassified (15+)
Multipasses – see more films in this program for less
Melbourne Women in Film Festival (MWFF) program 23–27 Feb 2023
There are no upcoming related events at this time.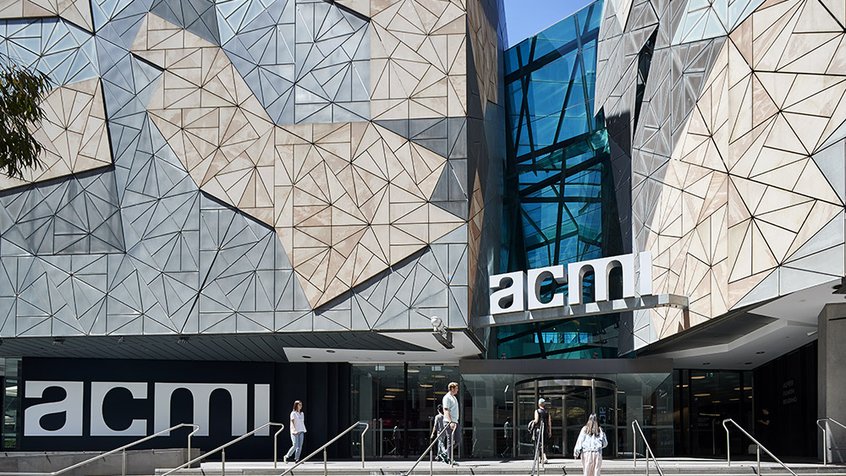 COVIDSafe visitor guidelines, information on accessibility, amenities, transport, dining options and more.
Our restaurant, cafe and bar in the heart of Fed Square features a seasonally driven menu developed by acclaimed Melbourne chef Karen Martini.
ACMI Membership is free to concession card holders. Sign up online or visit the Ticket desk at ACMI to become a member today.