A surround-sound world hooked to the pulse of jazz, the conscience of a children's choir and big ideas that test capitalism's mantra of endless, euphoric consumption.
Julian Rosefeldt, the master artist-filmmaker who gave us a chameleonic Cate Blanchett with Manifesto, transforms Melbourne Town Hall into an arena swallowed by screens. A life-sized choir encircles you at ground level while jazz drummers duel from above. Acclaimed actors like Giancarlo Esposito and Virginia Newcomb narrate a surreal epic – delivering musings from some of history's most influential economists, writers and thinkers from Snoop Dogg, Warren Buffett and Ayn Rand to Angela Davis and Mark Fisher. Homeless men discuss economics and executives do acrobatics in a bank lobby. Cate's back too. This time she's a tiger stalking the supermarket aisles.
It's a vision that pummels capitalism with the excess it asks for, then waits for the dust to settle.
Wander in and feel the rumble.
It's easier to imagine the end of the world than the end of capitalism.
Supporters
Commissioned and produced by Park Avenue Armory.
Co-commissioned by Holland Festival, Ruhrtriennale Festival of the Arts and RISING.
In Association with Weltkulturerbe Völklinger Hütte.
Euphoria is supported through the Melbourne City Revitalisation Fund – a $200 million partnership of the Victorian Government and the City of Melbourne.
---
Artist Credits
Written, Directed, Produced | Julian Rosefeldt
Music | Samy Moussa
Executive Producer | Wassili Zygouris
Executive Producer | Kyiv Anastasiya Bukovska, Tatyana Kurmaz, Family Production
Executive Producer—New York | Christian Detres, See The Tree Productions
Executive Producer—Sofia | Konstantina Manolova, Solent Film
Director of Photography | Christoph Krauss
Set Design | Nadja Götze
Costume Design | Daniela Backes, Bina Daigeler
Hair/ Make-Up | Julia Böhm, Katharina Thieme, Sonia Salazar-Delgado
Choreography, Bank Scene | Richard Siegal
Sound Recording | David Hilgers, Oliver Göbel, Ludwig Fiedler
Sound Design | Thomas Appel
Editing | Bobby Good
Dramaturgy | Tobias Staab
Text collages | Julian Rosefeldt, Tobias Staab
Dramaturgical advice | Janaina Pessoa
Assistant Director | Denis Sonin, Ires Jung
Casting | Cassandra Han
Musical Concept | Julian Rosefeldt
Composition | Samy Moussa
Additional Music | Cassie Kinoshi
Brooklyn Youth Chorus Director | Dianne Berkun Menaker
Music Production | Ed Williams, Dianne Berkun Menaker
Sound engineer music recording | Isaiah Abolin
With Giancarlo Esposito, Virginia Newcomb, Ayesha Jordan, Kate Strong, Jeff Wood, Erik Hansen, Tim Williams, Jeff Burrell, Robert Bronzi, Rocio Rodriguez-Inniss, Dora Zygouri, Esther Odumade, Tia Murrell, Asa Ali, Luis Rosefeldt, Richard Siegal, Nena Sorzano, Corey Scott-Gilbert, Jared Brown, and the voice of Cate Blanchett
And Terri Lyne Carrington, Peter Erskine, Yissy García, Eric Harland, Antonio Sanchez, as well as the singers of the Brooklyn Youth Chorus
Revisit Julian Rosefeldt's previous works shown at ACMI
Orbiting around Flinders Street Station, RISING 2023 spills out into the streets, car parks, churches, theatres, town square and Birrarung.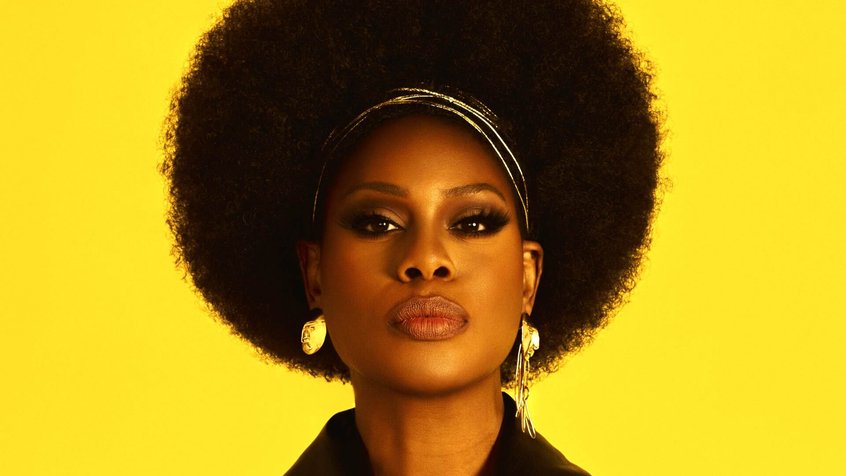 Exhibition | 5 Apr – 1 Oct 2023
Trailblazers. Binary-busters. Agitators and instigators. On and off screen.
Visitor guidelines, information on accessibility, amenities, transport, dining options and more.
Our restaurant, cafe and bar features a seasonally driven menu developed by acclaimed Melbourne chef Karen Martini.
Meet the diverse range of festivals and film clubs on Melbourne's cultural calendar that call ACMI home.
Event info
PAY-AS-YOU-WISH | Choose a price that aligns best with your financial situation. More details on booking page and FAQs below. Free Fridays tickets available until allocation exhausted.
DURATION | One cycle runs for approximately 1 hour and 55 minutes, then on a continuous loop. See FAQ below for more details.
WARNINGS | Strong language, drug use. Recommended for ages 8+
STANDING AREA | Euphoria is mostly standing room with some seats available. Visitors are welcome to roam the space as comfortable.
DOOR TICKETS | Tickets will be available on the door, depending on the capacity on the day.
LATE SESSIONS | The final session of each evening will only allow you to remain in the space until closing time (60 minutes after the ticketed arrival time). You will not be able to view a full cycle of the work.
FAQs
Q. What are the ticket price options?
A. RISING is offering pay-as-you-wish prices. High Roller ($32), Working Class Hero ($25), or Feeling the Pinch ($18). On Fridays during the festival, there are also free, bookable sessions available. Free tickets are limited.
Q. Are there children's or concession priced tickets?
A. The pricing for Euphoria is designed to be as inclusive as possible. We're offering flexible pricing, where you can pay-as-you-wish or attend a Free Friday session (must be booked). Children aged 2 and under are free and do not require a ticket.
Q. Is there seating at Euphoria?
A. There will be gallery style seating and people will be able to sit on the floor. You will be able to get a seat if you require one. If you're checking out to purchase tickets you can ask for a chair in the access needs section.
Q. What days are free tickets available?
A. Living on a shoestring? City of Melbourne are offering Free Friday tickets (until allocation exhausts) because art is supposed to be for everyone. Tickets are limited and must be booked ahead of the day.
Q. How long is the film cycle?
A. The film cycle runs for approximately 1 hour and 55 minutes.
Q. When can I enter?
A. To guarantee a seamless entry, please arrive at the designated time on your ticket (there's a grace period for latecomers). The film is non-linear and looped, so viewing can start at any point. Stay as long as you like, until we need to close for the day.
Q. What are Quiet Cycles?
A. The Quiet cycle is designed to be inclusive of folks who prefer or need sensory environments to be consciously accommodating. We encourage people to bring what they need to be comfortable. Such as headphones/headsets, blankets or pillows, sunglasses, and digital or stim devices.
Q. Is Euphoria suitable for children and families?
A. We recommend only bringing kids aged 8+ to Euphoria. However, this is a subjective question–and you know your kids and family best and what's appropriate for them. We suggest watching the trailer above, and reading reviews of the previous presentation in New York, so you can make an informed decision.
Accessibility
QUIET CYCLES | 12–2pm, Wed 7 June and Sat 10 June
Attendees are encouraged to bring what they need to be comfortable. Such as headphones/headsets, blankets or pillows, sunglasses, and digital or stim devices.
ROAMING AUSLAN INTERPRETER | 6–10pm, Thu 8 June and 3–7pm, Sat 10 June
An Auslan Interpreter will roam the space. They will be able to give directions, give explanations where relevant, and relay information to appropriate staff where required. This session will be open to all patrons.
OPEN CAPTIONING | All day, Thu 8 June & Sat 10 June
The film will run with open captions during all sessions on these days.
VENUE ACCESS
The Melbourne Town Hall is wheelchair accessible—please view the venue page for Melbourne Town Hall for more information.
If you have any specific access questions about visiting Euphoria or the Melbourne Town Hall, please contact the RISING ticketing team: ticketing@rising.melbourne