Mixy and Modigliana
The Ferals (1994–95)
See them on screen: The Ferals first appeared on ABC TV in 1994 and has remained an Australian favourite. The show centred on a troublemaking bunch of animals living under the same roof, played by human actors with puppets.
The ditzy rabbit Mixy and sassy cat Modigliana were two of the show's four main characters, joining a history of puppets in starring roles in Australian kid's TV, including Lift Off (1992–95) and Mr Squiggle (1959–99).
Humphrey B Bear
Here's Humphrey (1965–2008)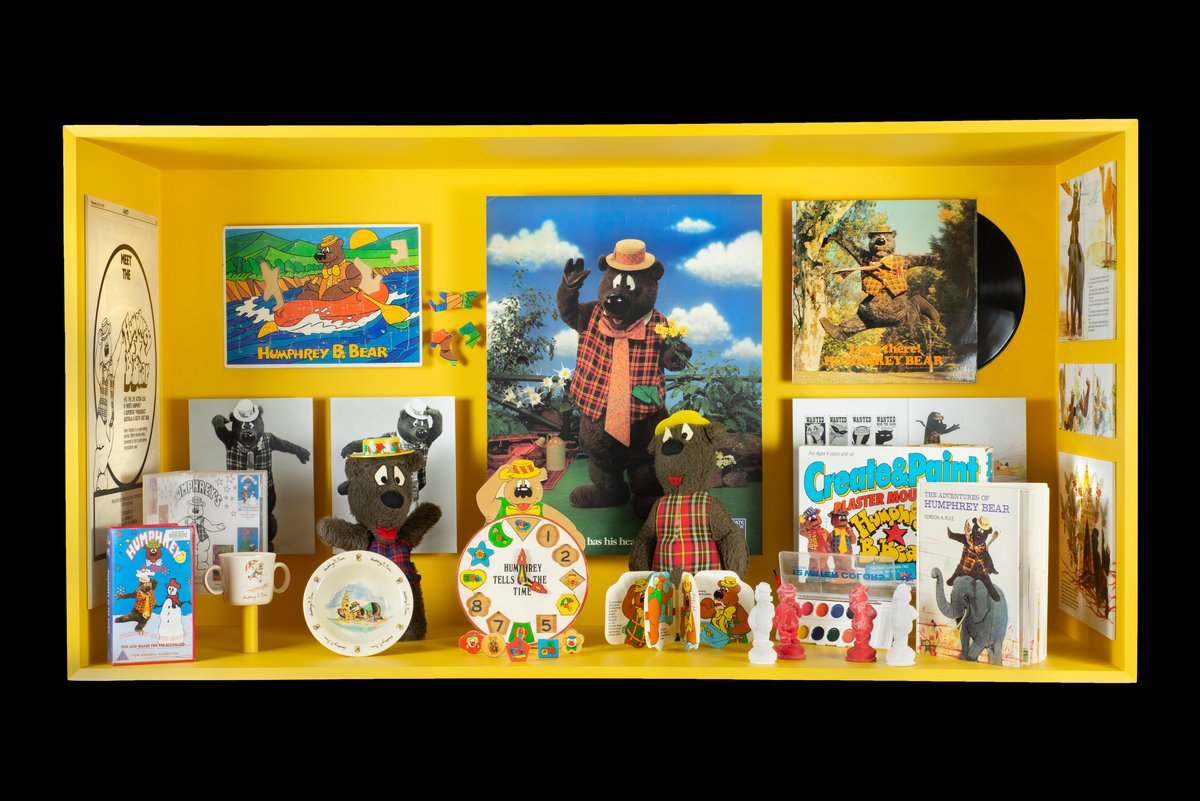 See him on screen: The fun-loving Humphrey B Bear first jumped onto Australian TV in 1965 and has brought joy to children and adults for decades as the star of the Here's Humphrey show. Humphrey's show was one of the world's longest-running kids' TV shows with around 3,000 episodes.
Humphrey's popularity can be seen in all of his merchandise and toys, which showed the many ways the lovable bear has inspired children to play, learn and create at home.
Barry B. Benson
Bee Movie (2007)
See him on screen: Voiced by comedian Jerry Seinfeld, Barry B. Benson is the star of Bee Movie, an animated film following Barry as he looks for justice against humans for not treating his fellow bees well.
Jerry Seinfeld was also the film's creator, and it was produced by DreamWorks Animation, the studio behind other popular animated films such as Shrek, Madagascar and Kung Fu Panda.
---
Spider-Man
Amazing Fantasy #15 (1962)
See him on screen: Spider-Man first appeared in 1962, in the comic book Amazing Fantasy #15. However, the web-slinger is perhaps most well-known today for his on-screen adventures, beginning with 2002's Spider-Man.
Since being played by Tobey Maguire in the 2002 film, Spider-Man has been in over a dozen movies, including the hugely popular Spider-Man: No Way Home (2021), Avengers: Endgame (2019), and Avengers: Infinity War (2018).
Here, Spider-Man takes on the form of a wooden mannequin. The wooden mannequin is a puppet that is often used as a model to help animators draw the human body, as a display piece or as a toy. You could say they are the original action figure! With movable limbs, these mannequins are able to show off a variety of poses and may be painted as original or popular characters.
---
Ralph Wiggum
The Simpsons (1989 – present)
See him on screen: Ralph Wiggum is a popular character from The Simpsons, an animated TV show about the antics and everyday adventures of a typical American family and the town of Springfield.
The Simpsons is the longest-running scripted primetime series in the history of American TV – to date, over 745 episodes have been broadcast across 34 seasons!
Ralph has been a part of The Simpsons from its very first episode and is known for his funny behaviour (like eating glue!) and saying strange things ("My cat's breath smells like cat food").
Wayang shadow puppet
See it on stage: The beautifully designed Wayang shadow puppets have danced across walls and cloth for hundreds of years, telling stories about myths and legends, and teaching important values.
Created with skill and care, these puppets are made from leather, bamboo and ox horn, and they turn into dazzling shadows when silhouetted against flat or transparent surfaces. The 'dalang', or puppeteer, uses rods to bring the characters to life in performances that often also include chanting, singing and gamelan (traditional Indonesian music).
Minifigurines of characters from The Lego Movie
The Lego Movie (2014)
See them on screen: An ordinary Lego mini-figure, mistaken for the incredible MasterBuilder, is recruited to join a quest to stop an evil human (Will Ferrell) from gluing the universe together.
Everyone was saying "Everything is awesome!" when The Lego Movie took the world by storm in 2014. Finally bringing the entire LEGO universe together in a movie, it both delighted new viewers and old lovers of Lego.
After its release, The Lego Batman Movie (2017) and a direct sequel to the original, The Lego Movie 2: The Second Part (2019) have followed. In The Story of the Moving Image, you can find out how characters from The Lego Movie were designed.
Michael and Veronique
Round the Twist (1990–2001)
See them on screen: Round the Twist is an Australian children's TV series about the Twist family – Linda, Pete, Bronson and their dad Tony – who live in a lighthouse and become involved in many bizarre magical adventures.
In the episode 'Toy Love', The Twists decide to clean out the lighthouse, getting rid of all their old junk; but one of Linda's old dolls refuses to be abandoned and keeps returning to her room. (IMDB).
---
Soft toy pig
Unpacking (2021)
See it on screen: Part puzzle game, part home decoration sim, Unpacking is about moving appliances, books, clothes, furniture and more – including your favourite toy pig! – into new homes. In the game, you are invited to place beloved objects in just the right places, while learning more about the life you are unpacking.
---
View Masters
Sawyer's Inc.
See it in action: Originally introduced in 1939 as an educational device for adults, the View Master soon became a popular children's toy (Smithsonian). When you insert the specially made round discs into the device, you are able to see full-colour 3D images of anything from famous landmarks to classic characters.
The View Master is not on many toy store shelves today, but can still be found in many online stores.
Fun fact: The design of the ACMI Lens you collected on the way into The Story of the Moving Image is based on the View Master discs!
---
Explore The Story of the Moving Image
More exhibition highlights