In Nyul Nyul/Yawuru filmmaker Jub Clerc's coming-of-age road movie, Sweet As, Murra, a teenaged girl from Pilbara country in Western Australia, is abandoned after an explosive incident with her addict mother. Before she falls through the cracks, Murra is thrown a lifeline in the form of a photo safari with a busload similar 'at-risk' teens, and before she knows it, she is heading down a long, dusty highway to discover who she is on the road less travelled.
Sweet As is based on a similar journey Clerc took in the 1980s, which was the catalyst in her own journey of becoming a filmmaker and storyteller. We spoke to Clerc about the path she took to getting Sweet As – the first Western Australian feature film directed by an Indigenous person – made.
Amanda Haskard: Thanks for making the time to chat with me, Jub. Are you calling in from Rubibi [Broome]?
Jub Clerc: Yes, I am. I'm in a hotel at the moment because I'm flying out to Berlin today.
AH: What's happening in Berlin?
JC: Sweet As is in the Berlin International Film Festival!
AH: That's fantastic, congratulations! That's such an amazing achievement.
JC: I know, right. It's crazy. [laughs]
AH: I watched Sweet As and it's a beautiful film.
JC: Thank you.
AH: It's clear that it's a personal story for you. Can you tell me about what the experience was like for you making the film?
JC: Yeah, of course. I had the most spectacular time making the film. I had the most incredible cast and crew because I've worked on quite a few of my friends' shows over the years. I've worked with a lot of crew that have worked in remote areas. And I've worked as a crew member. I've never had that big director's hat on in such a capacity. So, it was quite funny for me to be in a place where I wasn't allowed to carry all the equipment.
I'm like, 'what do I do with my hands?' And so, it was amazing. I just had all my friends around me.
Everyone really wanted to work on this; the crew and the cast, some of my dear friends, some of my family – Mark Coles Smith and Ngaire Pigram – and Tasma Walton's like a sister from another mister.
AH: She's amazing in the film.
JC: Yeah. Oh my God, she's just such a champion in this film… the heart.
AH: Absolutely.
JC: Yeah, and getting to meet Shantae Barnes-Cowan, who was just the most... it's hard to explain Shantae because she's so full of emotion yet so quiet. And the screen just soaks her up and everything emits out of her eyes, you can just see what she's feeling. Which I just found the most incredible thing in the auditions and in the performance. And she's just a beautiful person in general. I really love her.
And of course, Carlos Sanson Jr. who is just so beautiful to be around, and so generous in his acting and what he provides for you as a director and for his fellow cast. And then you've got Pedrea Jackson… I just want to bottle him up and keep him on the shelf forever.
AH: Oh, he's incredible. I loved him in Robbie Hood!
JC: Well, that's why! I saw him in Robbie Hood, too.
And then we've got our two beautiful, young, first-ever actors, Mikayla Levy and Andrew Wallace; they've never acted professionally before, but they were just perfect for the role.
JC: I grew up in Port Hedland in Broome. This is the first time anyone had shot in Port Hedland… there might have been one shot in Japanese Story (2003) … but we are the first to ever showcase Port Hedland. And our film is the first ever to have been given permission to shoot inside Karijini. That took years with the proper protocols, the proper blackfella way of just sitting and talking to the elders and getting the proper permissions without going, 'Oh, we're going to be there in three months, can we shoot?' It was years of negotiations and proper respectful conversation.
AH: It's apparent that Country is central to the film, and a central character. It's captivating. You can feel the energy of Country and clearly the deep connection that you have to Country. I understand that the film was shot not far from your own ancestral land. What was that like?
JC: So, my mother is from The Kimberley, but I grew up in the Pilbara. My ancestral tribe was from the Kimberleys – Nyul Nyul/Yawuru. But my whole family have been a part of the Pilbara and have been married into the Pilbara families and stuff, and have literally been there for four, five generations now.
For Indigenous people, Country is a sentient being. It's a living, breathing mother. Every time I'm on different Country, I'm always very respectful of who's area I'm in. And we speak to Country all the time. So, coming to shoot in every single space was not like 'this is where this goes and that goes' but 'what's the environment around us?' and 'how does it emotionally connect to us and also to the characters and their journeys?'. The more Murra (played by Shantae Barnes-Cowan) opened up, we opened up into Country as well. So, we allowed Country to talk to us as we talked to it.
My family rhye (totem) is the Jinda-Bidirbiddir or Willy Wagtail. I gave that to Murra as well in the film; it became her totem. And so, every time her emotional turmoil was going on, you can hear in the atmospheric soundtrack the Jinda-Bidirbiddir calling back to her. That's a little tiny nugget right there intertwined with Country.
Country is the animals, it's the trees, it's the water, it's everything. So, that played a part in Murra's emotional journey in the film and for me, and for my cast and crew. And we did proper Welcome to Countries in every spot that we were, and we had elders with us to make sure that we were doing everything right.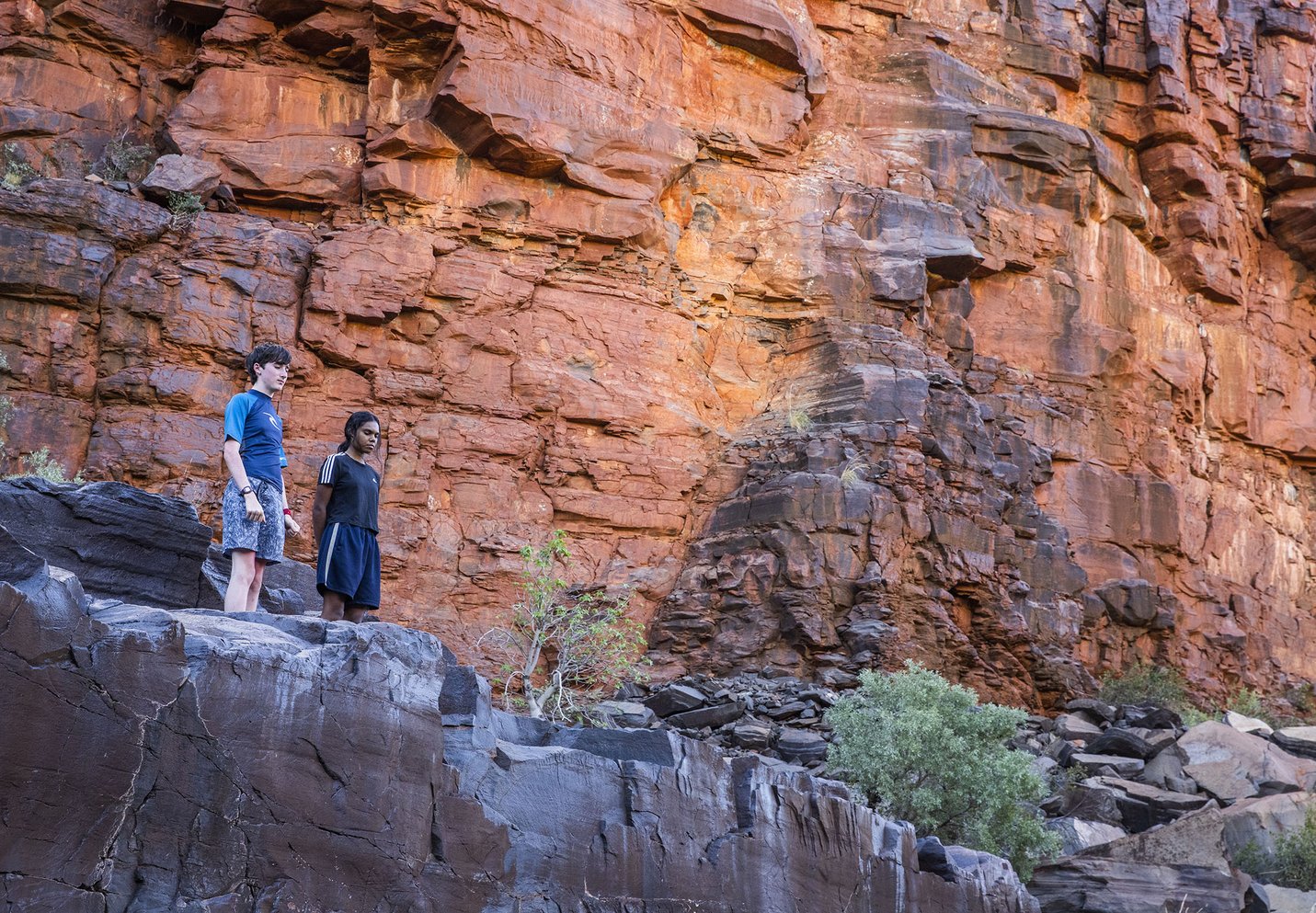 The Pilbara is a stunning example of Goliath mining juggernauts clashing against colossal natural gorges and endless sweeping plains. The hues of country spilling out from the land into the sunrise was a glorious backdrop for the emotional journey our cast undertook. The rugged Pilbara landscape and the constant juxtaposition between Industry and Nature has never really been captured on screen.
AH: Murra's journey is based on elements of a true story – some of your own photographs appear in the film. How much of you is embedded in this character?
JC: Yeah, so much of Murra is me, but it's also Winnie-the-Pooh-me; like Christopher Robin, my different emotions are in all the characters, not just in Murra but in everybody. And it's also my lived experience with other family members; my aunties, my uncles, my nieces, my nephews, it's all our stories. It's all our lived Indigenous experiences, not just my immediate family – when I say immediate family, I'm talking in the blackfella way which is hundreds of people…
AH: [Laughs]
JC: … it's all of us. And it's a story about our resilience, our unconditional love, our courage, and it's also about trauma, and about how trauma is real, tangible, and colorblind. So, it's a universal story.
It was inspired by a similar road trip I took [in the 1980s]. What I loved about researching the actual trip is that I realised it was for at-risk kids, and that blew my mind. It really homed in on the idea that that's exactly why people are at risk because they never see the danger coming. They don't understand they're falling through the cracks, and they don't even know what the cracks look like. That was an eye-opener for me.
It was not a counseling trip... I have no idea what the other kids were there for. So, none of their stories are in the film… we were just a bunch of kids with cameras. Back then it could have been the cusp for some of us, if our lives were going to go this way or that way… and it was just this little life-saving tool, I realised.
When I finally finished writing the story and I gave the script to my actors, it wasn't my story anymore. It was theirs. So, Shantae was not playing me, she was playing Murra.
AH: What comes through in the film is that the camera is truly an instrument for telling stories.
Going back to your connection to road trips and the road itself, I imagine growing up in that part of the country, long distance road trips are all part and parcel out there in community.
JC: 100%, yeah.
AH: I read about your experience of being on the road when you were a teenager and being part of the crew with your mother, Sylvia Clarke, for the Bran Nue Dae musical production. Was that experience influential?
JC: Oh, 100%. A hundred thousand billion percent.
Storytelling is the Indigenous tool, because we never had written words, so we danced and painted and sung everything. We are artists from the minute we draw our first breath. I grew up with all my family playing the guitar under the mango tree every single day, and yarning and camping and telling stories to frighten the living bejesus out of us.
And so, I went on this photo safari, which was just so phenomenal for me as a 14-year-old because my world was my town and my family, which was amazing, but I never saw anything outside of that. So, when I went on the trip, I had this whole world exposed to me, of potentials and possibilities. And it unlocked something inside me; that there was something else and more out there, and I could possibly do it on my own. Which is very foreign when you come from a culture that is completely about family and community. You never do anything on your own.
Straight after that photo safari, I was flown to Broome to meet mum who was in rehearsals for Bran Nue Dae. So, I went from this extraordinary safari to staying at Cable Beach Club, which was the flashiest thing I'd ever seen in my entire life, to rehearse with Bran Nue Dae.
And mum then took me touring for four years. I sang backstage all around Australia and I was called a Bran Nue Dae Baby – there's a handful of us that were called Bran Nue Dae Babies.
AH: That's incredible.
JC: Actually, there was a lot of babies born during Bran Nue Dae. Everyone seemed to get pregnant all the time.
JC: So, you could just imagine from 14 to 18 years of age, just being all about performance and traveling and getting the Indigenous story out there. And that's what I saw the power of, getting our voices out there from our perspective.
Then I got into the Aboriginal Theater Training program, which came out of Bran Nue Dae, and later I got into WAAPA (Western Australian Academy of Performing Arts), and that was very interesting for me.
There were a lot of roles that weren't for me, for all sorts of reasons. But a lot of the time it was because the roles weren't written by Indigenous people and they weren't directed by Indigenous people, and everyone had a very, very distinct idea of what an Indigenous person should look like.
So, I was like, 'I'm sick and tired of waiting for people to cast me or write a story that means something to me. I'm going to write my own stuff.' That's where it started. That and [actor and director] Aunty Lynette Narkle walking into Yirra Yaakin [Theatre Company] and saying, "Anyone got an idea for a film?"
She was the first indigenous film coordinator for Screen West. Mum and I went, "We've got an idea!" And that was it.
Being at WAAPA and being an actor a hundred thousand percent helps me as a director. I feel very comfortable working with actors because I was one for so many years. So, I love character. Character is so important to me.
AH: That comes through in the film. Do you prefer being behind the camera as to acting?
JC: Yes.
AH: Why?
JC: It's an interesting question. I loved being on stage because I love creating, I love storytelling. As an actor I could tell a story, and as a writer-director, I can tell a story. But I seem to enjoy directing more. I love the collaboration with all the heads of department. I love talking to all these different people about what they feel from the script, what they take on board, and how they can see the world-creating. I love us all matching that together to have one creative vision.
I'm not a cinematographer, I'm not a costume designer, an art designer, a hair and makeup designer. I'm a director, and just hearing how all these brilliant minds together really excites me.
AH: You touched on the representation of First Nations women in theater and film; where do you think we are now? Sweet As is the first WA feature film directed by an Indigenous Australian woman…
JC: Person, not just a woman! Person! [laughs]
AH: Yes, person! But what does that say about First Nations representation in general?
JC: I think we have been carried on the shoulders of giants. We've had people that have paved the way for us for so long and fought so hard and have seen the benefits in the last 10 years, and I will support emerging Indigenous filmmakers the way that we were supported. Uncle Jack [Charles], people like that really had to fight to have our voices heard.
AH: Absolutely.
JC: I think funding bodies coming on board is super important as well because they can say, 'this is an Indigenous film. It is written and directed by an Indigenous person'. That's where the funding has really shifted. We were consultants forever, and consultancy is not upskilling, and it's not giving you a seat at the table to actually create and be a key creative. Funding bodies went full circle and said, 'no more of that'. We could speak out because we had people supporting us and fighting for us.
In the last five years or so, you've seen all these initiatives, upskilling, bringing out more emerging content. Even the streamers have come on board. I don't want to get too much into it because I'm not 100% sure of what their protocols are for Indigenous content and who can tell the stories... we'll have to work through the conversations we have with the streamers.
Our kids used to always say other people of colour were the people that they looked up to, which is great. But now they have Indigenous people that they recognise as being a constant in that they're able to say, 'Oh yeah, I love Deborah Mailman, I love Rob Collins, Wayne Blair, Rachel Perkins...' They know who they are.
As the mother of a spirited and glorious teen on the cusp, and watching my remarkable family and friends being let down by multiple systems, including systemic racism, intergenerational trauma, socio-economic disparities and a continued stolen generation (to name just a few), I wanted to create something that could possibly add a realistic glimmer of hope.
AH: Absolutely. You spoke about working with elders and trailblazers; thinking about young mob today wanting to get into film or the industry, or tell their stories through cameras, what is some advice you would impart to them?
JC: Well, a lot of them are already making their own content and they don't even know it. That's the thing about these phones…
Recently I did a workshop with kids – year 11s and 12s – through Indigifest Oz in Broome, and I asked them what they are going to be doing after school.
I asked, "Who likes riding motorbikes?" and all the hands went up. And I'm like, "Well, you could be a stunty traveling the world riding motorbikes. You don't have to just do it in the backyard. You can make a career out of it."
And I asked, "Who's going to be a hairdresser?"
Hands went up. I said, "Well, you can do Thor's hair and makeup. What about that? Get on set! The opportunities are out there."
You know what I would say to everybody? Don't think, just get out of the square. Possibilities are infinite.
AH: Thanks so much, Jub, it's been great to yarn with you.
JC: Thank you, Amanda.
---
Don't miss Jub Clerc at ACMI
---