Join artists Moorina Bonini, Kalanjay Dhir and Jazz Money for a screening and discussion on their new video works, recently commissioned for Unfinished Camp.
In 2021, ACMI commissioned three new video works by Moorina Bonini, Kalanjay Dhir and Jazz Money which premiered as part of a global initiative titled Unfinished Camp, at both the House of Electronic Arts in Basel, and The Shed in New York.
Join us as for a screening of all three films and a discussion between the artists and ACMI Curator Kate ten Buuren. We will explore how young artists are imagining and shaping a more equitable digital future, as they respond to the question, 'what is the future of art, in a decentralised world?'
Tickets include a drink on arrival and bookings are essential. Tickets are free for Aboriginal and Torres Strait Islander people.
ACMI's ART+FILM program showcases short and feature-length films by leading Australian and international artists. With a focus on single-channel works that harness the unique conventions of cinema, the program comprises internationally significant works from the ever-expanding field of artist films.
About Jazz Money
Jazz Money is an award-winning poet of Wiradjuri heritage, currently based on beautiful sovereign Gadigal land. Her practice is centred around the written word while producing works that encompass installation, digital, film and print.
Jazz is a trained filmmaker and also works as an arts worker, artist, educator and researcher, with a particular interest in working with First Nations artists and communities to realise digital projects. 
About Moorina Bonini
Moorina Bonini is a proud descendant of the Yorta Yorta Dhulunyagen family clan of Ulupna  and the Yorta Yorta and Wurundjeri Briggs/McCrae family. Moorina is an artist whose works are informed by her experiences as an Aboriginal and Italian woman.
Her practice is driven by a self-reflexive methodology that enables the reexamination of lived experiences that have influenced the construction of her cultural identity. By unsettling the narrative placed upon Aboriginal people as a result of colonisation of Aboriginal Australia, Bonini's practice is based within Indigenous Knowledge systems and brings this to the fore. 
About Kalanjay Dhir
Kalanjay Dhir is an artist based in Sydney on unceded Dharug Land. He has made work about rivers, games, space technology, sci-fi, myth, social media, Mountain Dew, urban development, progress and time.
Working with sculpture, video and internet objects, Dhir is interested in near-futurism and spirituality through mythological and speculative technologies. In his spare time he enjoys reading manga and imagining what things would look like if they were built with a secular devotion.
---
Other Unfinished Camp artists
Amiko Li | Jasphy Zheng | Wang Yuyu | biarritzzz (Bia Rodrigues) | Christian Salablanca Diaz | Mazenett Quiroga: David Quiroga & Lina Mazenet | Danielle Brathwaite-Shirley | Salomé Chatriot | Sarah Friend | Eric-Paul Reige | Haley Anderson | Kiyan Williams | Helena Uambembe | Naomi Lulendo | The Botswana Pavilion | Josiane Pozi | Jota Mombaça | Paul Kolling | Edgar Allan Go Pro | Georgica Pettus | Gabriella Torres-Ferrer
---
About Unfinished Live
The project, led by Swiss Curator Hans Ulrich Obrist and author András Szántó took place in September 2021 at The Shed, New York and House of Electronic Arts, Basel, and brought together emerging voices from across the globe with fresh takes on what our collective future could look like, through the lens of young artists.
As well as being displayed on ACMI's Gallery 5, the works were shown at The Shed New York, with parallel programming at House of Electronic Arts, Basel from 23–25 September 2021. Learn more about Unfinished Live
---
Read our COVIDSafe visitor guidelines, information on accessibility, amenities, transport, dining options and more.
Looking for dining options?
As well as great coffee and snacks, our new restaurant features a seasonally driven menu developed by acclaimed Melbourne chef, Karen Martini.
Experience ACMI in the very best way. Get a range of discounts and invitations to exclusive previews.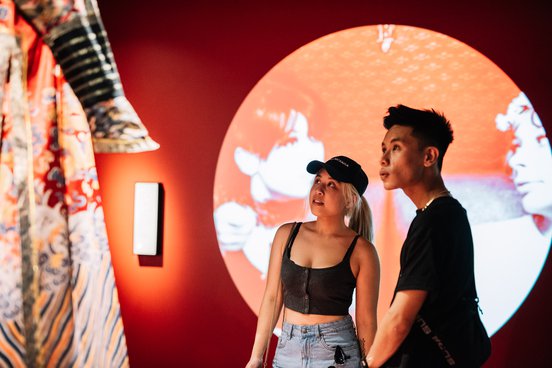 *Image credits
Moorina Bonini, Gowidja (After) (2021)
Kalanjay Dhir, Stream (2021)
Jazz Money, We have stories for all the dark spaces inbetween (2021)