The Universal movie monster rears its head from the murky depths in Jack Arnold's visually compelling albeit doomed love story.
Please note, this session will be presented in 2D. You can also see it in 3D at ACMI.
Two decades after the first and oldest shared cinematic universe debuted in the 1930s, Creature from the Black Lagoon swam into theatres on the crest of the first wave of 3D.
Following the discovery of an unusual fossil on the banks of the Amazon, a team of scientists journey down a remote section of the river in search of answers. What they find is a prehistoric aquatic humanoid – the Gill Man – who once his habitat is disturbed, is torn between bloodthirsty vengeance on the scientists (played by Richards Carlson and Denning) and his fascination with the beautiful Kay (Julie Adams).
Following on in the footsteps of iconic characters like Frankenstein's Monster, Dracula, the Wolf Man and others is no easy feat – let alone at a time when the appetite for traditional monster movies was waning – yet it's testament to the vision of director Jack Arnold that Creature from the Black Lagoon has gone on to find its level as a classic alongside the icons of the genre.
Sex and desire have been the charged undercurrent of many Universal monster movies, yet none so overtly as Creature from the Black Lagoon, which just as lovingly shoots its buff leading men as it does its leading lady (and in some cases, the Gill Man too). It's easy to see how Guillermo del Toro was able to pull on those pre-existing threads with his Oscar-winning The Shape Of Water and give the story a happy ending. From the beautiful underwater cinematography to the influential work of creature designer Milicent Patrick, the creature feature has managed to stay afloat through time thanks to the lasting creative elements and surprisingly romantic – albeit doomed – story at the core.
– Maria Lewis, Assistant Film Curator
Language:
In English and Spanish with English subtitles
Source:
Universal Pictures International Australia
Courtesy:
Universal Pictures International Australia
Go deep, deep, deep into the waters of the Gill Man's domain with this special 3D screening of Creature From the Black Lagoon at ACMI Cinemas.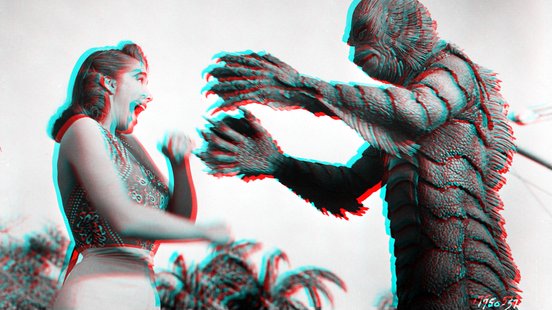 Explore creatures, special effects and classic horror
Read our COVIDSafe visitor guidelines, information on accessibility, amenities, transport, dining options and more.
Looking for dining options?
As well as great coffee and snacks, our new restaurant features a seasonally driven menu developed by acclaimed Melbourne chef, Karen Martini.