COVID-19 update
Following the latest advice from the Victorian Government, ACMI will be temporarily closed from Fri 6 August. Unfortunately, the Sat 7 & Sun 8 August sessions for Princess Mononoke will be cancelled.
Customers with tickets for these dates will be automatically refunded via the card they made the purchase with. If your card has expired, please email ticketdesk@acmi.net.au to make alternative arrangements. Refunds may take 5-10 days to appear in your account.
We look forward to welcoming you back to ACMI soon. Look after yourself, and each other.
____________________
A beautifully realised tale of civilisation versus nature and a key influence on Deborah Kelly's The Gods of Tiny Things. Join us in the cinema to discover (or rediscover) this true epic by Japan's master animator Hayao Miyazaki.
One of the most visually inventive films I have ever seen.
While protecting his village from a rampaging boar-god, the young warrior Ashitaka becomes afflicted with a deadly curse. To find the cure that will save his life, he journeys deep into sacred depths of the Great Forest Spirit's realm where he meets San (Princess Mononoke), a girl raised by wolves.
It's not long before Ashitaka is caught in the middle of a battle between iron-ore prospecting humans and the forest dwellers. He must summon the spirit-powers and all his courage to stop man and nature from destroying each other.
Once again Miyazaki's creativity fills the screen with amazing beauty and imagination. Although the narrative is set off by Ashitaka, it is the fierce bravery of San that drives the film forward, creating an iconic Ghibli heroine in the process.
Language:
In Japanese with English subtitles
Courtesy:
Madman Anime Group
Directly inspired by Princess Mononoke, Deborah Kelly's kaleidoscopic video unleashes a vivid collage of animated figures and landscapes cut free from the pages of old magazines and encyclopedias. See it in Gallery 3 for FREE at ACMI.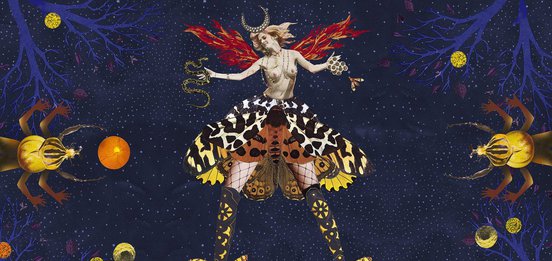 Read our COVID-safe visitor guidelines, information on accessibility, amenities, transport, dining options and more.
As well as great coffee and snacks, our new restaurant features a seasonally driven menu developed by acclaimed Melbourne chef, Karen Martini.