Experience the collective power of Goddess after dark.
Explore the Goddess: Power, Glamour, Rebellion exhibition after hours with a dynamic, diverse and shapeshifting program of femme-focused live music and performance honouring the women who continuously challenge social narratives, exude fearless creativity, artistry and expertise within their craft.
Set amongst a transformed Ground Floor Lightwell Foyer, Goddess Nights will keep you up late and in good company with a tailored food menu from Hero, beverage offerings from Campari and Handpicked Wines, and extended retail hours.
Lineup
Thu 28 September CLADDY, BROWN SUGA PRINCESS, GLO, C.FRIM B2B MIRASIA
Thu 27 July (Past) KALYANI, KOMANG, KHYA, MOTHAFUNK, HOLLY DURANT
Thu 25 May (Past) DJ JNETT, CD, POOKIE, AYEBATONYE
Lighting & visuals designed by 3D motion artist Mikaela Stafford, and makeup on the performing artists from Avantgarde MUA Moochi.
When
See below for additional related events
Rating
Unclassified (18+)
Food & Drink
---
Artist lineup
Thursday 28 September
CLADDY
7–8pm
Raised in the club, Claddy brings a unique and vibrant energy into her dance music sets. In her DJ sets you can expect catchy bass lines and melodies that make your heart pump and feet stomp.
BROWN SUGA PRINCESS
8–9.20pm
An emerging DJ that effortlessly combines UKG with South Asian riffs, Brown Suga Princes creates a one-of-a-kind sound that is both emotional and dance-focused.
GLO (live)
9.20–10pm
The almighty Eora Nation based artist flaunts powerful vocals amidst punchy and soulful production.
C.FRIM B2B MIRASIA
10pm – 11.30pm
Talented artists in their own right, together their artistry is unstoppable. Side by side, C.FRIM B2B Mirasia's mixes form an energetic rhythm pulsating with sounds from the diaspora, with a vision to bring QTBIPOC community to the front in celebratory spirit.
Limerence (roving performer)
Limerence is one of the many monikers of Blu Jay, a multidisciplinary Naarm-based artist whose primary focus is performance. An eclectic drag performer, Blu draws from pop culture references, mainly rooted in black R&B music, to theatrical embodiments of fantastic creatures; aiming to empower, meet in communion and offer space for liberation. Their roving performance will showcase a poem by Zoe Leonard, a lip sync to a song and a moment showing off their dance.
---
Menu
Food
Rock Oysters
Freshy shucked served with mignonette dressing (x3)
$15
Green Goddess Pizza
Thin pizza with smoked mozzarella, silverbeet, bechamella, capers, lemon and chili
$6.50
Disco Pie
Beef lasagne pie, parmigiano, basil
$6.50 each or 2 for $12
_______________
Drinks
Champagne
Nicolas Feuillatte Selection Brut Champagne
$18 / $95
Wine
Kris Pinot Grigio, Veneto Italy $14 / $70
Tellurian Rose Heathcote Vic $14 / $70
Luna Estate Pinor Noir, Marlborough $14 / $70
Beer
Peroni $9
Campari Bar
Cocktails
Campari Soda $13
Campari Spritz $18
Americano $17
Negroni Classic $20
Negroni Sbagliato $20
Soft
Capi Mineral Water / Blood Orange / Grapefruit $5
---
---
Past
Thursday 27 July
7–8.30pm
From the dancefloor to the decks, Mothafunk, a.k.a. Crissy Collins, draws from a rich catalog of music, acquired from dancefloors & record stores across Chicago, Detroit and New York. House, Disco, Techno, Hip Hop to Afrobeat and beyond, no form of music is off limits.
8.30–9.15pm
A vocalist and producer who blends groove and neo-soul with Balinese spirit, Komang creates a vibrant R&B electronic hybrid sound
9.15–10pm
Latinx, silken-voiced, fierce as a fox and femme through 'n' through, KHYA (aka Mamacitx) takes inspiration from stage performance ethos and Ballroom, wrapped up in her unique husky aura; the result is a Naarm-influenced R'n'B for a modern world.
10–11.30pm
Kalyani is an idiosyncratic DJ with her finger firmly on the pulse of cutting-edge tunes from music scenes across the globe. She confidently mixes an eclectic set of genres - Turkish and Hindi Pop, Rap, Trap, and modern global club sounds.
Australian choreographic artist Holly Durant invites audiences into a mesmerising world where pleasure and power intertwine. With her multi-disciplinary performance installations, she fearlessly challenges boundaries of skin, subjectivity and experience, while celebrating the beauty of diverse bodies.
Thursday 25 May
7–9pm
One of Australia's biggest house luminaries, JNETT has been spinning records and creating heat in Melbourne's music industry since the early 90s. A heavyweight selector partnered with euphoric stage presence, DJ JNETT is a goddess of house and disco, and has captivated audiences far and wide with her rich knowledge and love of music.
9–9.45pm
CD has swiftly carved her own lane with a cultivated twist on alternative R&B. Armed with a honey syrup voice, and an evolved palette that touches influences of jazz, neo-soul and hip hop, the soulstress from Melbourne's western suburbs uniquely evokes nostalgia while probing forward.
9.45–10.30pm
Producer, songwriter, DJ and composer POOKIE has quickly risen to be one of the most significant figures in the local hip-hop scene, invoking in her work her South Sudanese roots. Changing the face of hip-hop in Melbourne with her ferocious bars and nonchalant attitude, POOKIE marches to her own beat through the music industry, and she's only just getting started.
10.30pm – 1am
DJ, artist, curator and Founder/Creative Director of Irregular Fit, Ayebatonye Abrakas is best known for her bold and eclectic sonic stylings. Not one to stick to any genre, Ayebatonye's entrancing sets blend together an array of global electronic sounds rich with afro rhythms, deep percussive drum beats, house, techno, jersey club and more.
BALLET SCHOOL DROPOUT (roving performer)
Embodying the harmony of gracefulness and rebellion, Ballet School Dropout goes beyond dance within her practice, incorporating fashion, visual arts, film, music and design. The movement-based artist is largely influenced by themes of self-contradiction and irony as well as the nuanced complexity of humankind.
---
Trailblazers. Binary-busters. Agitators and Instigators. On and off screen.
A lively celebration of the bold, defiant screen goddess and the way film and television have shaped our view of womanhood.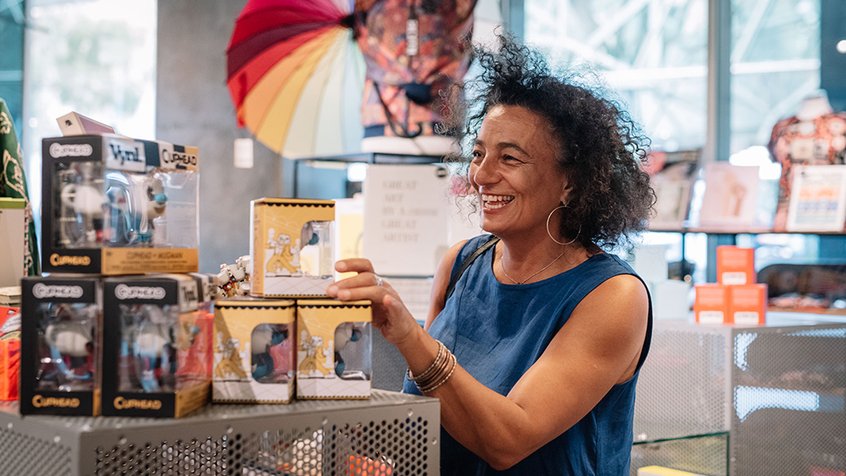 Melbourne's favourite shop dedicated to all things moving image. Every purchase supports your museum of screen culture.
Located on the Ground Floor and open til late on Goddess Nights.
Our restaurant, cafe and bar in the heart of Fed Square features a seasonally driven menu developed by acclaimed Melbourne chef Karen Martini.
Located on Level 1 (near Fed Square entrance) and open til late on Goddess Nights.
---
Visitor guidelines, information on accessibility, amenities, transport, dining options and more.
Experience ACMI in the very best way. Get a range of discounts and invitations to exclusive previews.