When
Open daily
10am – 5pm
Journey through the past, present and future of the moving image with interactive experiences and captivating stories.
From the first projections and optical illusions to the birth of film and beyond, moving images have the power to spark imagination, share stories and shape history. Discover how inventors, innovators and artists at the turn of the 20th century wielded light, split time and captured motion, heralding a technological revolution that continues today.
Featuring ancient shadow puppets, Victorian-era magic lanterns, original cameras, iconic costumes, movie sets, sketches, clips and contemporary art, The Story of the Moving Image traverses time, countries and cultures in a mesmerising exploration of an art form that changed the world and illuminated our collective humanity.
Five distinct sections frame the major moments in moving image history, including the origins and future of cinema, production design and the creative process, Australian culture and stories, the rise of videogames, and how screens inform, influence and empower us.
These stages come to life through interactive experiences that let you animate shadows, craft optical toys, experiment with time, assemble film scenes and create soundscapes in a custom Foley studio.
These moments can be collected with the Lens, a free tool that collects your favourite objects, artworks and creations in the exhibition. It also animates the Constellation, connecting what you collected to the cosmos of screen content outside ACMI.
---
Featured in The Story of the Moving Image
Collect your favourite objects in the exhibition with your Lens and explore your personal collection online anytime, anywhere.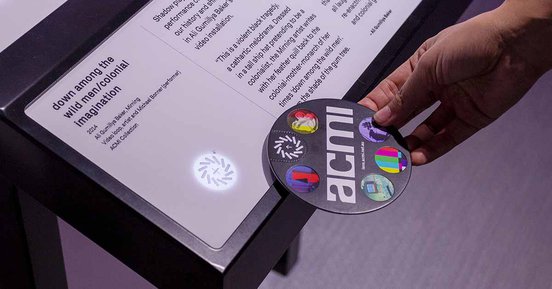 ---
New additions
Costumes from The Dressmaker (2015)
Jocelyn Moorhouse's award-winning 2015 film, starring Kate Winslet and Sarah Snook, follows Tilly Dunnage (Winslet) as she returns to her remote hometown of Dungatar. Faced with hostility from the townsfolk, Tilly regains respect and power by transforming the women with her masterful dressmaking skills. Created in consultation with The Dressmaker's producer Sue Maslin, this display features costumes designed by Marion Boyce and Margot Wilson, original design sketches and fabric swatches, accessories, photographs and clips from the film. ​
Mystery Road: Origin (2018– )
Created by and starring First Nations talent, the long-running Mystery Road franchise includes two films and a spinoff TV series. Its latest incarnation, Origin, is the prequel story to one of Australia's all-time greatest screen sleuths Jay Swan, who investigates a series of robberies that uncover dark secrets in a small outback mining town. Get insight into Origin's production design, and learn how the designers used sets, props and locations to faithfully recreate a late 90s setting. The series swept the 12th AACTA Awards with seven wins: Best TV Drama Series, Best Lead Actress (Tuuli Narkle), Best Lead Actor (Mark Coles Smith), Best Direction (Dylan River), Best Cinematography (Tyson Perkins), Best Editing (Nicholas Holmes) and Best Sound (Luke Mynott, Wes Chew, Trevor Hope and Dylan Barfield).
---
Browse a curated range of screen culture publications, curiosities and branded merchandise. Every purchase supports your museum of screen culture.
Located on the Ground Floor at ACMI, Fed Square, Flinders Street.
Help us preserve and safeguard the ACMI collection for future generations.
Experience ACMI in the very best way. Get a range of discounts and invitations to exclusive previews.
Discover how screen culture has shaped who we are, how we see ourselves and how the world sees us.
Please click the links below for more information about accessible visits to The Story of the Moving Image.