Explore our centrepiece exhibition, The Story of the Moving Image, in a tour designed for visitors who are blind or have low vision.
Created in collaboration with Description Victoria, this tour utilises audio-description and tactile resources.
Tickets are intended for visitors who are blind or have low vision. Visitors may be accompanied by as many carers or companions as desired and they do not require a ticket.
About the exhibition
Journey through the past, present and future of the moving image through interactive experiences, digital innovation and captivating stories.
From the first projections and optical illusions to the birth of film and beyond, moving images have the power to spark imagination, share stories and shape history. Discover how inventors, innovators and artists at the turn of the 20th century wielded light, split time and captured motion, heralding a technological revolution that continues today.
Featuring ancient shadow puppets, Victorian-era magic lanterns, original cameras, iconic costumes, movie sets, sketches, clips and contemporary art, The Story of the Moving Image traverses time, countries and cultures in a mesmerising exploration of an art form that changed the world and illuminated our collective humanity.
Five distinct sections frame the major moments in moving image history, including the origins and future of cinema, production design and the creative process, Australian culture and stories, the rise of videogames, and how screens inform, influence and empower us.
These stages come to life through interactive experiences that let you animate shadows, craft optical toys, experiment with time, assemble film scenes and create soundscapes in a custom Foley studio.
These moments can be collected with the Lens, a free tool that collects your favourite objects, artworks and creations in the exhibition. It also animates the Constellation, connecting what you collected to the cosmos of screen content outside ACMI.
Vintage videogames coming soon
Collect your favourite objects in the exhibition with your Lens and explore your personal collection online anytime, anywhere.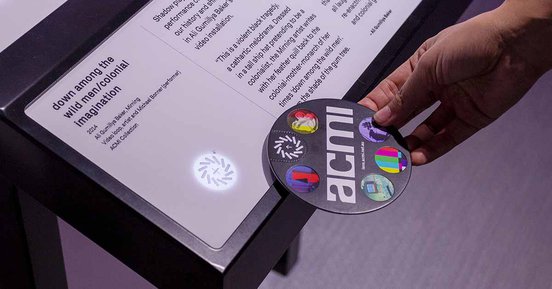 Read our COVIDSafe visitor guidelines, information on accessibility, amenities, transport, dining options and more.
Stories and Ideas from the exhibition
Discover how screen culture has shaped who we are, how we see ourselves and how the world sees us.
Looking for dining options?
As well as great coffee and snacks, our new restaurant features a seasonally driven menu developed by acclaimed Melbourne chef, Karen Martini.
Browse all things moving image. Every purchase supports your museum of screen culture.
Where: Ground Floor, ACMI, Fed Square