"Be a real politician!" screams actress Robin Givens' character Kim in one of the opening scenes of Chris Rock political comedy Head Of State (2003). Written, directed and starring Rock, he plays a half-assed politician – Mays Gilliam –  who can't keep his relationship alive let alone his career. He's getting dumped by Kim, with the breakup scene immediately setting up the arc that Mays will go on throughout the duration of the film. She's passionately outlining all his issues not just as a partner, not just as a man, but as a politician. He's an ineffective alderman and he's about to lose his job … right up until the point he doesn't, becoming a reluctant Presidential candidate instead (and – spoilers – the first black President of the United States).
After the Democratic Presidential and Vice-Presidential nominees are both killed in a plane crash, Mays is recruited haphazardly as the new candidate following a viral news incident where he saves a woman. Considered unlikely to win against his more popular rival and incumbent Vice President Brian Lewis (Nick Searcy), Mays becomes their pick following public goodwill and the optics of him running as a black man. Co-written by Rock's frequent collaborator Ali LeRoi, Head Of State leans into much of the stand-up that first made its star a household name: yes, it's outlandish and irreverent in moments, but it's also socially conscious and political. As legendary film critic Roger Ebert wrote at the time: "Head Of State is an imperfect movie, but not a boring one and not lacking in intelligence… it makes an angry and fairly timely comic attack on an electoral system where candidates don't say what they really think but simply repeat safe centrist banalities."
Kim's initial jab – "be a real politician!" – is like an echo throughout the movie as Mays slowly begins to shift into something he never thought he was: a real politician. His campaigning for issues he truly cares about – welfare, social justice, discrepancy of wealth – and the appointment of his brother as his running mate (played by the late, great Bernie Mac) penetrates the usually artificial veneer of most politicians to the point where he's actually elected to office. In a world where Donald Trump can become the 45th President of the United States, Rock's vision of standing up for what's right and the right person ending up in the most powerful office in the world seems quaint in comparison. Yet 2003 was a different time: the Iraq War was seeing public opinion begin to shift against then US President George Bush and only four years later, an actual black politician – Barack Obama – would become a very real possibility for POTUS. It was a seemingly simpler era and a future that Head Of State and other pop cultural media of the period predicted in a way with a whole era of fictional black Presidents predating the real one like 24's David Palmer, Deep Impact's Tom Beck, and even Rock's long-time friend and collaborator Dave Chappelle as Black Bush on Chappelle's Show.
– Maria Lewis
---
This essay was written for Edit Line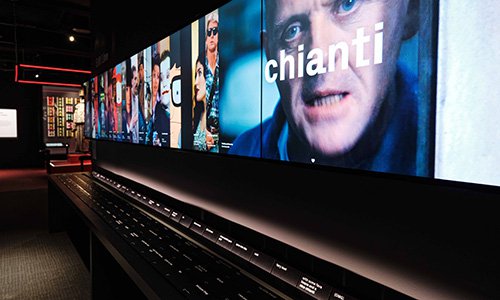 Create your own iconic film and TV moments in real time with Edit Line, an interactive experience in The Story of the Moving Image exhibition at ACMI.
Move physical blocks around to create a story from selected clips. Save your mini masterpiece with your Lens device and take it home with you.
---