There are scene stealers and then there's Will Ferrell in Wedding Crashers (2006). In a film packed with funny lines and rewritten by some of the funniest men in Hollywood – who also performed them in Owen Wilson and Vince Vaughn – it's Ferrell who steals the movie with less than five minutes of screen time and one hilarious line. "Ma, the meatloaf!" shouts Chazz Reinhold over his shoulder, hairy chest exposed in a draped red robe. Ferrell filmed his uncredited part in the hit R-rated comedy in just one day, with the Saturday Night Live (1975–present) alumni only being confirmed the night before the shoot was set to take place. "We were begging him to do it," director Dave Dobkin said in an oral history of the movie. "He had a really busy schedule, and it was at midnight the night before [the scene] that we confirmed him. I think we had Nic Cage as the backup or on a wish list."
Having just come off the back of one of the most successful runs on SNL – which he had bridged into a burgeoning career in film with hits like Old School (2003), Elf (2003) and Anchorman: The Legend of Ron Burgundy (2004) – Ferrell was a hard person to lock in, even for a bit cameo. He thrived in those scenarios with hilarious walk on parts, most notably up until that point in films like the Austin Powers series (1997–2001) as Mustafa, Zoolander (2001) as Mugatu, Jay And Silent Bob Strike Back (2001) as Federal Wildlife Marshal Willenholly and Starsky & Hutch (2004) as Big Earl (which was also uncredited, just like Wedding Crashers). Yet in 2006, Ferrell was heading towards his career apex with the biggest hits of his filmography – Talladega Nights: The Ballad of Ricky Bobby (2006), Blades Of Glory (2007), Step Brothers (2008) – all actively in the pipeline and his role as a producer taking off in earnest with the production company he started with Adam McKay, Gary Sanchez Productions.
However, even with limited time and a tight turn around on the Wedding Crashers set, Ferrell's years of improvisational comedy and working in a similarly high-pressured environment like SNL paid off. It clearly worked for the filmmakers as much as it did the viewers, which can be picked up with one subtle goof – a camera shake just as he shouts "meatloaf!" That was seasoned cinematographer Julio Macat, who shot Ferrell as he improvised the cherished line. "When he yells 'Ma, meatloaf!', I was operating the camera," the Golden Globe winner recalled. "I couldn't hold it — I lost my shit — and you can see the camera jiggle because I'm laughing behind it." As Chazz – the original wedding crasher who passed on his pick-up artist skills to Wilson and Vaughn's characters – he was able to tap into the unexpected, the shouty, the irreverent and hilarious aspects of his now beloved comedy persona. In fact, hysterical shouting is one of Ferrell's trademarks. Perhaps that's why "meatloaf!" works so well, acting like a jolt to the audience as the character deviates from a confiding tone to one that's raucous.
– Maria Lewis
---
This essay was written for Edit Line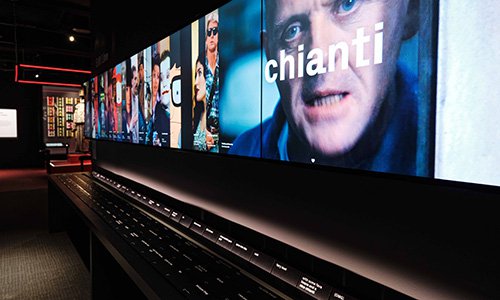 Create your own iconic film and TV moments in real time with Edit Line, an interactive experience in The Story of the Moving Image exhibition at ACMI.
Move physical blocks around to create a story from selected clips. Save your mini masterpiece with your Lens device and take it home with you.
---