"Tooooo… " It's one word, just one, said to punctate a toast between defence lawyer Jake Brigance (Matthew McConaughey) and law student Ellen Roark (Sandra Bullock) in Joel Schumacher's legal blockbuster A Time To Kill (1996). Yet McConaughey, throughout his long and varied career, has developed a penchant for subverting words, twisting and extracting them in ways that wouldn't even occur to other performers. His debut film performance – stoner and scoundrel Wooderson in Richard Linklater's Dazed and Confused (1993) – still endures to this day because of what he was able to do with the world "alright". To be more specific, repeat it and add his signature Southern drawl. When he won his Best Actor Academy Award for Dallas Buyers Club (2013) in 2014, he concluded his acceptance speech with that signature line "alright alright alright" and a standing ovation.
Few actors could say that their first film, let alone their performance in it or even a single piece of dialogue, would be memorable enough that it's instantly recognisable 21 years later on one of the world's biggest stages. McConaughey can and McConaissance aside, it's one of his biggest strengths as a performer: his ability to deliver a line or single word in a way that only he can. In the case of Martin Scorsese's The Wolf of Wall Street (2013), it's not a spoken moment at all but rather a weird hum-whistle-whirr type sound that he makes while thumping his chest and doing a bump of cocaine at lunch. In Magic Mike (2012) it's his salacious "no no no no" as stripper king Dallas in the opening minute that resonates. And in his most iconic role, Detective Rust Cohle in True Detective (2014–present), it's where he utters the haunting line "time is a flat circle". What's significant about "toooo… " in a A Time To Kill is where it comes not in the film per se but in the arc of McConaughey's career.
After his dazzling debut, McConaughey was stuck playing bit parts in films like The Return of The Texas Chainsaw Massacre (1995) and Angels in the Outfield (1994). It wasn't until A Time to Kill (1996) that he was considered both a serious dramatic actor and a movie star, something really only John Grisham movies weirdly had the power to do in the 90s. To quote Matt Damon quoting a studio executive at the time: "Those Grisham movies make a hundred million dollars!" A Time To Kill certainly did, earning over $150M on a $40M budget and becoming the fourth film in a row based on a Grisham novel that was a critical and commercial hit following The Client (1994), The Pelican Brief (1993) and The Firm (1993). Like Julia Roberts and Tom Cruise in those earlier Grisham vehicles, McConaughey's performance made him a star. He won an MTV Movie Award for Best Breakthrough – a little odd when you consider it was a movie about racial violence and discrimination in the South – and his co-star and then partner Bullock were a paparazzi heat score. It would still be another half a decade until the rom-com era of his career and a while longer before the McConaissance, but with a "toooo… " that encapsulated all his promise it was difficult to ever count out Matthew McConaughey again.
– Maria Lewis
---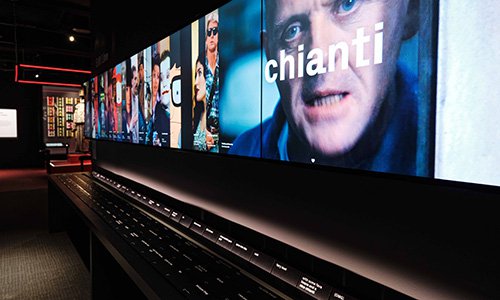 This essay was written for Edit Line
Create your own iconic film and TV moments in real time with Edit Line, an interactive experience in The Story of the Moving Image exhibition at ACMI.
Move physical blocks around to create a story from selected clips. Save your mini masterpiece with your Lens device and take it home with you.
---