"It's so damn hot," exclaims the character of news anchor man Ron Burgundy, as he swigs from a carton of milk and the remnants drip over his beard. "Milk was a bad choice." Trying to pick a single, quotable line from Anchorman: The Legend of Ron Burgundy (2004) is harder than it should be compared to most films. Such is the fandom of the now classic comedy that in the almost two decades since it came and went in theatres, Anchorman is now comprised almost entirely of endlessly quotable lines. Any and every line has become memorable as the audience are able to obsess, recite, and reinvent them with the passage of time. However "a bad choice" – a seemingly innocuous beat – has endured in part due to its versatility. It's such an absurd, offhand comment as Ron Burgundy spirals that it could have been easily forgotten. Instead, it can be used and executed anywhere in real life outside of the movie: muttered in an offhand comment, shouted among friends, and that – in part – is its genius according to fellow cast member Paul Rudd.
"I really laugh when Will Ferrell says 'milk was a bad choice' because I remember when he did it," said Rudd, in an interview on the 10 Questions with Kyle Brandt podcast. "It was so surprising because we all left the shot, the group we're all leaving, and we walk right past camera. But Will is standing there and he's supposed to be yelling at us down the street. I remember Steve Carrell and I standing right there as Will is yelling things out, he's just making things up and he just took a swig of milk and said 'milk was a bad choice'. I just remember looking at Steve Carrell and he and I looking at each other and trying not to ruin the take with laughter."
Rudd played sexist sports presenter Brian Fantana in the original film and its sequel Anchorman 2 (2013), with Steve Carrell and David Koechner filling out the rest of Burgundy posse. A parody of outdated news stereotypes and personalities, the concept was originally birthed by Ferrell and Adam McKay: both who were working on Saturday Night Live (1975–present) at the time as a performer and writer respectively. The script was originally shepherded through the early draft stages by legendary filmmaker Paul Thomas Anderson, with McKay stepping up to make his directorial debut with Anchorman.
It was significant too for it being one of the first instances of Ferrell in a leading role, with his breakout stardom on SNL previously having seen him fill supporting roles in other significant comedies like Zoolander (2000), two Austin Powers films (1997, 1999) and Superstar (1999). Both he and McKay's improvisational background kickstarted one of the most successful creative partnerships of the past decade with their production companies Gary Sanchez and Gloria Sanchez going on to see them release critically acclaimed fare like Vice (2018), Hustlers (2019), and The Other Guys (2010). It's this familiarity with each other and with their strengths as creatives that allows a line like "milk was a bad choice" to exist, with McKay having the experience working with Ferrell to know he should keep rolling as long as he possibly can and Ferrell confident enough to expect that McKay would catch whatever curveball he threw out there. In the words of Rudd: "It was just the funniest thing I'd ever heard. I remember it so vividly: 'milk was a bad choice'. Such a simple, perfect thing to say – because it was! It was a really hot day, it was like ugh."
– Maria Lewis 
---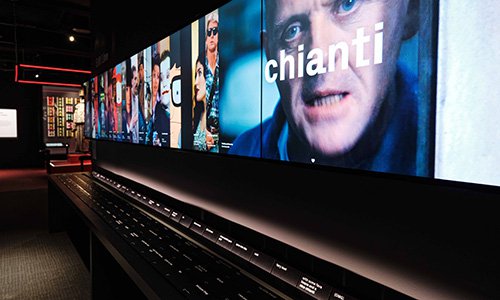 This essay was written for Edit Line
Create your own iconic film and TV moments in real time with Edit Line, an interactive experience in The Story of the Moving Image exhibition at ACMI.
Move physical blocks around to create a story from selected clips. Save your mini masterpiece with your Lens device and take it home with you.
---