"Mike Meyers is like a pop star of line readings," say Alexei Toliopoulos and Cameron James, hosts and creators of Mike Check, a podcast dedicated to every piece of work Mike Meyers has ever made. "He knows how to give you a hit that will get stuck in your head forever." Together the two comedians have broken down the writer, director and producer's Saturday Night Live (1975–present) sketches, his film work, guest appearances and more over the course of 70 episodes. On the surface that seems obsessive and specific, but such is the kind of following Meyers inspires thanks to the enduring popularity of his Austin Powers franchise, which was kickstarted with Austin Powers: International Man Of Mystery (1997). A Saturday Night Live alum who was able to spin his sketch characters into a successful franchise with Wayne's World (1992), Meyers understood the recipe when it came to composing an action-comedy parody of James Bond.
The role of Austin Powers was supposed to be the only one he filled, but after Jim Carrey turned down the part of nemesis Dr Evil, Meyers took on the dual roles. The film itself – a solid hit that spawned two other even meatier hits – was a phenomenon, with characters still popular as Halloween costumes over 20 years later and at least one family member being able to do a questionable imitation of key phrases from the films such as "do I make you horny?" and "groovy, baby, yeah!". With colourful costuming and comedic veneers, Powers is the more eye-grabbing and seemingly obvious character to end up in the pop culture hall of fame. Dr Evil, on the other hand, was not. Largely because he already existed, in a way, with the part a homage to Bond villain Blofeld. Yet, according to Toliopoulos and James, such is the skill of Mike Meyers, the "pop star of line readings", who was able to turn the phrase "one million dollars" into something undeniably linked to Austin Powers the series and Dr Evil himself.
"Three words and six syllables," say Toliopoulos and James of the endlessly imitated delivery and parody that has become parodied itself. "He creates an iconic moment. It's such a specific pronunciation of one line that is not really a joke. But Mike just sees it and is like 'oh, I can get a laugh here'. It's such a strong character moment for Evil. It's a ridiculously small amount of money to create a world breaking event around highlighting how lame, unthreatening, and out of touch he is. All encapsulated in three words, six syllables, but one of those syllables is weirdly stretched out." The pause between the pronunciation of each word, the illuminated eyes, slight swivel on his chair and specific hand move all make the moment instantly recognisable and instantly iconic. It's something that was muttered around watercoolers in 1997 to generate a laugh in the office and it's something that is still recreated to generate laughs now, two decades later, even if those laughs feel a little stale.
– Maria Lewis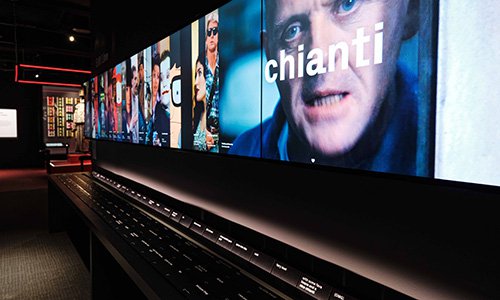 ---
This essay was written for Edit Line
Create your own iconic film and TV moments in real time with Edit Line, an interactive experience in The Story of the Moving Image exhibition at ACMI.
Move physical blocks around to create a story from selected clips. Save your mini masterpiece with your Lens device and take it home with you.
---