Adam (Alec Baldwin) and Barbara (Geena Davis) are dead. Rather than going into the next realm, they're forced to endure occupation; their home has been bought by the Deetz's. Despite adopting the role as corporeal surrogate parents for their daughter Lydia - who can see the house's previous occupants - they want their home back. After failed attempts to scare the Deetzes away, they attract Betelgeuse (Michael Keaton); a spirit with the raucous energy of a used car salesman to help get rid of their home's new inhabitants once and for all. However, his services come with some fine print that puts Lydia (Ryder) in danger. It feels like Burton's characters, in perpetual states of mourning, seem to be the tip of a pop-cultural Goth spear. At the point that Winona's Lydia says that little "My" she's garbed in black, draped in a veil, looking like she's front row at a funeral. She's talking to her parents, who clearly don't understand. Lydia says, "My whole life is a dark room" and in that simple statement, she's making a claim that in 1988 struck Gen X right in the emotional core and became an unlikely fashion icon.
If Molly Ringwald was the reigning 80s Teen Queen, Ryder quickly took her rightful place as our naughtier Princess Margaret. The Breakfast Club (1985) celebrated and defiled Ringwald's original goth sister Ally Sheedy by giving her the She's All That (1999) makeover treatment at the end of the film. Winona assumed this role with the black veil at this moment and forged her career in dark rooms or by bringing her dark dynamo into the light spaces. Ryder's royal rein charted through Beetlejuice (1988) to the scathing and iconic Heathers (1989). Ryder rejoined Burton's twisted fairytale Edward Scissorhands (1990) with brief flame Johnny Depp and later became the object of affection for the original vampire in Francis Ford Coppola's operatic retelling Bram Stoker's Dracula (1992) and joined Martin Scorsese's mannered and brutal The Age of Innocence (1993).
– Blake Howard
---
Explore more stories about screen Goddesses at ACMI
---
This essay was written for Edit Line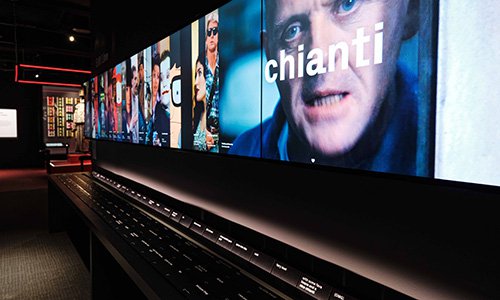 Create your own iconic film and TV moments in real time with Edit Line, an interactive experience in The Story of the Moving Image exhibition at ACMI.
Move physical blocks around to create a story from selected clips. Save your mini masterpiece with your Lens device and take it home with you.
---