There are plenty of films that have examined hybrid identity, but those that examine the coming of age for young women – and ethnic young women – are rare. At the turn of the century and as a new millennium started, however, there were several key releases: Looking For Alibrandi (1999), My Big Fat Greek Wedding (2002) and Bend It Like Beckham (2002). The first was seminal for Greek Australians, the second for Greek immigrants in the US, whereas the third put a spotlight on British Indian Sikhs through England's favourite pastime: football.
Jess Bhamra – played by Parminder Nagra – is 18-years old and wants nothing more than to play soccer, but there are two big things standing in her way: her gender and her race. Her mother, well-intentioned as she is, just wants Jess to be like her older sister Pinky and do away with the sports bras in order to find a boyfriend … who would become a fiancé, who would become a husband. Although her cousins and relatives and boys in the neighbourhood are allowed to play – encouraged, even – it's not what a young woman of Indian background is supposed to do regardless of how talented she is. "Don't worry, Miss Bahmra," says a local dressmaker tasked with turning Jess from tomboy to boytoy for Pinky's impending wedding. "Our designs will make even these little mosquito bites look like juicy, juicy mangos!" It's a comedic line played for laughs, but it also underlines the difference in what Jess values as important and what her mother values as important.
Much of her struggle throughout the film is defined by Jess pushing back against the expectations and restrictions of her upbringing, something that bonds her with Jules (Keira Knightley) who's fighting to be taken seriously in a sport dominated by men. Written, directed and produced by British Indian filmmaker Gurinder Chadha – and filmed in the same parts of West London where she grew up –  real-life football star David Beckham was chosen as the idol for Jess and Jules for several key reasons. "He has changed the meaning of what we used to consider the traditional macho footballer," Chadha said in the film's production notes. "We came up with the title because it also works as an excellent metaphor for the film as the girls 'bend' the rules rather than 'break' them so they can get what they want." At the peak of his fame during the movie's release, Chadha felt that Beckham challenged what people considered masculine in the same way she wanted Jess and Jules to challenge what the general public considered feminine.
Kicking box-office goals at the time to turn its $6M budget into a $76.6M global haul, the film also ignited the careers of its stars – Nagra, Knightley, Archie Panjabi and Jonathan Rhys Meyers – and spawned a successful stage musical of the same name. Bend It Like Beckham was released in theatres ahead of the 2002 FIFA World Cup, which no doubt helped it become the most successful film about soccer in cinematic history. And although the sport is vital to the story and title of the feature, Bend It Like Beckham's legacy is very much defined by the timelessness of a story about two girls desperate to play football despite being surrounded by naysayers telling them they can't: it's defined by two girls happy with mosquito bites in a world of juicy, juicy mangos. Metaphorically, of course.
– Maria Lewis
---
Explore more stories about screen Goddesses at ACMI
---
This essay was written for Edit Line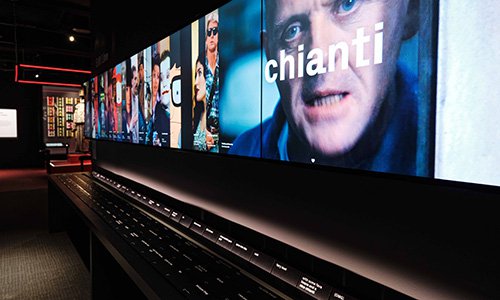 Create your own iconic film and TV moments in real time with Edit Line, an interactive experience in The Story of the Moving Image exhibition at ACMI.
Move physical blocks around to create a story from selected clips. Save your mini masterpiece with your Lens device and take it home with you.
---