Billy Madison (1995) is undoubtedly the child of Saturday Night Live (1975 – present) in all the ways that count, with executive producer Lorne Michaels filling the hypothetical father role and Adam Sandler the mother who brought it into this world. By the time the film debuted in cinemas, Sandler's absurdist stand-up had been forged in the crucible of the iconic sketch comedy series into something that was palatable to the mainstream. After several years on the show, he was also the breakout star about to make the jump to movie star. That was all possible because of Billy Madison, his first major vehicle despite flicks like Airheads (1994), Mixed Nuts (1994) and Overboard (1989). It was a modest box-office hit at the time, but it grew to become a cult classic along with the string of other Sandler properties that followed shortly after like Happy Gilmore (1996), The Wedding Singer (1998), The Waterboy (1998), Big Daddy (1999) and more.
Billy Madison also became integral to the comedic stylings of filmmakers like the Safdie Brothers – Benny and Josh - who would later go on to direct Sandler in a career-best performance in Uncut Gems (2019). In many ways, the film's enduring appeal came down to not just one line, but dozens of endlessly quotable pieces of dialogue – things that could be said or thrown away in conversation, but immediately recognised by other fans of the film and Sandler's specific brand of comedy. They became somewhat of a secret password, providing access to a fandom and friendships that appreciated the sharp pen of Saturday Night Live alumni like Sandler, Norm Macdonald (who makes his feature film debut in Billy Madison) and Jim Downey, one of the youngest writers in SNL history.
It's Downey, perhaps surprisingly, who steals Billy Madison's most memorable scene, undercutting a previously swelling moment of triumph for the hero with one of cinema's most precise deadpan deliveries. "Madison, what you have just said is one of the most insanely idiotic things I have ever heard," he utters as the school principal. "At no point in your rambling, incoherent response were you even close to anything that could be considered a rational thought. Everyone in this room is now dumber for having listened to it." Director Tamra Davis doesn't cut away from Downey once during his 20-second delivery, the camera instead forcing the audience to focus on the man dubbed the "best political humourist alive" as he eviscerates Sandler's Billy. In the decades since the film was released, it's a scene that Downey found people quoting back to him over and over again, whether they knew him for his legacy of work on SNL – he wrote for and occasionally acted in 30 seasons – or just recognised him on the street.
If the moment felt authentic, it's in large part because it was and something Sandler recreated straight from the Saturday Night Live writers' room. The phrase "insanely idiotic" was one staffers frequently heard coming out of Downey's mouth, as he told Macdonald back in 2008 on the Dennis Miller Show. "It was a variation of this thing you've probably heard me say to Chris Farley in writers rooms many times," he recalled. Sandler, Michaels and Macdonald being present during Downey's many deliveries of "insanely idiotic" in context knew that it could work in a new setting as well, with the trio tapping into the experience and authenticity of modern comedy's deadliest deadpanners.
– Maria Lewis
---
This essay was written for Edit Line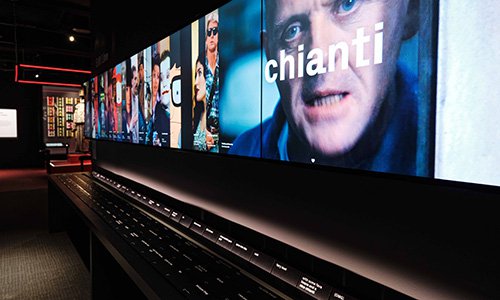 Create your own iconic film and TV moments in real time with Edit Line, an interactive experience in The Story of the Moving Image exhibition at ACMI.
Move physical blocks around to create a story from selected clips. Save your mini masterpiece with your Lens device and take it home with you.
---