"I just want to be perfect," says Nina Sayers (Natalie Portman) as she's trying to convince domineering choreographer Thomas Leroy (Vincent Cassel) that she's ready to ascend to the lead role in Tchaikovsky's Swan Lake. The line doesn't come out as an emphatic claim or even an emotional plea though. Instead, Portman's Nina inflects this "perfect" with deep uncertainty. Portman is bunched up, contorting slightly, refusing to engage with Cassel's prodding gaze. For Nina, this ascension is treacherous. The invective torment from her predecessor Beth Macintyre (Winona Ryder), the lifelong expectation and anticipatory judgment of her detached mother Erica (Barbara Hershey) and the mounting pressure of the dancers hovering in the wings projecting wishes for a colossal failure. The weight of her newly inherited crown, in this line delivery, is bending her neck.
With a single line and particularly with a word, Portman's Nina creates a portal to the conceit of Darren Aronofsky's psychologically turbulent Black Swan (2010). Nina has been a life-long, committed dancer, and when she wins the lead role, all those aforementioned pressures collide as she tries to live up to the idea of perfection, and subsequently struggles to maintain her sanity, with the slippage manifesting in body horror visions that she's becoming the Swan Queen in more ways than one. In Aronofsky's film, that struggle for the undefinable absolute is like flying too close to the sun. Perfect means free of flaws, and this role's responsibility is solitary confinement. In Nina's fractured state, she finds solace in her relationship with Lily (Mila Kunis), who is free of the burden of being that pure, unblemished, regal Swan. In Nina's predecessor, Beth (Ryder) perfection is a mindset, a swagger, and her bitter warnings test to Nina's resolve – does she have what it takes to embody the ideal of perfection?
Aronofsky's entire oeuvre requires his leading performers to be deeply uncertain about what's perfect, to question what they're willing to reveal about themselves and their style, to deliver what ultimately amounts to career-best turn after career-best turn. Ellen Burstyn gave an iconic performance as the diet pill addict, yearning for validation in the form of a guest spot on a TV game show in Requiem for a Dream (2000). After a decades-long career of incredible characters, including The Exorcist (1973) and Alice Doesn't Live Here Anymore (1974); she demolished herself on-screen in Requiem for a Dream. Hugh Jackman's singularly deranged and obsessive performance in The Fountain (2006) became the foundations for a whole new phase of great work in Prisoners (2013) and Logan (2017). Finally, the career-reviving Mickey Rourke role in The Wrestler (2008) made you feel the contradictory feelings of joy and regret (that Rourke couldn't get or hold onto more roles that utilised his talents). Portman follows in their footsteps, arriving at this role at a moment of ascendency, moving beyond blockbusters (Star Wars prequels) and manic pixie dream girls (Zach Braff's Garden State), where she willingly contorted into Nina's plight. Portman's Nina is a performance as "perfect" as any lead performance this century, demonstrated by her taking home the Best Actress Oscar in 2011.
– Blake Howard
---
Explore more stories about screen Goddesses at ACMI
---
This essay was written for Edit Line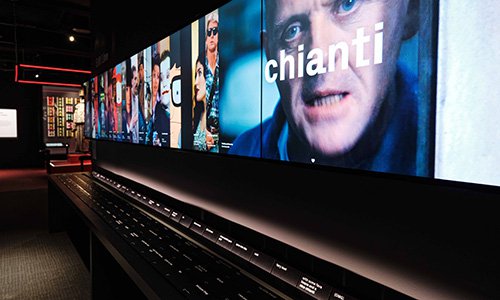 Create your own iconic film and TV moments in real time with Edit Line, an interactive experience in The Story of the Moving Image exhibition at ACMI.
Move physical blocks around to create a story from selected clips. Save your mini masterpiece with your Lens device and take it home with you.
---