It's almost Tina Belcher's 13th birthday, and she's about to become a woman (her words). Tina can treat the strange foes of teenage anxiety and confidence the same in her conduct. Tina – voiced by deadpan comic Dan Mintz – wants to throw an expensive co-ed party as a pretext to kiss Jimmy Jr, the son of family rival Jimmy Pesto, owner of Jimmy Pesto's Pizzeria. After giving Jimmy Jr his invitation at school, Tina watches him walk away, enchanted and hypnotised by his hind parts undulating in his jeans like a psychedelic metronome walking up the corridor. Tina whispers her adolescent desire aloud, "Butt". Mintz's dulcet tones make this hormone loaded moment all the more hilarious and she gets to deliver similar lines regularly, with 'Butt' (and many other forms like 'buns') routinely escaping exasperated from the boy-crazy teen character's mouth. You can even wear her catchphrase with a bunch of pins and patches available on Etsy that feature it.
In order to pay for this lavish, romantic party for Tina, her father Bob (H. John Benjamin, the eponymous Archer) has to negotiate a rent extension, which fails, and then begins moonlighting as a taxi driver to get the money. Bob's ride becomes a beacon for the beautifully strange, disgustingly drunk and those keen for a moving public sex act in this endless cycle of work. Bob doesn't react to any of this, thereby subverting reflexive sitcom expectations that he should react with cartoonish fury. Bob's Burgers' only limit for the gags and the ridiculous ephemera are the writers' minds. H. John Benjamin's consistent cadence, which barely penetrates monotone, is a big part of maintaining the show's reality. The dialogue is colourful, expressive and down-right weird; and the characters and world are anchored in the wonderfully earnest delivery of their voice performers.
Six episodes into the first season of Loren Bouchard's increasingly musical cult series Bob's Burgers provides the litmus test of whether you're going to be in for the long haul with this show that relishes the mundane. As it approaches its 11th season, and with 204 episodes under its belt, Bob Burger's continues to make for addictive and comforting viewing. Bouchard's latest venture leans into and expands one of the show's most fantastic elements – the impromptu songs. Apple TV+ series Central Park, created by Bouchard, Josh Gad and Nora Smith focuses on a family living in Central Park in New York City, to thwart a greedy land developer. Central Park wants to save a city from greed; Bob's Burgers intends to keep a small business afloat and a family together. Bob is willing to forgo sleep, be covered in projectile vomit, whacked in the faced with dirty panties and hose the cab down and start again for Tina's milestone birthday. There's comfort in these modest crusades and a warmth in Tina's adolescent drooling that puts heart, growing up and growing pains at the centre of this comedic gem.
– Blake Howard
---
Explore more stories about screen Goddesses at ACMI
---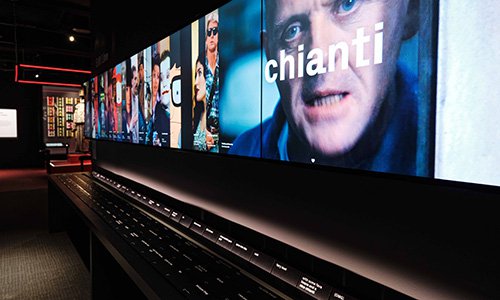 This essay was written for Edit Line
Create your own iconic film and TV moments in real time with Edit Line, an interactive experience in The Story of the Moving Image exhibition at ACMI.
Move physical blocks around to create a story from selected clips. Save your mini masterpiece with your Lens device and take it home with you.
---