It's hard to overstate the cultural impact of Borat, which is a bizarre sentence to write but an even more bizarre reality to live in. Of all the characters British comedian and political satirist Sacha Baron Cohen has created – Ali G, Bruno, General Aladeen – it's Borat who has continued to echo throughout pop culture from his first initial appearances on Da Ali G Show (2000–04) to his more recent sequel Borat Subsequent Moviefilm: Delivery of Prodigious Bribe to American Regime for Make Benefit Once Glorious Nation of Kazakhstan (2020). Obsessed with deep character work a la Peter Sellers, it was the first Borat film – Borat: Cultural Learnings of America for Make Benefit Glorious Nation of Kazakhstan (2006) – that truly put the character and the modus operandi of Baron Cohen on the world stage. It would be nice to think that was due to the scathing political and cultural analysis the performer was able to provide through the vessel of Borat, but it was also largely because of a fluro mankini and catchphrasification of two seemingly insignificant words: "my wife".
Its prominence is partially due to the pronunciation Baron Cohen uses in this introductory scene with the character's performative accent, but it's also largely down to repetition. We don't just hear him say the phrase "my wife" once here as he shows the camera crew through his village in Kazakhstan, it's repeated over and over again for comedic effect as he introduces the viewer to his many "my wife"s and girlfriends. The delivery of those two, small words became almost immediately imitated en masse by people in everyday life and the impression became so popular that "my wife" being used for lame comedic effect morphed into the prevalent joke. For instance, the phenomenon was parodied in a scene from cartoon series Bob's Burgers (2011–present) when Bob has a workplace nightmare and again in season 12 of It's Always Sunny In Philadelphia (2005–present) when the character of Mac attempts the bit.
Jia Tolentino wrote for The New Yorker that "my wife" had become an "inescapable catchphrase", something that carried from person-to-person like a virus, then meme-to-meme, tweet-to-tweet and parody video-to-parody video in much the same way. Yet it's oversaturation eventually became the thing that made it even more hilarious some 15 years after the fact. "For a while, it lived alongside Austin Powers one-liners about being horny as a ubiquitous cultural artifact that made most people wince," she wrote. "But then, several years ago, it circled the Möbius strip of asinine humor and landed on the amusing side: 'my wife' was somehow funnier than ever. It was funny to imagine Bob Dylan saying 'my wife', or Al Pacino. It was funny to imagine saying 'my wife' so many times that your actual wife divorced you. It was funny to insert the phrase 'Borat voice my wife' into pop songs." From ElectroLemon Vines to "my wife" Twitter joke scenarios, the line – and the delivery of it – has had one of the most unique lives as it evolved from repetitive comedic beat in the film, to shorthand for the film itself, to shorthand for a poor sense of humour, to pliable punchline for any multimedia joke format.

– Maria Lewis
---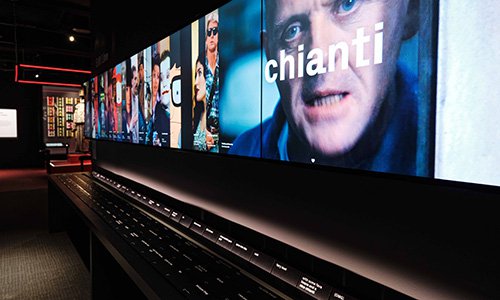 This essay was written for Edit Line
Create your own iconic film and TV moments in real time with Edit Line, an interactive experience in The Story of the Moving Image exhibition at ACMI.
Move physical blocks around to create a story from selected clips. Save your mini masterpiece with your Lens device and take it home with you.
---