Director Paul Greengrass isn't merely the frenetic gaze behind the spy-genre blockbusters The Bourne Supremacy (2004), The Bourne Ultimatum (2007) and Jason Bourne (2016), he's also a filmmaker with an affinity for scintillating docudrama. From the dramatisation of Irish-protest-turned-British massacre in Bloody Sunday (2002) to the deeply affecting and near 'un-rewatchable' 9/11 terrorist infiltrated flight film United 93 (2006), Greengrass creates unfathomably tense films that allow pure and authentic human emotions to shine through. One of those films is Captain Phillips (2013), an adaptation of Richard Phillip's A Captain's Duty: Somali Pirates, Navy SEALS, and Dangerous Days at Sea, starring Tom Hanks as the eponymous Captain Richard Phillips. It's the perfect blend of material and filmmaker.
So, who is the captain of this famous line from the film? Is it captain Greengrass? Or is it perhaps the two-time Oscar-winner Tom Hanks as the eponymous captain in the line? No. There's a literal and figurative mutiny, and the incredible breakthrough performance of Barkhad Abdi's Muse shines with the endlessly quotable, trailer and awards showreel fodder, "Look at me. I am the captain now." The line, the delivery, and scene's staging are electrifying, enlivening the audiences and actors alike with Greengrass focusing attention on the words of Billy Ray's script.
Greengrass is a director whose "shaky cam" action aesthetic influenced a flood of lesser imitators and leant on the technique that he crafted to disguise imperfect action, rather than give a visual language to thrilling action moments. We've adopted Captain Phillips (Hanks) panicked gaze in this mutiny scene. Frantic looks to the armed pirates that have invaded his bridge, enhanced by the boat's natural rock – Greengrass' cutting like a cardiogram. The increased heart rate, the ocean's movement – it's almost unbearable. Muse (Abdi) looks over at Captain Phillips (Hanks) and cuts through the panic. "Look at me." Greengrass' lens seems to be taking orders too. The camera steadies, and we see Abdi take the reins of his breakout performance. Muse says, "I am the captain now." And Hanks' Phillips relinquishes his post. Hanks, already one of America's most decorated and beloved actors, attempts to remain composed amid a situation that he's aware is going to devolve into chaos. Liberated after the mid-sea rescue from military forces, Hanks delivers his career's most transcendent performance. In the privacy of a medical examination, the pure adrenaline release reverberates through his body as he breaks down. Crying, shaking, being permitted to feel alive once again – it makes you want to well up long after viewing. Who's the captain now? One thing's sure Phillips will never be the same kind of captain again.
– Blake Howard
---
This essay was written for Edit Line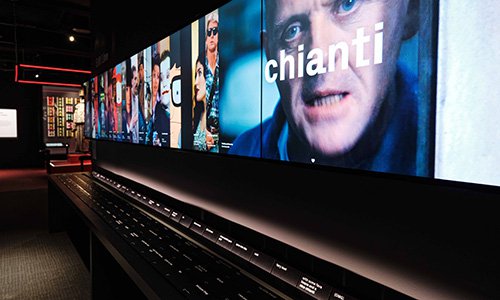 Create your own iconic film and TV moments in real time with Edit Line, an interactive experience in The Story of the Moving Image exhibition at ACMI.
Move physical blocks around to create a story from selected clips. Save your mini masterpiece with your Lens device and take it home with you.
---