Chuck Noland (Tom Hanks) wakes on a raft floating adrift in the middle of the South Pacific. A last-ditch attempt to escape the deserted island that has been his accidental home for four years. Increasingly anxious, Chuck scans his surroundings, asking, "Wilson, where are you?"
Looking into the distance Chuck spots a small bobbing object. "Wilson!" he calls as he dives into the water. Surfacing, he realises to swim towards Wilson may risk losing his raft, his chance to escape. Chuck grabs hold of some rope woven from bark attached to his raft and tries swimming towards Wilson. With the rope slack tightening and Wilson drifting further away, Chuck is momentarily suspended between the two. A choice between his past and his future. As he loses his grip, Chuck yells "Wilsooooooon!" before being submerged in the water again. Chuck comes to the surface again as Alan Silvestri's Grammy-winning score swells.
Tom Hanks plays Chuck Noland, a chrono-maniac Fed Ex systems engineer who becomes stranded on a deserted island when his cargo plane is forced to crash land somewhere in the South Pacific Ocean. Chuck is the only survivor.
Directed by Robert Zemeckis (Back to the Future, Forrest Gump) and written by William Broyles Jnr (China Beach, Apollo 13) Cast Away has been called an existential blockbuster. A modern-day re-imagining of what German author Johann Gottfried Schnabel referred to as a 'Robinsonade', a story set on a deserted island, named after Daniel Defoe's 1719 novel, Robinson Crusoe.
Released in the year 2000, just months after the reality show Survivor premiered on U.S. television. Cast Away and Survivor both followed after the world experienced the existential threat of Y2K, the "millennium bug". Initially, it was thought Y2K could cause global chaos with planes falling out of the sky and missiles launching by accident due to resetting of dates on computers at the stroke of midnight on 1 January 2000.
Hanks has said he made Cast Away to examine how one could endure four years of hopelessness with none of the requirements for living – which he refers to as food, water, shelter, fire, and company. Company, we discover comes in the form of a bloodstained volleyball.
Wilson is born from one of the packages Chuck salvages from the plane crash. A birthday present with a card attached. Opening the card Chuck reads the sentiment aloud, "The most beautiful thing in the world is, of course, the world itself" before unwrapping a Wilson brand volleyball that is later stained with Chuck's blood in frustration during a fire-making accident.
The birth of Wilson is a watershed in Chuck's time on the island. Before Wilson, Chuck struggled to make fire or catch fish, after Wilson appears Chuck triumphantly makes fire and enjoys crabmeat instead of coconuts. Wilson provides hope.
Before being stranded on the island Chuck didn't appreciate the important things in his life – friends and family. When audiences watch reality television show Survivor, they see contestants compete 24 hours a day without always having enough food, shelter or fire. But often it's the strain of being away from their families and friends that sees contestants break down and cry.
By anthropomorphising a volleyball, Chuck creates the friend he needs while he struggles to survive on the island. As Chuck becomes emotionally attached to Wilson, audiences find themselves doing the same. Audiences share Chuck's grief as Wilson drifts away. Even film critic J. Hoberman felt for Wilson, acknowledging Chuck's sidekick in the Village Voice upon release of the film "…his inanimate Man Friday deserves recognition as one of the year's best-supporting actors." Others agreed.
The 6th Critics' Choice Movie Awards were given on 22 January 2001 to honour the finest achievements in 2000 filmmaking. Wilson took home best inanimate object.
Wilson the volleyball still resonates with audiences today. You can even buy your own Wilson while "Celebrating 20 years of friendship."
Cast Away and Hank's "Wilsooooon!" was also a popular parody subject in Seth McFarlane's animated sit-com Family Guy.
The 2005 DreamWorks animated feature Madagascar introduced "Spalding" in a homage to Wilson. Fed Ex, Chuck's fictional employer, themselves even parodied the ending of the film in a commercial that screened during the 2003 Superbowl. In 2018, Australian actress Rebel Wilson appeared on the Ellen Show for Halloween dressed as Wilson.
– Anthony Stipanov
---
This essay was written for Edit Line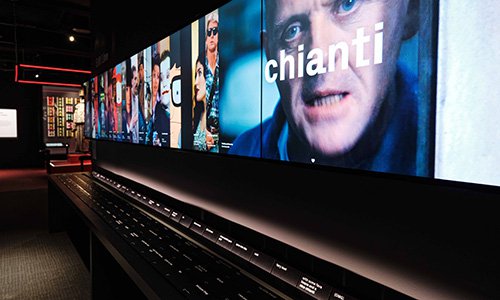 Create your own iconic film and TV moments in real time with Edit Line, an interactive experience in The Story of the Moving Image exhibition at ACMI.
Move physical blocks around to create a story from selected clips. Save your mini masterpiece with your Lens device and take it home with you.
---