"This boy is good," murmurs an audience member before another replies: "Yea, good and terrible." That pretty much sums up Sexual Chocolate, the fictionally "good and terrible" band from Coming To America (1988) and one of the film's most enduring jokes more than 30 years later. The John Landis-directed comedy concluded a decade of hits for Saturday Night Live's (1975 – present) biggest breakout star ever, following on from 48 Hrs (1982) and the Beverly Hills Cop (1984) franchise. With a story conceived by Murphy, the film follows Prince Akeem Joffer from the fictious African nation Zamunda as he travels to New York City to experience the world for the first time without the baggage of being identified as 'royalty'.
A hallmark of Murphy movies is his portrayal of multiple roles, which he does here as well when we meet Sexual Chocolate for the first time at a town hall meeting in Queens. With a stuffed belly, facial prosthetics and Jheri curl, Murphy's soul singer Randy Watson introduces his band "Sexual Chocolate!" before one of the great comedic bits unfolds. With he and his band decked in the too-tight pastel attire of wedding singers in the eighties (see also: Adam Sandler's The Wedding Singer (1998)), Watson unleashes a cover of Whitney Houston's 1985 hit The Greatest Love of All. While butchering every note and thrusting wildly throughout, Watson constantly exclaims the band's name – "Sexual Chocolate!" – as the horrified audience watches on.
A significant box-office hit – earning nearly $300 million globally on a $36 million budget – Coming To America has lived on as somewhat of a fan favourite mong Murphy diehards (so much so the much belated sequel Coming 2 America (2020) arrived three decades after the fact). It's because of absurdly hilarious scenes like "Sexual Chocolate!", which the band and the verbal declaration of it still used as shorthand today among those who first saw the movie when it came out and those who discovered it in the generations since. British synth-pop band Hot Chip release a song named after the band – Sexual Chocolate – back in 2004, while a remix of the film's scene merged with footage of Prince Harry and Meghan Markle's Royal Wedding went viral in 2018. Sexual Chocolate the band and "Sexual Chocolate!" the exclamation have only grown over the years as Coming To American evolved from cult film to mainstream comedy classic.
– Maria Lewis
---
This essay was written for Edit Line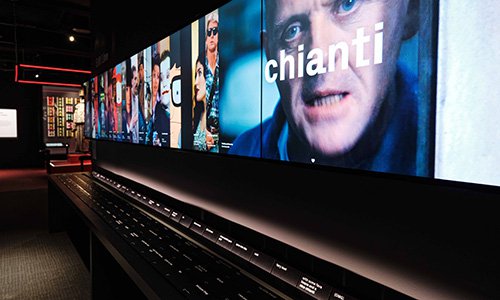 Create your own iconic film and TV moments in real time with Edit Line, an interactive experience in The Story of the Moving Image exhibition at ACMI.
Move physical blocks around to create a story from selected clips. Save your mini masterpiece with your Lens device and take it home with you.