The disaffected youth archetype was at its peak in the 1990s, empowered by the tail end of the grunge era and in direct opposition to the glossy sheen of mainstream pop music. For every Britney, Christina, Backstreet Boys or 'N Sync there was a Courtney Love, a Pearl Jam, a Clea DuVall, a Soundgarden and – of course – a Daria Morgendorffer. The patron saint of disaffected youth, Daria (voiced by comedy writer Tracy Grandstaff) was originally a minor character that featured in Mike Judge's seminal cartoon series Beavis And Butt-Head (1992–2011). Introduced as a smart, female foil to the idiotic antics of the two leads, Daria connected with audiences enough during her brief appearances that MTV greenlit her own self-titled series Daria (1997–2002). Ironically, the character and the themes she embodied have long outlived her male predecessors with Daria as an entity just as popular today as it was when it debuted back in the late 90s.
"A lot of the issues and feelings you have in high school are timeless," Daria co-creator Susie Lewis told Entertainment Weekly. That, in part, is one of the reasons she believes the show and the characters have stayed in the pop culture consciousness so much so that following Daria's 20th anniversary, a spin-off of the spin-off was announced with supporting character Jodie getting her own series (to be voiced by Tracee Ellis Ross). Yet it's more than that, with Daria merch more prevalent on bodies and bags and tattooed on skin than it was in 1997. Arguably this is perhaps because of the type of female character Daria represented, a type of woman we didn't often see during that period. She wasn't someone who would "give us a smile, love" when taunted by a man. She was hyper-intelligent and never attempted to hide it. She didn't have stereotypical teen interests and her female friendships and relationships were foundational to who she was. She wasn't over sexualised or dressed in the trendy clothes of the era. It's not that hard to draw a line between Daria's uniform of combat boots, pleated skirt and oversized jacket and that of fellow teen alt icon Billie Eilish who has made "baggy clothes" her uniform so people couldn't sexualise her. "Nobody can have an opinion because they haven't seen what's underneath," she said.
Daria was also a female character shaped by women, another rarity for the era. Daria was commissioned by then MTV vice president and creative director Abby Terkuhle, one of the few female executives at the company. She was co-created by Lewis, with character design by Karen Disher who also directed 57 of the show's episodes along with several other women. Music was instrumental to the show and the message it was trying to communicate, with female acts from the era like Splendora, Bif Naked, Amy Grant and even Cyndi Lauper helping shape that sound (including the theme song). Among the team of ten producers, only three were men. So when the show tackled issues relevant to women, it was through a female lens and that was extremely unique in the age of South Park (1997–present), The Simpsons (1989–present) and even Beavis And Butt-Head. In the season one episode Too Cute, Daria's younger and superficial sister Quinn (Wendy Hoopes) embarks on a journey of external self-improvement as she considers plastic surgery. Accompanying her to an appointment with the Joker-esque Dr Shar, Daria is resistant to the "it'll be fun" idea of artificial enhancements. "I don't like – " she deadpans, with the final word – of course – being "fun". Yet the "I don't like – " is integral, as both the delivery and the dialogue could be copy and pasted into almost any Daria episode and almost any Daria scenario and still be relevant. "Fun" is the placeholder, it can be swapped out for any of Daria's other dislikes: "team sports", "shopping", "group activities", "emotions", "the patriarchy" and so on. The way Daria spoke and what she said are probably her most iconic traits, with the dry delivery giving audiences and particularly female audiences something they rarely saw: a teenage girl who was confident and comfortable in who she was, but also a teenage girl who wasn't willing to bend in order to please others.
– Maria Lewis
---
Explore more stories about screen Goddesses at ACMI
---
This essay was written for Edit Line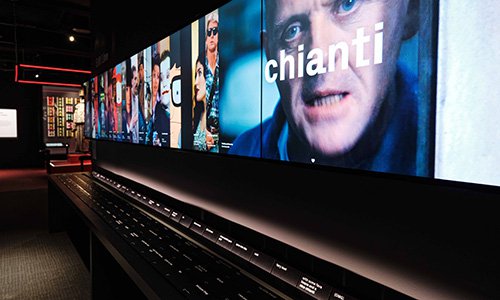 Create your own iconic film and TV moments in real time with Edit Line, an interactive experience in The Story of the Moving Image exhibition at ACMI.
Move physical blocks around to create a story from selected clips. Save your mini masterpiece with your Lens device and take it home with you.
---