Director Silas Ramsbottom (Steve Coogan) dispatches Agent Lucy Wilde (Kristen Wig) to enlist the help of now-retired supervillain-turned-dad Gru (Steve Carrell) after a mysterious thief obtains a potent bioweapon. In a meet-cute that only makes sense between super villains and AVL agents, Gru and Lucy go tit-for-tat with a series of explosive hidden gadgets, designed to repel unwanted attention. Finally, after being too quick to proclaim the particular device he's about to utilise, Gru is subdued with a "lipstick taser". Lucy gleefully skips to the folded lump of Gru's body. His new dad-life has made him a little rusty. Cue a bumbling attempt from the minions to help Gru that forms just one of many of the hilarious slapstick sequences from these part Simpson, part Stooge, part valuable protein source.
It's almost hard to remember - in a world of children's animated content occupied by little, bumbling, anthropomorphic bananas known as Minions - that Despicable Me started with the plight of a lonely man facing a mid-life crisis. Despicable Me (2010) introduces Gru (Steve Carrell) as a directionless supervillain, offended that an up-and-coming super villain named Vector (Jason Segel) steals the Great Pyramid of Giza. Carrell's leading role in The 40-Year-Old Virgin (2005) made him the manchild mascot for the new millennium. The Judd Apatow effect at Universal had taken hold, with many young kings and queens of studio comedy featuring in the all-star voice cast including Will Arnett, Kristen Wiig, and Danny McBride and Ken Jeong. But forget all of that; amid villain versus villain shenanigans, he stumbles upon three orphans Margo (Miranda Cosgrove), Edith (Dana Gaier) and Agnes (Elsie Fisher). Gru wrestles with the life he wants and the life that fate has served him on a platter. Does he relent to the renewed purpose that Margo, Edith and Agnes provide, or is that villain action, still the juice, so-to-speak?
Now the Despicable Me franchise (spanning three films, a standalone Minions film - with the second becoming one of the most profitable movies in the 101-year history of Universal Pictures by grossing $970 million on $76 million budget). Gru, his new family and his seemingly endless supply of minions will live happily ever after... until Universal saw the incredible critical and box-office response. Just when Gru was out of the villain game, he's back in Despicable Me 2, pulled into using his talents for good. In the meantime, some of those regular type life things, like a partner/maternal figure for the girls, become glaringly absent and require remedy. Despicable Me is reverse Breaking Bad (2008-2013). While Walter White must ascend to supervillain as "Heisenberg" to save his family; Gru relinquishes his life as a supervillain to try being the world's greatest dad.
– Blake Howard
---
This essay was written for Edit Line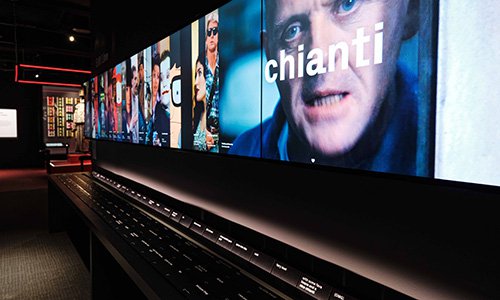 Create your own iconic film and TV moments in real time with Edit Line, an interactive experience in The Story of the Moving Image exhibition at ACMI.
Move physical blocks around to create a story from selected clips. Save your mini masterpiece with your Lens device and take it home with you.
---