Noora Niasari has been busy over the last year or so. While most of us were struggling to roll out of bed for Zoom meetings at the height of COVID-19 restrictions in mid-2021, the Melbourne-based filmmaker was writing one work for the screen and pitching another. "It does get a bit overwhelming, being in limbo," Niasari says. "I'm at the mercy of whatever meeting pops up; I have to pitch, or I have to switch modes. So, I can't really control it anymore. But I feel really lucky to be in this position."
We first spoke to Niasari in the leadup to our retrospective on the Iranian filmmaker Abbas Kiarostami, which was scheduled to run in September 2021 but was postponed twice due to outbreaks of COVID-19. Nearly ten months later, the program is back on (9–20 June) and the film Niasari was pitching, entitled Shayda, recently attracted major funding from Screen Australia, with the likes of Cate Blanchett, Vincent Sheehan and Leah Purcell on board for the production commencing in July this year. Happy days for all.
Niasari is one of a handful of Australians who can say they've worked directly with Kiarostami, who, at the time of his death in 2016, was considered one of the preeminent directors of world cinema – Werner Herzog once famously declared that "we are living in the age of Kiarostami, but don't yet know it". In between making his poetic feature length and short films, Kiarostami ran creative workshops in Tehran and across Europe, South America and in Cuba for budding filmmakers looking to expand their craft.
Niasari had been following Kiarostami's workshops for years and soon after she completed her Masters degree at the Victorian College of the Arts (VCA), the opportunity to attend one over 10 days in Barcelona (run by Black Factory Cinema) came up. She applied straight away and was accepted. "It was one of my dreams to study with him," Niasari says. "And I was the only person from Australia that got accepted into that workshop."
It was Niasari's first time visiting Barcelona. She had arrived a few days early to get her bearings in the cosmopolitan city and to attend a press conference where the great director was speaking. Like many Iranians, she had spent her childhood in awe of Kiarostami's work, and so, she was eager to see him in person. To her surprise, he was also pleased to see her.
"I was speechless because he came up to me at the end of the press conference and said, 'I heard you came all the way from Australia to do this workshop. Thank you so much.' I couldn't believe that he did that. He was so down to earth and humble."
Kiarostami made it clear that his intention wasn't to be viewed as a teacher to the 50 participants. "He didn't like distinguishing himself in that way," Niasari explains, "He's more like an eternal student; he was actually making a film alongside us – he made short films between all of his feature films. For him, it came down to exploring new ideas and coming back to that curiosity and excitement of making something that was unburdened, without the constraints of producers and investors. He made it clear to us that it was about finding your voice and finding new ideas and possibilities, and just exploring the world, using the camera."
While the workshop called for participants to bring their own cameras, Kiarostami wasn't fussed about the quality of the equipment; phone cameras were fine. He was more interested in encouraging self-sufficiency and adaptability – an approach Niasari, fresh out of film school, found liberating. "I needed to unlearn a lot of things. [I was] feeling overwhelmed by the industry, and doing his workshop helped me come back to the essence of the ideas and the process and the excitement of being curious about the world."
Over the 10 days, the participants pitched, shot and edited their short films which addressed a specific theme set by Kiarostami. As well as guiding the pace of the workshop, Kiarostami would spend time with his mentees, casually chatting over meals and strolling around the city with them. In her speech at the Melbourne International Film Festival (MIFF) in 2016, Niasari noted his uncanny ability to converse with anyone, from strangers to shopkeepers: "It didn't matter if you met him for 5 minutes or 5 weeks, he had an ability to reach into your soul and hold a conversation with your heart."
While Barcelona is best known for its eclectic architecture and its football team, it's also a city with fourteen beaches, so it was apt for Kiarostami to set 'the sea' as the workshop's theme. In response, Niasari produced Maria Alta (High Tide), a one-shot film exploring feelings of isolation and estrangement between a father and daughter, juxtaposed with the idyllic setting of a Barcelona beach. Marea Alta was a precursor of sorts to Waterfall, Niasari's award-winning 2017 short film that explored fractured family dynamics in the claustrophobic confines of a car driving along verdant rainforest roads.
The short film Kiarostami produced for the workshop centred on a musician playing a song while facing the sea, the melody of his saxophone resonating with the rhythm of the waves. "It was really a beautiful film," Niasari reflects. The film's simple premise captures the essence of Kiarostami's works: a fascination with human stories at a smaller scale. In Where is the Friends House? (1987), a young boy goes on a quest to return his schoolmate's exercise book; in Ten (2002), a divorcee picks up and drops off female passengers in her taxi and attempts to appease her young, argumentative son; in Taste of Cherry (1997), a middle-aged man drives around the outskirts of Tehran looking for someone to aid in his suicide. As Niasari puts it, "These poetic parables of ordinary lives were so specific yet so universal." With great subtlety and empathy, Kiarostami directed the attention of cinemagoers to the perspectives of those who are largely invisible in institutionally conservative countries like Iran.
What he did was open our eyes to the world around us. He reminded us that filmmaking is about remaining curious, making work without inhibitions and remaining true to yourself and your identity. 'There has to be a part of you in every character,' he said.
Niasari was born in Tehran in 1989 and her family migrated to Brisbane when she was very young. It was Niasari's mother who opened a gateway to cinema for a seven-year-old Noora by introducing her to Where is the Friend's House? "It planted a seed for me," Niasari states. Films like this and Jafar Panahi's The White Balloon (1995) helped Niasari to form a picture of her homeland outside the stories her family told. "There's so much darkness in our history… political and social upheavals. Seeing these films, I felt a connection that transcended all the darkness that I had heard about."
Kiarostami was a revered (albeit, divisive) figure among supporters of cinema in Iran, but outside Iran's more secular-minded population, he was often viewed with suspicion. "Parts of my family that live in Iran are religious, and they had a different perspective on him. He was kind of misunderstood or misrepresented in Iranian media because his work did transcend Iranian borders and resonated in Europe", Niasari explains. "There was so much international success, and because of that there was some discomfort with his level of independence."
Writer Godfrey Cheshire describes visiting Tehran in the mid-90s and the "pall of suspicion" around Kiarostami among conspiracy-minded critics who couldn't understand why his works, like And Life Goes On (1992) and Through the Olive Trees (1994), were elevated on the European festival circuit above those of other Iranian filmmakers. When Cheshire returned to Iran in early 1997, Kiarostami was filming Taste of Cherry, a film about suicide – a taboo subject under Islam – and the auteur was feeling constricted by the interventions of the theocratic government (Kiarostami modified the film's ending to appease censors). Twenty-five years later, those same pressures exist for Iranian artists who, according to Niasari, demonstrate tremendous resilience in the face of limitations and restrictions. "They have this ability to find hope and lightness in the darkest of situations, and I think that's such a beautiful lesson for all of us to take."
The last straw for Iran's hardline conservatives was Ten which resulted in Kiarostami receiving a 12-year ban from making films in Iran. Ten was the work that struck a chord with Niasari. "I think it was the first film that he made that was about women, and he highlighted taboo issues, like what it means to be a divorced woman in that society, what it means to be a sex worker… issues that he hadn't really touched on before." Niasari was also inspired by the filmmaking techniques Kiarostami employed. "He used digital cameras to liberate the restrictions of filming such a complex commentary and story with minimal intervention and just allowing those characters to interact and reveal vulnerable parts of themselves. It felt like so much was possible with so little."
Niasari mentions the influence that Close-Up, Kiarostami's masterful 1990 'docufilm' exploring fame, identity and unfulfilled dreams, had on her work. Like her mentor, she has a keen ear for stories of people who are forgotten by society, and she noticed similarities between Close-Up's Hossein Sabzian and the subject of her 2015 short film Simorgh (The Phoenix), Manouchehr Farid.
Farid was a well-known actor in Iran who featured in films directed by Bahram Beyzaie, most notably Downpour (1972) which helped usher in Iran's New Wave and is included in The Film Foundation's World Cinema Project. When the Islamic Revolution swept across the country in 1979, Farid and his family were forced to flee persecution on account of their Bahá'í Faith and they made their way to Australia. Farid began to put his previous life as an actor and film star behind him, and in the ensuing 35 years he worked in a factory.
Niasari recalls meeting Farid for the first time: "When I met him, he was in his seventies, and he was trapped in this nostalgia about his past life, about the fame and the glory days. There was something about that sadness and nostalgia of a lost identity that really stayed with me." At the time, Niasari was in her final year of film school and visiting teenaged kids in a detention centre in Melbourne. She started to draw parallels between their and Farid's experience of being in limbo, losing their identities and yearning for the past. After spending months getting to know Farid, she presented him with a script for Simorgh, which he accepted with some hesitation.
"It was challenging because I was 25 at the time, and he'd never been directed by a woman, let alone someone 50 years younger than him," Niasari explains. "So, I think it was a little bit daunting for him to trust me. I mean, he had trust issues in general regarding the film industry, and so, there was a lot that we had to work through. It was a challenging collaboration, but also really rewarding one because in the end he was happy with the film. I was able to give him that platform and to feel seen again, to feel celebrated and not forgotten."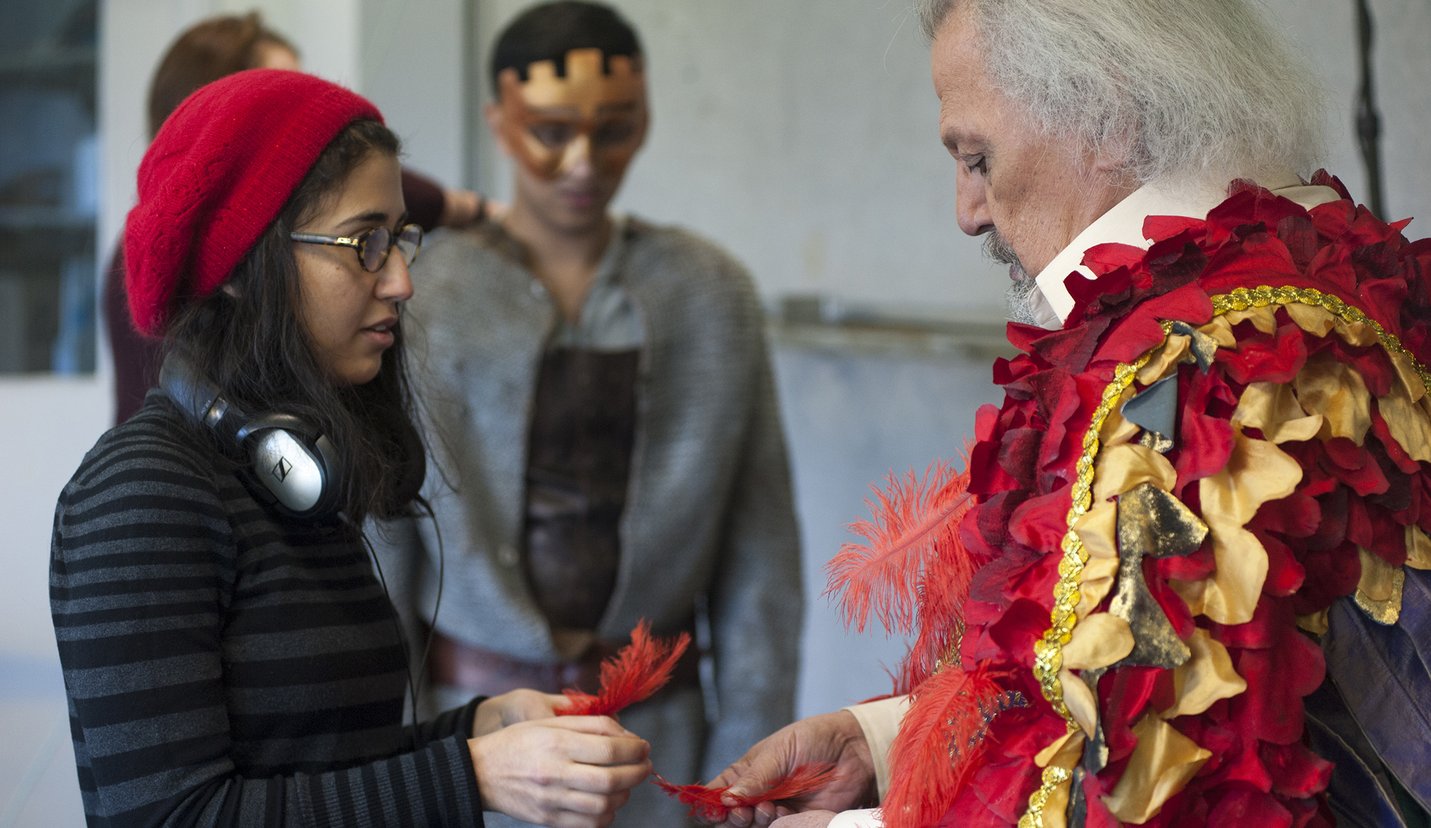 As a director, Niasari recognises the influence of Kiarostami on her own work, but states that she doesn't intend to emulate him. "I don't think anyone can. They [his films] are masterpieces – the humanity, the way he frames the landscape, the way he allows life to unfold. There are so many facets of his cinema."
For many, the Koker Trilogy – Where is the Friend's House?, And Life Goes On and Through the Olive Trees – embodies Kiarostami's multifaceted, humanist worldview and, for Niasari, is the ideal place to start with his ouevre. "I think [the Koker Trilogy] opens your eyes to Iranian characters, landscapes, poetry, and life. I think for a lot of audiences who aren't familiar with Iran and Kiarostami, it will be real treat for them, to really get a sense of what's outside the media's portrayal of Iran; it's so much more immense and beautiful than what meets the eye."
After the Barcelona workshop ended in March 2015, Niasari kept in touch with Kiarostami. In February 2016, they spoke on the phone before Kiarostami went into hospital for a check-up. He reassured his protégé that he'd be fine, and he spoke about his planned travels to China with the excitement and "curiosity of a young boy going on his next adventure".
On July 4 that year, the great Iranian artist passed away in a hospital in Paris, aged 76, leaving behind a legacy that moved his contemporaries like Martin Scorsese ("Kiarostami represents the highest level of artistry in the cinema") and Akira Kurosawa ("Words cannot describe my feelings about his films"), and influenced the countless aspiring filmmakers he mentored in his workshops and throughout his life.
Emerging directors like Niasari are carrying his torch: "My advice for young filmmakers? I would say to be really curious about your surroundings and to never lose touch with that curiosity. And just make films with whatever you have on hand, like your phone or your iPad, any resources that you have right now. Get together with your friends, explore ideas. Don't let any obstacles get in your way of learning and exploring. Remain curious and make films no matter what."
– Dilan Gunawardana
Book your tickets to see The Films of Abbas Kiarostami at ACMI (9–20 June)
Don't miss Melbourne Cinémathèque's accompanying program (8–22 June)