Raoul Duke (Johnny Depp) is sipping Singapore slings by a hotel pool with his lawyer, Dr Gonzo (Benecio Del Toro), when he receives a phone call from 'headquarters'.
"They want me to go to Las Vegas at once," he tells Gonzo.
"That sounds like real trouble," Gonzo warns him. "You're going to need plenty of legal advice before this thing is over. As your attorney, I advise you to rent a very fast car with no top. And you'll need the cocaine. Tape recorder for special music. Acapulco shirts. Get the hell out of LA for at least 48 hours. It blows my weekend; cause naturally I'm going to have to go with you. And we're going to have to arm ourselves – to the teeth."
You have to wonder where Gonzo got his law degree, or his doctorate for that fact. Based on a real trip that gonzo (hence the name) journalist Hunter S Thompson took with Oscar Zeta Acosta, a Mexican American lawyer and activist (who mysteriously disappeared), Terry Gilliam's cinematic adaptation of Fear and Loathing in Las Vegas is a cult-classic hit. Well, not when it was released, but the film's warped, Salvador Dali-esque poster has adorned many college-aged kids' walls and the film has also likely inspired many college-aged kids to experiment with narcotics.
An indictment of American conservatism and celebration of countercultural excess as the hangover and disillusionment of the hippie movement sets in, Fear and Loathing in Las Vegas is a wild ride, and that ride begins with Dr Gonzo's sagely advice. There's an obvious opposition between his position as Raoul's lawyer and the illegal and insane litany of ideas he comes up with, but it's adhered to steadfastly because its couched (and delivered) with such a straight face. You can imagine a respectable lawyer beginning the same answer, but only the "As your attorney I advise you to..." part – everything afterwards is nuts – but that's Dr Gonzo, who by the end of the film has lost his mind and trashed a hotel room, threatened Raoul with a knife and picked up a runaway.
While the pool-side delivery of the line is the first in the film (and the most iconic), it's used a further four times in the film to ratchet up the madness and drive the narrative, with Dr Gonzo recommending a motorcycle, driving at top speed and drugs derived from the human adrenaline gland. Because of its repetition and the structure of the dialogue as a template (anything can come after 'as your attorney') the line has become a inspiration for many a meme. It has appeared on the internet as a way to remind college kids to get letters of recommendation, been stamped on the similarly wild Ancient Aliens guy, and of course, imbibe.  The character of Dr Gonzo has also become iconic, appearing on T-shirts, and used a comparison to Rudy Guilliani, while on Twitter more broadly the "as your attorney" line is routinely reused. There's even a dedicated Twitter parody account with over 15,000 followers.
People in the Hollywood industry remembered the character too, with Del Toro telling the Guardian that he became so synonymous with the character that it almost ruined his career. "I tried to get a couple of jobs, the feedback I got was that people didn't want to see me because 'We know he's got a drink problem and we know he's got a drug problem'. And the only reason for that was because they had seen Fear and Loathing – maybe it was a compliment," he reportedly said.
– Matt Millikan
---
This essay was written for Edit Line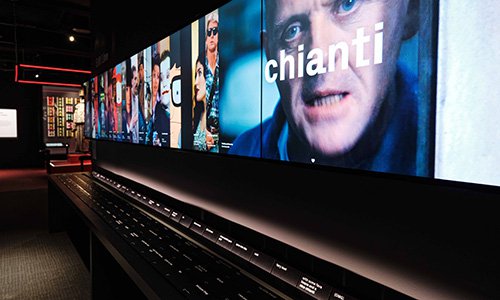 Create your own iconic film and TV moments in real time with Edit Line, an interactive experience in The Story of the Moving Image exhibition at ACMI.
Move physical blocks around to create a story from selected clips. Save your mini masterpiece with your Lens device and take it home with you.
---