It's the 1980s in Highland Park, Chicago. A youth from an affluent, white middle-class family is in his final year of high school. The world should be at his feet. However, the prospect of college and adulthood loom before him as sources of anxiety. Who can he turn to for support? Not his parents. In some ways they're part of the problem.
Then one day, a friend (of sorts), someone about his own age, decides to introduce him to pleasure, to the possibility of human fulfilment. It involves taking a series of risks and culminates in the trashing of his father's prized possession: a hyper-expensive luxury car. No matter though. It all ends well. And the young man is anxious no longer.
Can you name the film?
Risky Business (1983) and Ferris Bueller's Day Off (1986) both responded to the 1980s hunger for teen-themed movies. And even though their plots on paper are similar, they are as unalike as darkness and light.
It's true that both films launched the careers of their respective stars — Tom Cruise and Matthew Broderick — in each case helped along by a spectacular improvised song and dance number that has become a cinematic icon. And both films end with their stars addressing the audience directly, offering a neat summing up of life from their character's point of view.
But Risky Business' night-world of political cynicism and cold cash contrasts utterly with Ferris Bueller's innocent joy-ride through the light of a leisurely Chicago day. It's probably for this reason that Matthew Broderick's penultimate address to the viewer has resonated so strongly across the years.
He lies back relaxed in close-up, his hands behind his head with the soft undersides of his arms exposed. He engages us with his big brown puppy-dog eyes and, with the slightest hint of a frown denoting seriousness, reminds us earnestly again of his personal philosophy:
"Life moves pretty fast. You don't stop and look around once in a while, you could miss it."
And then, unexpectedly, he smiles. The screen floods with warmth and contentment. And Broderick's personal charm and charisma annihilate any awareness of class, race or any other source of ongoing urban tension. It's a smile that momentarily and effectively stops us from looking around at life at all.
So, decades after Ferris took his day off, the words associated with that smile resonate still. If you visit Etsy you'll find ugly t-shirts, banal coffee mugs and cheaply framed homilies, all of them emblazoned with Ferris' words, and all of them connoting that rush of pleasure that is released at the end of the film. And all of them for sale.
If you probe a little deeper, you'll find Dr Richard Chambers, "clinical psychologist and internationally respected expert in mindfulness", who uses Ferris' words to sell his more expensive professional services and wares.
Yes indeed, it pays to look around.
– Russell Walsh
---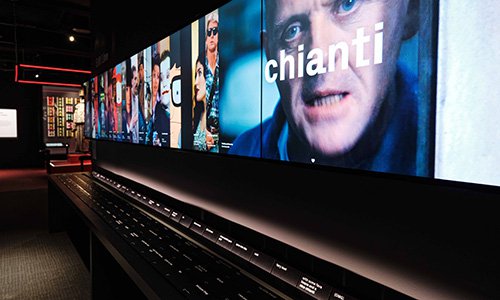 This essay was written for Edit Line
Create your own iconic film and TV moments in real time with Edit Line, an interactive experience in The Story of the Moving Image exhibition at ACMI.
Move physical blocks around to create a story from selected clips. Save your mini masterpiece with your Lens device and take it home with you.
---