"The first rule of fight club … " says Tyler Durden, addressing a room full of men in said fight club, "… is you don't talk about fight club." And at first, people didn't. When Chuck Palahniuk's then semi-successful novel of the same was optioned and turned into a film, director David Fincher's Fight Club (1999) didn't make the kind of splash the studio had hoped for. With two of the biggest stars of the decade – Brad Pitt as Tyler Durden and Ed Norton as The Narrator – they expected it to be a hit. Yet it earning just over $100M on a $60M budget wasn't the result they were hoping for, with critics too cautious about the central message of the film despite its glossy execution. "Fight Club is a thrill ride masquerading as philosophy," Roger Ebert wrote at the time. "The kind of ride where some people puke and others can't wait to get on again."
One of the first true hits of the DVD age, its spread on home entertainment – and then as it infiltrated other parts of pop culture – was unstoppable. "Not long after Fight Club's release, days-long anti-capitalism riots erupted near a World Trade Organization conference in Seattle—another indicator of the economic frustration felt by Tyler and his peers," wrote David Raftery in a chapter from his book Best. Movie. Year. Ever. "The movie seemed so eternally relevant, in so many ways, that the first rule of Fight Club became that everybody had to talk about Fight Club." It took a few years for the first rule to become redundant and nowhere is the film's impact better exemplified than with Pitt's delivery of the famous line. By 2007, Premiere magazine had named that quote the 27th greatest movie line of all time while the character of Durden – himself an empty suit – had become the aspirational example of masculinity according to publications such as Empire, Total Film, Men's Journal and others.
In the way many great lines do, it became used and reused so frequently in other shows that the dialogue almost became disassociated from the source material itself. It's safe to say there's likely a whole generation of viewers familiar with "the first rule of fight club" not because of Fight Club, but because it was used as a gag in any number of properties like NCIS (2003 – present), ER (1994 – 2009), Supernatural (2005–20), Family Guy (1999–present), Spin City (1996–2002), Star Wars: The Clone Wars (2008–20), Kim Possible (2002– 07), Robot Chicken (2005–present), The IT Crowd (2006–13), The Thick Of It (2005–12) and many, many, many more. However, the true testament of its significance in the current era comes from the man who said the line: Brad Pitt. Famously one of the most strategic and "cunning" Hollywood stars as described by Vulture, Pitt began his months-long campaign to get a nomination – and eventual Academy Award – for Once Upon A Time In Hollywood (2019) by playing into the voting body's love of an "it's time" Oscar. That means acknowledging the journey often and frequently, along with the many iconic roles that have got you there (and perhaps been overlooked for awards recognition at the time). When receiving a lifetime achievement award at the 2020 Santa Barbara International Film Festival in January of that year – right in the middle of the awards season race and presented by Fincher – Pitt said: "I've been around a while and I've been doing this for a bit... I no longer remember the first rule of Fight Club. But it's also nights like this where I get to look back and feel really, really blessed." The first rule of fight club is still being broken – even by the people who made it – decades after the fact.
– Maria Lewis
---
This essay was written for Edit Line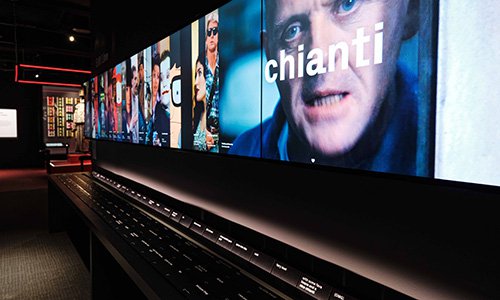 Create your own iconic film and TV moments in real time with Edit Line, an interactive experience in The Story of the Moving Image exhibition at ACMI.
Move physical blocks around to create a story from selected clips. Save your mini masterpiece with your Lens device and take it home with you.
---