In the ninth (and second last season) of Friends, Jennifer Aniston's Rachel searches for a suitable mate that isn't David Schwimmer's Ross. When she's spending some time with her latest squeeze, Gavin, Rachel hears keys rattling at the door and, in a panic, pleads him to hide. The reaction is like someone who's committing adultery – or in the show's parlance not "on a break". When it's not Ross, and their babysitter takes her daughter to her parents' house, Gavin asks a question that articulates the show's engine. About Ross, Gavin asks Rachel, "I thought nothing was going on between you?" Before Rachel can answer, TV screens could hear fans around the globe in chorus yelling, "Ya think?!?"
David Crane and Marta Kauffman's sitcom Friends starring the phenomenal ensemble of Jennifer Aniston, Courteney Cox, Lisa Kudrow, Matt LeBlanc, Matthew Perry and David Schwimmer continues to rank as one of the greatest sitcoms and TV shows of all time. This sextet's comedic adventures to fall in and out of love and in and out of bed with the eccentric New York population carried the primetime, network television baton from then reigning champion. Seinfeld. With incredible ratings (attracting 52 million U.S. viewers on the night that the finale aired), critical acclaim and a slew of awards it's difficult to overstate its significance in pop culture. And that multi-generational appeal continues. According to Nielsen ratings, as recently as 2018, a full fourteen years since the finale, Friends remained the second most-watched programme amongst American Netflix subscribers. Each account watches around 20 episodes, which is almost an entire season. While the single life antics of the eponymous Friends introduced the core group, it was the "will-they / won't they" tales of alternating unrequited love and threat of coupling between the group that continued to tantalise, infuriate and enamour fans of the show at the time and since.
But back to the scene in question. We know there "isn't" something going on with Ross and Rachel right now per se. We know that their on-again, off-again antics have stretched through the show's ten-year storyline. We've had to witness Ross say her name at the altar of his second failed wedding. We've watched them live out the cliche of a drunken Vegas shot-gun wedding that they quickly annul. We were surprised by the left-turn bond formed between Rachel and Joey (Matt LeBlanc). Finally, Rachel and Ross (on another drunken evening) conceive their child Emma, before moving in together. Gavin is a refreshing audience avatar, an excuse to contextualise the relationship. It seems maddening that Ross and Rachel cannot find a way to fulfil their almost certain coupling. Rachel responds to Gavin, "There isn't, there totally isn't!" Isn't?! This brief character Gavin gets to be a voice of reason: "You should talk to Ross about all this." Rachel responds, and you could feel Friends fans cheering across the globe, "People keep saying that."
– Blake Howard
---
This essay was written for Edit Line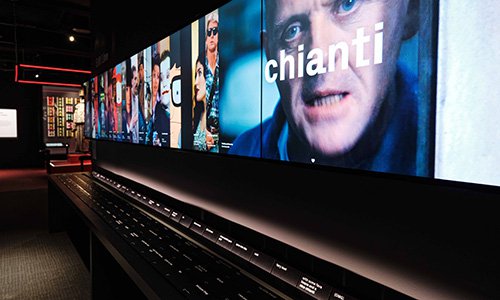 Create your own iconic film and TV moments in real time with Edit Line, an interactive experience in The Story of the Moving Image exhibition at ACMI.
Move physical blocks around to create a story from selected clips. Save your mini masterpiece with your Lens device and take it home with you.
---