For a franchise that was based solely on the idea of "what if Point Break but cars?" the Fast & Furious series has become less and less about vehicular mayhem. With everything from submarine missiles being kicked away to impending outer space adventures, the ten film (and counting) series has expanded beyond its Ja Rule-featuring street racing days. Yet while other long-running cinematic institutions have struggled to maintain an audience and relevancy – Bond, Bourne, Mission: Impossible's middle stretch – the Fast franchise has thrived largely thanks to its ability to stay true to the core themes and values. Chief among them, family. "I don't have friends," Vin Diesel's Dominic Toretto says in a scene from Furious 7 (2015). "I have – " The final line doesn't even need to be uttered for viewers to hear and know what's coming next. Family.
There had been a dozen different versions of that dialogue recited throughout the six other films in the franchise up until that point. Initially, most of them came from Dom who had the only true familial relationship in the series with his biological sister Mia (Jordana Brewster). However, it was made clear from the 2001 debut - namely the death of Jesse (Chad Lindberg) – that this ragtag group of criminal street racers-turned-vigilantes were family. That included seminal members like Letty (Michelle Rodriguez), but would expand – just like the stakes – with other instalments in the franchise to include Roman (Tyrese Gibson), Tej (Ludacris), Han (Sung Kang), Hobbs (Dwayne 'The Rock' Johnson), Ramsey (Nathalie Emmanuel), Elena (Elsa Pataky), Gisele (Gal Gadot), Sean (Lucas Black), Deckard Shaw (Jason Statham), and Monica (Eva Mendes) among some of the central players.
Yet that notion of family was shaken to its core with the untimely death of Paul Walker, the franchise's most significant co-lead alongside Diesel and someone who had been there from the very beginning. As Brian O'Conner, he had been the vessel through which the audience first met Fast's family. When he was brought into the fold, shifting from outsider to key family member, so were we. Dying in a car accident unrelated to the production, it left director James Wan, producers, screenwriters and cast with the difficult task of having to unexpectedly wrap up Brian's storyline in a way they never anticipated. After all, like Diesel, Walker had made the franchise his primary professional output as he committed to new instalments in the series again and again and again. And yet, thanks to the assistance of Walker's two brothers and the technology of Weta Digital, they were able to make additional material that acted as the simultaneous send-off for a character and actor millions had come to love.
"Didn't know what to expect, heard rumours it was super emotional," said The Ringer's Bill Simmons about the experience of seeing Furious 7 theatrically. "Packed theatre, the ending comes, it is so much more emotional than any of us expected. People are crying in the theatre, I'm sitting next to two guys that I've worked with for a few years, we're biting our lips, we're glassy-eyed, trying not to cry… It's the most emotional experience I've had in a theatre at least this century." The family through-line of the franchise stopped being something that was chuckled at after Furious 7. A series that was all about fast cars, family, and cold Corona was actually, truly, about one of those things. "I don't have friends," Dom quips. "I have – " It's the audience who would answer "family" because that's what the characters, that's what their exploits, that's what Walker felt like to them over the past 15 years.
– Maria Lewis
---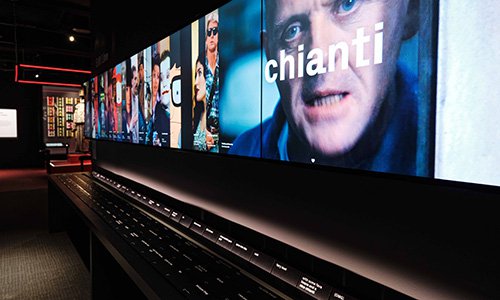 This essay was written for Edit Line
Create your own iconic film and TV moments in real time with Edit Line, an interactive experience in The Story of the Moving Image exhibition at ACMI.
Move physical blocks around to create a story from selected clips. Save your mini masterpiece with your Lens device and take it home with you.
---