It's the opening five minutes of the Game Of Thrones (2011–19) episode The Bear And The Maiden Fair when Ygritte (Rose Leslie) tells Jon Snow (Kit Harrington) "you know nothing, Jon Snow". It's a line we will hear again multiple times throughout the episode. In fact, by that point – episode season, season three – it's a line we have been hearing for over a season since it was first uttered by Ygritte to Jon in A Man Without Honor, episode seven from season two. Perhaps it's the frequency of use, perhaps it's the context of use as audiences obsessed over the Romeo and Juliet-esque doomed romance of Ygritte and Jon, or perhaps it's because Game Of Thrones never reached a higher peak than it did during its third season. Whatever the reason, over the course of the decade where George R.R. Martin's creation reigned supreme, it's this line – "you know nothing, Jon Snow" – that became the show's dominant catch phrase. This is over "winter is coming" which took the lead early in season one and over contenders such as "it is known", "dracarys" and other punchy one-liners that ended up emblazoned on shirts, tattooed on skin, and memed to all eternity.
To quote pop culture analysis podcast Binge Mode, the theme of the episode is very much "thinking with your heart over your head" as the various characters throughout the realm are shown doing just that with disastrous consequences looming. Every time Ygritte says the line "you know nothing, Jon Snow" the meaning changes: when she first said it in season two, it meant something different to when she said it season three. The words are the same, but her deployment of them – when and why – is integral. Even in this episode she says it several times and none of them mean the same thing. In the opening minutes it's somewhat of an inside joke. In the closing minutes it's to invoke their love and comes shortly before a moment of significance. "You're mine and I'm yours," Ygritte says. "And if we die, we die. But first we'll live." Because of its durable and ever-shifting nature, the line stayed relevant throughout the course of the show not just in merchandise and memes, but frequently in interviews and among the cast and crew themselves.
Arguably the key to its endurance and ultimate triumph over other Game Of Thrones catchphrases is how the characters of Ygritte and Jon Snow have evolved outside of the show. The chemistry between Leslie and Harrington is palpable on screen, making their enemies-to-lovers-to-enemies arc all that more captivating for viewers and one that stands out in bold alongside other doomed pairings (Daenerys and Drogo, Robb and Talisa Stark, Catelyn and Ned, Tyrion and Shae, Jaime and Cersei). The line is solely associated with them, as it's first used in the context of these two fictional characters falling in love… meanwhile the actors who played them were doing the same in real-life. It's rare for any character on Game Of Thrones to get a happy ending, especially when it comes to love. Indeed one of the defining traits of the show is its distinct lack of happy endings. So although Ygritte and Jon never got a happy ending in the show, they have gotten one in real life with Leslie and Harrington married with a family of their own. Whenever they're documented in the tabloids – whether it's a castle wedding or a pregnancy announcement – for viewers the context of their pairing and the line "you know nothing, Jon Snow" is right there alongside it. That may be in a headline, in a lede, or in the back of the viewer's mind as they recall the Wildling and the Northerner who weren't supposed to fall in love.
– Maria Lewis
---
Explore more stories about screen Goddesses at ACMI
---
This essay was written for Edit Line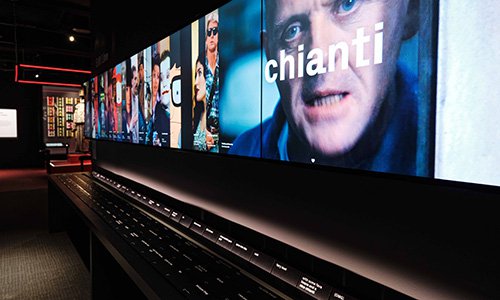 Create your own iconic film and TV moments in real time with Edit Line, an interactive experience in The Story of the Moving Image exhibition at ACMI.
Move physical blocks around to create a story from selected clips. Save your mini masterpiece with your Lens device and take it home with you.
---